Dwayne Johnson gives moving speech at MTV Awards: 'The most powerful thing we can be is ourselves'
Actor spoke about how he has overcame several obstacles from the beginning of his Hollywood career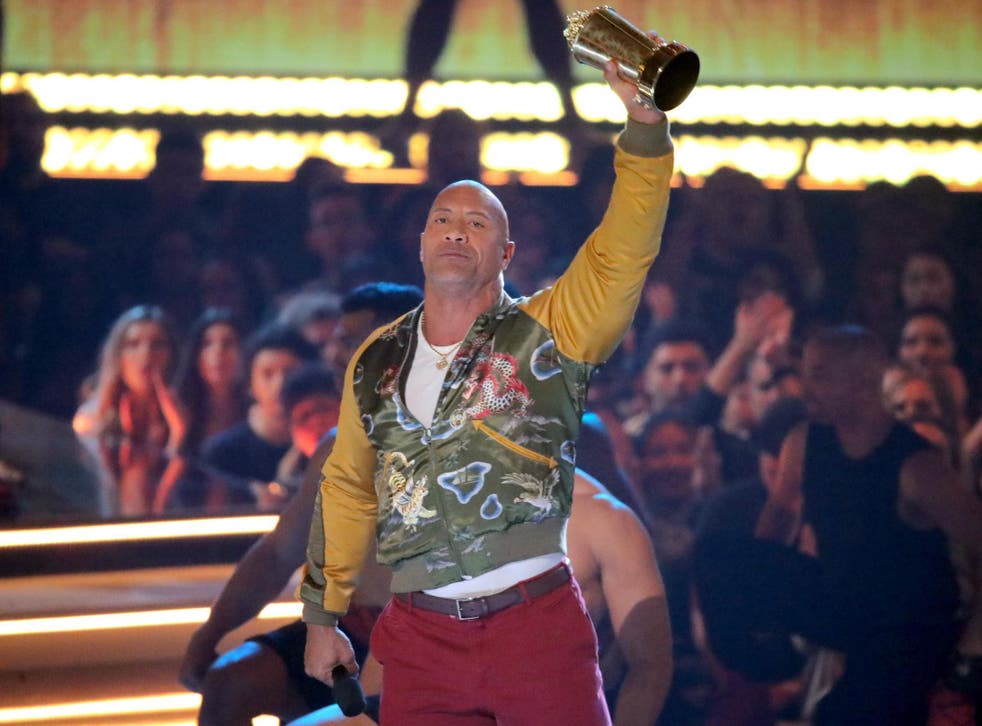 Dwayne "The Rock" Johnson made a moving acceptance speech when he took home the Icon Generation Award at this year's MTV Movie & TV Awards.
The prize celebrates actors whose contributions to film and television have had a positive impact on society. Past recipients include Reese Witherspoon Sandra Bullock, Tom Cruise, Robert Downey Jr, Will Smith, Chris Pratt and Jamie Foxx.
The Rock explained how he had strived to achieve professional success in Hollywood despite facing obstacles over his appearance.
Click through the gallery to see the best looks from this year's MTV Awards
Best looks from the 2019 MTV Movie & TV Awards

Show all 43
The semi-retired professional wrestler is now consistently ranked as one of the highest-paid actors in film, appearing in the Fast and Furious franchise as well as Baywatch, Jumanji: Welcome to the Jungle, and as the voice of Maui in Disney's Oscar-nominated animation Moana.
"I thank you, all of you at home. You are the reason I'm getting this," he began. "I want to share a really quick lesson with you guys, I've learned the most powerful thing we can be is ourselves.
"We are still that little kid just aspiring to be something better, aspiring to be important. When I first got to Hollywood, Hollywood they didn't know what the hell to do with me. I mean I was half black, half Samoan, six-foot-four, 275-pound pro wrestler.
"I was told at that time you've got to be a certain way, you've got to drop some weight, you've got to be somebody different, you've got to stop working out, stop doing the things that I love, you've got to stop calling yourself 'The Rock'. For years I bought into it because you think, 'Oh, that's what I'm supposed to do and I was miserable doing that. I made a choice that I wasn't going to conform to Hollywood, Hollywood was going to conform to me."
He concluded: "When I was 15, I heard a quote and I'll never forget it, "It's nice to be important but it's more important to be nice."
See the full list of MTV Award winners here.
Register for free to continue reading
Registration is a free and easy way to support our truly independent journalism
By registering, you will also enjoy limited access to Premium articles, exclusive newsletters, commenting, and virtual events with our leading journalists
Already have an account? sign in
Register for free to continue reading
Registration is a free and easy way to support our truly independent journalism
By registering, you will also enjoy limited access to Premium articles, exclusive newsletters, commenting, and virtual events with our leading journalists
Already have an account? sign in
Join our new commenting forum
Join thought-provoking conversations, follow other Independent readers and see their replies