Ethan Hawke scrapped Apache film as he 'couldn't make a $240 million movie that didn't star a white person'
The actor's comments come amid the ongoing debate about diversity in the film industry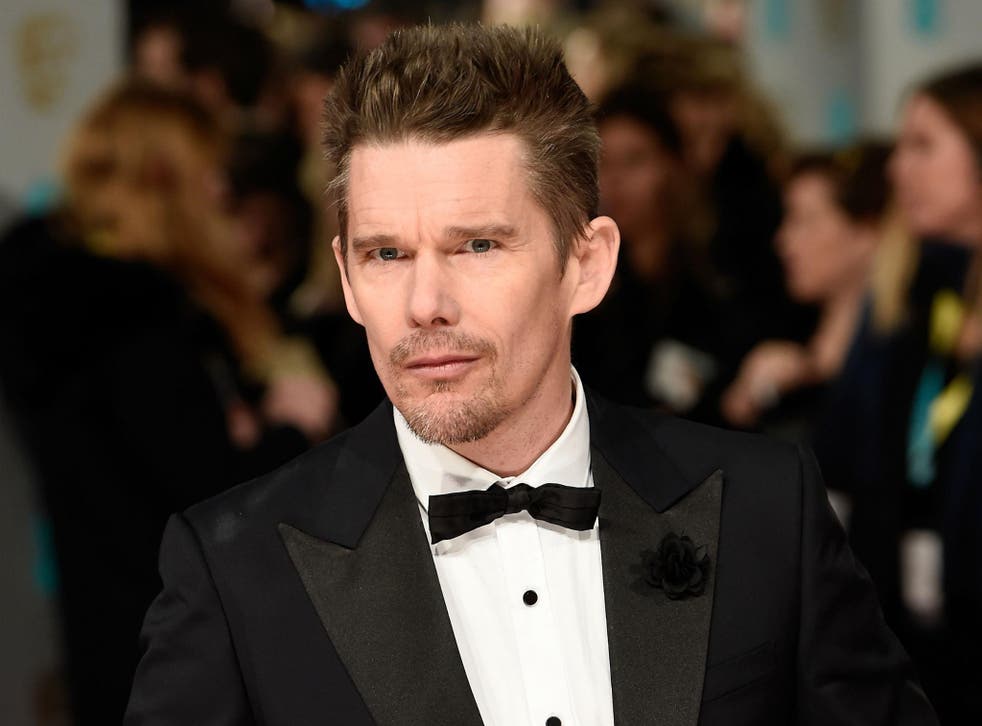 Ethan Hawke has revealed that he was forced to scrap a planned Apache movie after realising that raising funds for a big budget film that "doesn't star a white person" was impossible.
The Hollywood actor co-wrote graphic novel Indeh: A Story of the Apache Wars, about a young Apache warrior caught up in the clash with white settlers in 19th century America, but the book was originally meant to be a script.
"I had this 900-page document. I had it budgeted at like $240 million," he said at New York Comic Con on Thursday. "I started realising, 'Wow, this is not going to happen - a $240 million movie that doesn't star a white person'."
Hawke, 45, was partly inspired to pen the story after noting the casting of 1993's Geronimo: An American Legend, which starred Gene Hackman, Robert Duvall, Matt Damon, Jason Patric and Cherokee actor Wes Studi.
"I remember thinking, 'God, would they ever make a movie called Malcolm X that starred Gene Hackman, Robert Duvall, Matt Damon, Jason Patric…and Denzel Washington?'" he said. "You wouldn't do that and I thought 'God, this is just totally being accepted'. So we've got to get these stories out there."
The Training Day actor's comments come amid the ongoing debate about diversity in the film industry, after the Academy faced heavy criticism for two consecutive years of all-white acting Oscar nominees.
Hollywood whitewashing controversies

Show all 11
Hawke, who penned Indeh: A Story of the Apache Wars with Greg Ruth, admitted that it was "dangerous"" to give himself permission to write the story from the perspective of the Apache.
"Cultural appropriation has created a lot of pain. These characters are part of American history now. We as Americans have a responsibility to tell our stories," he said. "Geronimo, Cochise and Victorio are characters that are large part of the historical fabric of what it means to come from here. If we don't tell the story, they're in danger of being lost.
"It's a dangerous thing to do to give yourself permission to do it. I felt entirely secure that I was coming at it from a place of love. I felt that would guide me safely."
Access unlimited streaming of movies and TV shows with Amazon Prime Video Sign up now for a 30-day free trial
Sign up
Hollywood studio bosses remain wary of financing films with lead actors from ethnic minorities, still believing that moviegoers only want to see white faces in the cinemas despite it being 2016.
Director Ridley Scott memorably said in 2014 that he would not have been able to make Exodus: Gods and Kings with "Mohammad so-and-so from such-and-such" as his star. "I'm just not going to get it financed, so the question doesn't even come up," he said after casting white actor Christian Bale as the historically Middle Eastern Moses.
Recent research found that actors from ethnic minorities played just 12.9 per cent of the lead roles in the top 163 films of 2014, down from 16.7 per cent in 2013. It remains to be seen whether movies such as The Birth of a Nation, A United Kingdom and Loving can break the #OscarsSoWhite trend next year.
Register for free to continue reading
Registration is a free and easy way to support our truly independent journalism
By registering, you will also enjoy limited access to Premium articles, exclusive newsletters, commenting, and virtual events with our leading journalists
Already have an account? sign in
Register for free to continue reading
Registration is a free and easy way to support our truly independent journalism
By registering, you will also enjoy limited access to Premium articles, exclusive newsletters, commenting, and virtual events with our leading journalists
Already have an account? sign in
Join our new commenting forum
Join thought-provoking conversations, follow other Independent readers and see their replies