Forget Leo, Ennio Morricone finally won an Oscar after 500 movie credits
Italy's legendary composer landed gold on his sixth nomination, for Quentin Tarantino's 'The Hateful Eight' 
Clarisse Loughrey
Tuesday 01 March 2016 09:17 Comments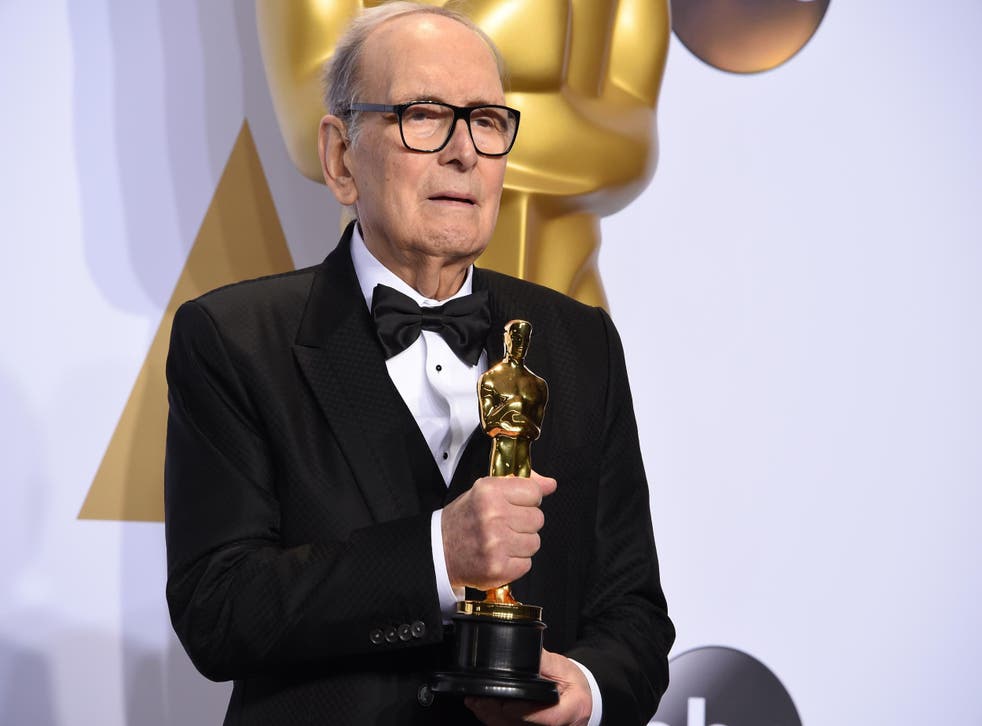 After clocking over 500 movie credits, legendary Italian composer Ennio Morricone finally landed Oscar gold at this year's Academy Awards.
Winning for Quentin Tarantino's The Hateful Eight, he stated; "There isn't a great soundtrack without a great movie that inspires it. This is why I thank Quentin Tarantino for choosing me, as well as the producer Harvey Weinstein and the whole crew."
He also thanked fellow nominees: Carter Burwell for Carol, Jóhann Jóhannsson for Sicario, Thomas Newman for Bridge of Spies, and John Williams for Star Wars: Episode VII - The Force Awakens.
This follows both a Golden Globe and a BAFTA for the same score, which partially utilises unused work from one of his most famous scores, for John Carpenter's 1982 sci-fi The Thing.
Morricone had previously been nominated five times for the Academy Award; for his scores to Days of Heaven (1978), The Mission (1986), The Untouchables (1987), Bugsy (1991), and Malèna (2000). However, the 87-year-old composer had received an honorary Oscar for his lifetime contribution in 2007.
Oscars 2016 winners

Show all 24
Though several decades too late, perhaps, it's fitting at least to see Morricone win for the genre he's most been associated with; having scored Sergio Leone's iconic western trilogy: A Fistful of Dollars (1964), For a Few Dollars More (1965), and The Good, the Bad and the Ugly (1966).
It's a win which will surely bring Tarantino great pleasure as well, with an original Morricone score fulfilling a real ambition within the director's own filmography. Morricone had previously declined scoring Inglorious Basterds (2009), though later agreeing to provide a single, new piece for Django Unchained (2012).
Register for free to continue reading
Registration is a free and easy way to support our truly independent journalism
By registering, you will also enjoy limited access to Premium articles, exclusive newsletters, commenting, and virtual events with our leading journalists
Already have an account? sign in
Join our new commenting forum
Join thought-provoking conversations, follow other Independent readers and see their replies