Freida Pinto helps hundreds of hungry people with Oscars leftovers
The ceremony typically leaves huge amounts of food uneaten 
Will Worley
Friday 03 March 2017 12:20 Comments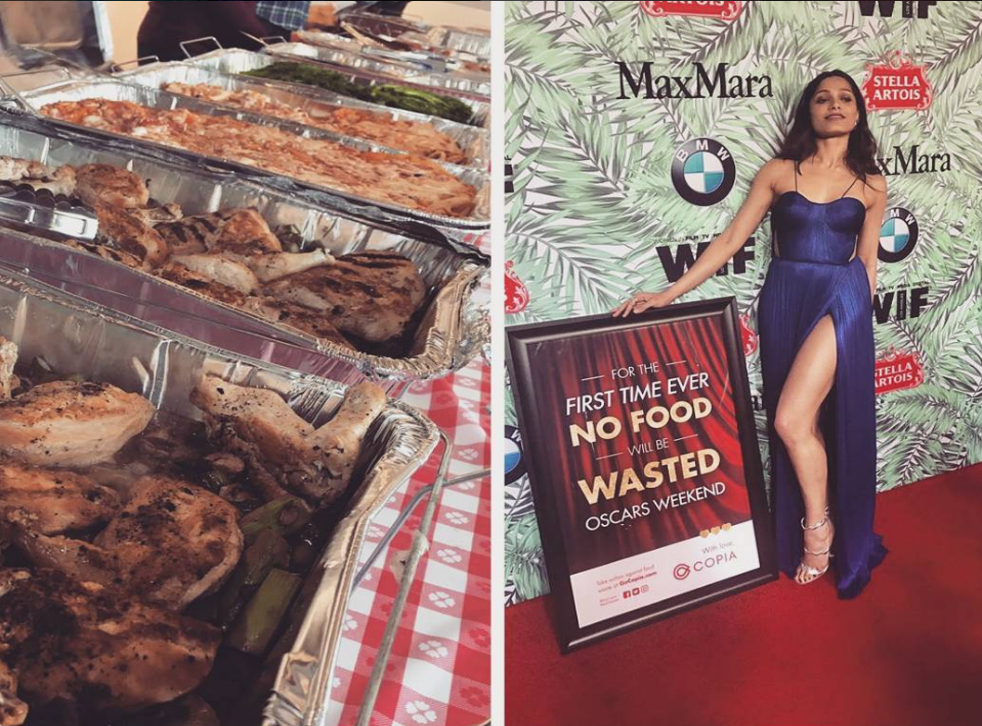 Hundreds of hungry people were given the food left over from the Oscars thanks to an initiative spearheaded by actor Freida Pinto.
Around 800 Los Angelenos were fed after the Slumdog Millionaire star teamed up with Copia, an organisation that uses technology to tackle food waste.
The Governor's Ball party was treated to an extravagant feast prepared by top chef Wolfgang Puck.
Oscars 2017: Watch the La La Land-Moonlight Best Picture error in full
Around 3,000 plates of luxury food - including golden baked potatoes with caviar, Oscar shaped salmon and gold dusted popcorn - were served up to guests, but large quantities of food were also left over.
Insider chefs say every year dishes such as chicken pot pie and pasta usually go uneaten, Salon reported.
Ms Pinto used her social media accounts to promote Copia, who charge companies a flat fee to collect and redistribute excess food to charities in need nearby.
"Our aim is to ensure that no one goes hungry in our film and TV town of Los Angeles by recovering leftover foods from all of our big parties and events," Ms Pinto told Vanity Fair.
Copia distributed the food to an LGBT centre in the same community La La Land was set, a few miles from the awards ceremony.
Photos of the redistributed food showed dishes including beef, chicken legs, asparagus, canapés, grapes and salads.
Ms Pinto claimed on Instagram that 800 people had been fed because of the initiative.
Oscars 2017: Best dressed on the red carpet

Show all 25
However, she isn't the first person associated with the Oscars to help redistribute food waste.
Mr Puck - who has led food catering at the event for the last 23 years - has reportedly himself worked with a charity called Chefs to End Hunger for six years.
Register for free to continue reading
Registration is a free and easy way to support our truly independent journalism
By registering, you will also enjoy limited access to Premium articles, exclusive newsletters, commenting, and virtual events with our leading journalists
Already have an account? sign in
Join our new commenting forum
Join thought-provoking conversations, follow other Independent readers and see their replies