Gernika: New film pays homage to civilian suffering over town that was brutally bombed during Spanish Civil War
Alasdair Fotheringham talks to the director of Gernika (using the Basque spelling) about his film and the legacy of the brutal bombardment
Alasdair Fotheringham Comments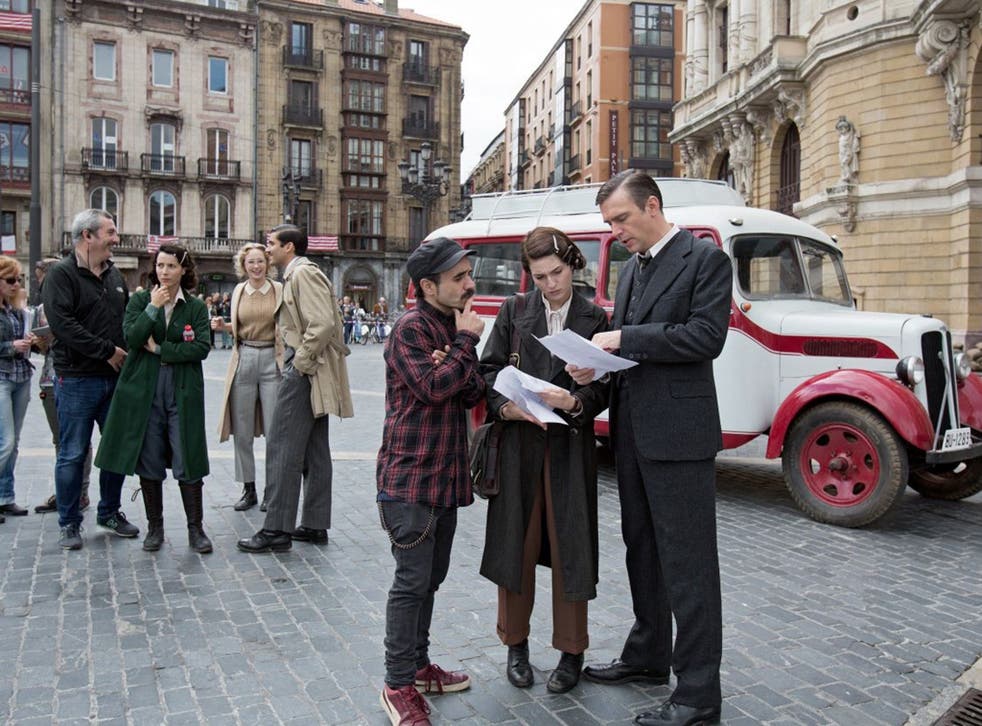 Nearly 80 years after a bombardment by Hitler's Condor Legion turned the small Basque town of Guernica into an enduring symbol of civilian suffering in war, the first full-length feature film about the tragedy is under way.
Much of the film is based on testimonies of the events of 26 April 1937 collected by director Koldo Serra, a project he began in 2012.
"One woman who saw the attack said the planes were flying so low" – as they machine-gunned fleeing citizens – "she could see the pilots' eyes. For me, accounts like that discredit the stories this bombardment in some way wasn't deliberate, or that the planes had missed their original targets," he told The Independent on Sunday on a recent break from an all-night shoot.
Mud-spattered sandbags, old-fashioned café canopies, wooden shopfronts and rifle-bearing militia-men and women have now taken over entire streets and squares in the Basque city of Bilbao, as the shooting, due to last until the autumn, gets under way. Gernika (using the Basque spelling) has a 6m euro (£4.3m) budget – estimated to be three times the average for a Spanish film – and features two British actors, James D'Arcy, who starred in TV drama Broadchurch, and Jack Davenport, who appeared in Pirates of the Caribbean, as well as Spanish actress Maria Valverde.
Spanish Civil War films abound, but until now, Serra says, they have almost exclusively concentrated on the conflict as it happened in the south, and not the doomed Basque republican "northern front". A TV mini-series, Bombs over Gernika, was released in 2012 and a film about the world-famous Picasso painting inspired by the bombardment, 33 Days, is reported to be in the offing, but no full-length feature about that April day has been made before.
"It was a big surprise for me when I found that out, I thought there would be at least two or three others," Serra said. "But it's motivating, too. And being from Bilbao myself, making this film makes me feel like I have an immense responsibility to tell this story well and in a coherent fashion." His previous credits include the thriller The Backwoods, with Gary Oldman.
"Gernika is a film which has struck chords. Not everybody is in favour of seeing streets blocked and shops closed for a shoot, but when you mention Guernica, people tell you their cousins or relatives were in the bombardment. It's still a very important, emotional, subject here."
One of the film's main protagonists is based loosely on George Steer, The Times's Spain correspondent in 1937, who visited Guernica very soon after the bombardment. In the film, one of the journalist's reports – in reality an exclusive that made international headlines – leads him to become entangled with a disillusioned female government official from the Republic's media censorship office.
Serra recounts some of the stories he has heard during his visits to Guernica: how the outer aluminium casings for the cluster bombs were subsequently highly valued as scrap metal – people searched for them among the ruins.
Access unlimited streaming of movies and TV shows with Amazon Prime Video Sign up now for a 30-day free trial
Sign up
The near-destruction of the town has been a hugely controversial subject in the decades since the bombardment, with accounts of events manipulated and distorted by General Franco's regime to dramatic extremes.
"The bombardment was subject to lasting censorship during the war and the dictatorship that followed [which claimed] it had never happened," said Margarita Lobo, a retired Spanish ministry of culture film specialist. It was even claimed that Guernica's own inhabitants had set fire to the town.
It was only in 1978, after Franco's death, and as previously classified photography of bombardments of Spanish Republican cities such as Madrid, Malaga and Barcelona, as well as Guernica, were made public, that "the true extent of the damage became clear", said Ms Lobo. Official German acknowledgement of the Luftwaffe's involvement did not come until 1997.
"Guernica doesn't raise hackles like it used to, but it's still a polemical subject," said Iñaki Goiogana, a historian who works with a Basque cultural foundation, the Fundación Sabino Arana. "Some revisionist historians claim it was only just over a hundred people who died. Or that Franco's Nationalists were not responsible, or that it wasn't such a devastating attack."
Other evidence indicates that there were more than 1,000 dead.
"But some aerial photos that I saw last week in an archive, taken two days after the bombardment, show that the place was almost completely flattened. The destruction of Guernica was a perfectly planned operation, testing attack techniques which were then employed from 1939 onwards across Europe to kill civilian populations."
Films such as Gernika, Mr Goiogana said, "are a valid way of ensuring memories of those events [of 1937] aren't forgotten".
Register for free to continue reading
Registration is a free and easy way to support our truly independent journalism
By registering, you will also enjoy limited access to Premium articles, exclusive newsletters, commenting, and virtual events with our leading journalists
Already have an account? sign in
Register for free to continue reading
Registration is a free and easy way to support our truly independent journalism
By registering, you will also enjoy limited access to Premium articles, exclusive newsletters, commenting, and virtual events with our leading journalists
Already have an account? sign in
Join our new commenting forum
Join thought-provoking conversations, follow other Independent readers and see their replies