Bill Murray and Dan Aykroyd in original Ghostbusters promo
Ghostbusters: Hilarious unearthed clip sees Dan Aykroyd and Bill Murray pitch movie to independent cinemas
'This is going to make 'ET' look like 'Raiders of the Lost Ark', Murray jokes
Ghostbusters fans have rediscovered a hilarious original promotional video starring Dan Aykroyd and Bill Murray.
Filmed during production on 1984's Ghostbusters, the clip sees the film's stars stood in costume in front of the Ghostbusters car, the Ectomobile.
The clip was originally produced with the intention of Aykroyd and Murray presenting a tongue-in-cheek pitch to independent cinema event ShoWest in Las Vegas.
"Hi, I hope you're having a good time in Reno, or, I mean, Vegas, and I hope that not too many of you have discovered that little game with the tiny squares with the dots on it. Y'know, the one that depends on odds," Aykroyd opened the video.
"We're here to talk about a different kind of odds and that is the odds that we'll be in your favour when you exhibit perhaps the greatest comedy motion picture of all time."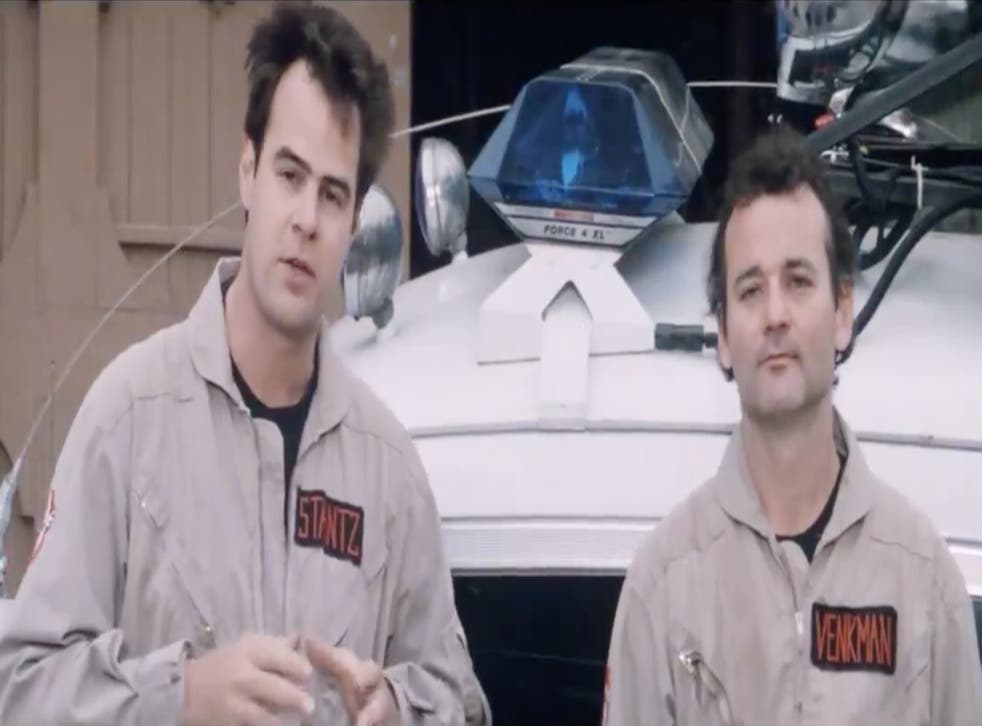 Murray added: "I mean, this is going to make ET look like Raiders of the Lost Ark, y'know what I'm saying?... This is going to be the kind of thing that your children are going to say, 'Dad, I can look up to you now and I never could before.' Isn't it worth it?"
He continued: "God, I mean we made a lot of cheap movies for you guys and made a lot of money and now we kind of spent a little more than we're supposed to."
"And it is PG," Aykroyd interjected. "I'm f***ing telling you, it's PG."
The video then features a clip of the original Ghostbusters theme song which was replaced before the film was released.
The clip was originally located on Reddit and shared on Twitter by screenwriter Todd Spence, who wrote: "This is amazing. Dan Aykroyd and Bill Murray shot this short film for independent theater owners to sell them on showing GHOSTBUSTERS. And check out that original theme song too. Rad stuff."
"I've never seen this before. Literally laughed my a** off," one Reddit user wrote.
"This is the content I'm here off. Never seen this before. Excellent stuff. and laugh out loud funny," another said.
Join our new commenting forum
Join thought-provoking conversations, follow other Independent readers and see their replies