The Independent's journalism is supported by our readers. When you purchase through links on our site, we may earn commission.
Gods of Egypt: Chadwick Boseman agrees with people who think his film 'whitewashes' Egypt
'I thought this [critique] might come up and I'm thankful that it did'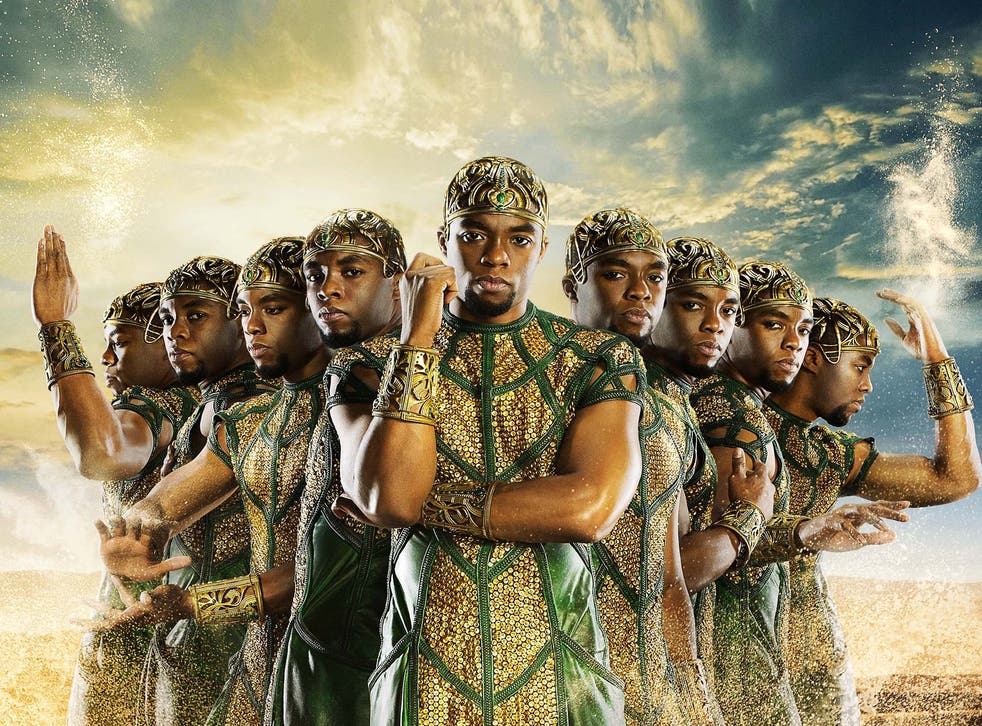 The film-makers behind Gerard Butler's upcoming film, Gods of Egypt, received a lot of criticism for 'whitewashing'.
Both Butler and Game of Thrones' Nikolaj Coster-Waldau have been cast as Egyptian deities, with the trailer having predominantly featured Caucasian actors, bar one: Chadwick Boseman.
The Black Panther actor can be seen briefly playing Throth, the God of Wisdom, a casting decision criticised already for apparently playing into the "magical negro" stereotype.
It turns out Boseman was aware of the whitewashing critique before signing on to the film and thought it may come up in the future.
In an interview with GQ, the actor said he agrees with the uproar and is thankful people are infuriated, going on to say that "people don't make $140 million movies starring black and brown people" while shaking his head.
He told the magazine: "I generally try to tune things like press controversy out, but some people around me told me, 'Hey... you might wanna look at this.' And when I originally was approached with the script, I thought this [critique] might come up, I really did.
"And I'm thankful that it did, because actually, I agree with it. That's why I wanted to do it, so you would see someone of African descent playing Thoth, the father of mathematics, astronomy, the god of wisdom.
"And in the movie, I actually outnumber the other gods in the movie, literally and figuratively. It's hard for people to know that without seeing it. But yeah—people don't make $140 million movies starring black and brown people. [Shakes head.]"
Since the release of the heavily CGI'd trailer, Lionsgate - the studio behind the film - have released a statement apologising for casting white actors as Egyptian deities.
Access unlimited streaming of movies and TV shows with Amazon Prime Video Sign up now for a 30-day free trial
Sign up
They said: "We recognise that it is our responsibility to help ensure that casting decisions reflect the diversity and culture of the time periods portrayed. In this instance, we failed to live up to our own standards of sensitivity and diversity, for which we sincerely apologise."
Director Alex Proyas also admitted that the casting decisions should have more diverse, with Selma director Ava DuVernay noting that such an abashed apology so early on is rare and "worth noting".
Another film to be heavily criticised for its casting decision was Ridley Scott's Exodus: Gods and Kings. The monstrosity of a movie had Christian Bale as Moses and the Australian Joel Edgerton as Pharaoh Ramses.
Scott was unapologetic about his decision, saying: "I can't mount a film of this budget, where I have to rely on tax rebates in Spain, and say that my lead actor is Mohammad so-and-so from such-and-such. I'm just not going to get it financed."
Gods of Egypt reaches cinemas 8 April 2016 in the UK, while it will be in US cinemas 26 February
Register for free to continue reading
Registration is a free and easy way to support our truly independent journalism
By registering, you will also enjoy limited access to Premium articles, exclusive newsletters, commenting, and virtual events with our leading journalists
Already have an account? sign in
Register for free to continue reading
Registration is a free and easy way to support our truly independent journalism
By registering, you will also enjoy limited access to Premium articles, exclusive newsletters, commenting, and virtual events with our leading journalists
Already have an account? sign in
Join our new commenting forum
Join thought-provoking conversations, follow other Independent readers and see their replies