Golden Globes 2021: Stars criticise HFPA for lack of Black voting members during ceremony
'We all know that awards shows are stupid,' co-host Tina Fey said
Sterling B Brown and Susan Kelechi Watson joke it's 'good to be black' at the Golden Globes
Leer en Español
The Golden Globes 2021 heavily addressed the lack of diversity among its voters during the ceremony.
Many high-profile figures spoke out against the fact that the Hollywood Foreign Press Association (HFPA), the voting organisation that decides the ceremony's winners and nominees, doesn't have a single Black member.
Hosts Amy Poehler and Tina Fey tackled the topic head on in their opening monologue.
"This is probably something we should have told you guys earlier," Poehler said. "Everyone is understandably upset at the HFPA and their choices. Look, a lot of flashy garbage got nominated, but that happens; thats like their thing. But a number of Black actors and Black-led projects were overlooked."
Fey added: "We all know that awards shows are stupid. The point is that even with stupid things, inclusivity is important and there are no Black members of the Hollywood Foreign Press. I realise HFPA, maybe you guys didn't get the memo because your workplace is the back booth of a French McDonald's, but you've got to change it."
Read more: The full list of 2021 Golden Globes winners
Sterling K Brown said, while presenting an award: "It is great to be Black at the Golden Globes," before jokingly correcting himself by saying: "It is great to be back at the Golden Globes." Susan Kelechi Watson, his This Is Us co-star, echoed the statement, adding: "It's great to be Black – back – anywhere."
Elsewhere, Best Actor in a Limited Series winner Mark Ruffalo (I Know This Much Is True) encouraged viewers to keep fighting for "inclusion and justice" and Dan Levy, who accepted the Best TV Show – Comedy or Musical award for Schitt's Creek, urged the HFPA to embrace diversity at next year's ceremony.
Earlier this week, Ava DuVernay and Kerry Washington were among the stars to share a post featuring the phrases "A cosmetic fix isn't enough" and "#TimesUpGlobes" ahead of the ceremony.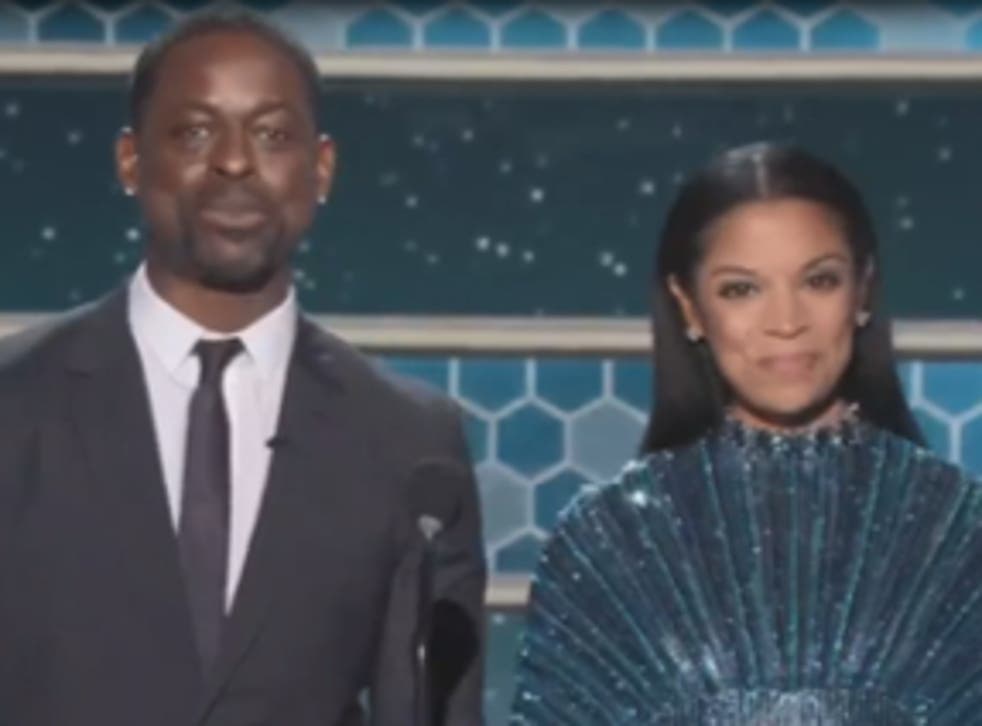 Other stars to have shared the post include Jennifer Aniston, Grey's Anatomy star Ellen Pompeo and Jurnee Smollett, who was nominated for Lovecraft Country.
Viola Davis, who was nominated for Ma Rainey's Black Bottom, shared the post, adding: "The journey of a Black artist is littered with obstacles in creating, developing and being acknowledged for our work. If we continue to keep silent, the younger generation of artists will have the exact same load to carry. No more excuses."
Pompeo wrote an open letter calling upon her fellow white actors to "show our Black colleagues that we care and are willing to do the work to right the wrongs we have created".
On Friday (26 February), Variety reported that HFPA board chair Meher Tatna admitted that the organisation, that is made up of international journalists, has not had any Black members for at least 20 years.
The Hollywood Foreign Press Association responded to the criticism with a statement reading: "We are fully committed to ensuring our membership is reflective of the communities around the world who love film, tv, and the artists inspiring and educating them.
"We understand that we need to bring in Black members as well as members from other underrepresented backgrounds, and we will immediately work to implement an action plan to achieve these goals as soon as possible."
Find a full list of the 2021 Golden Globe winners here.
Join our new commenting forum
Join thought-provoking conversations, follow other Independent readers and see their replies