Gravity star Sandra Bullock set to earn $70m windfall for Oscar-nominated film
Actress would top Forbes' highest-paid actors list if paid the estimated sum
Adam Sherwin
Thursday 27 February 2014 13:49 Comments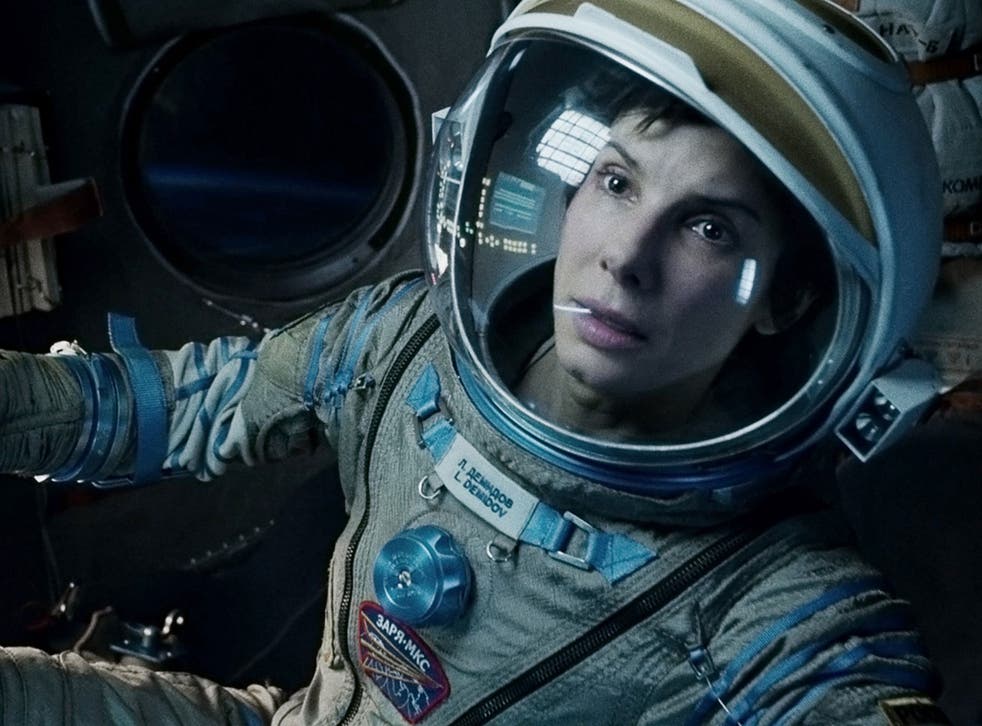 Sandra Bullock is set to enjoy one of Hollywood's biggest paydays after the astronomical success of Gravity has secured the actress a $70 million fee.
The space thriller, expected to sweep Sunday night's Oscars, has taken $703 million (£421 million) at box offices across the globe so far.
Bullock, 49, was paid an upfront $20m basic fee for her astronaut role. But under her deal with Warner Bros, she will take 15 per cent of the studio's share of theatrical revenue, as well as a cut from home video, television and other sources.
Gravity is expected to pass through the $750 million box office mark, and once Warner has taken its 45 per cent share of the proceeds, Bullock's share will total $50 million, including her upfront fee.
Additional earnings from television sales, DVDs and downloads will generate a further $20 million at least for Bullock, Hollywood sources believe.
Bullock, tipped to win Best Actress at the Oscars, will close the pay gap between Hollywood's biggest male and female stars. Last year Forbes named Robert Downey Jr. the highest paid actor with earnings of $75 million, of which $50 million came from his role as Iron Man.
Oscars 2014: Best Actor and Actress nominees

Show all 20
Bullock's windfall is partly down to timing, luck and smart negotiating skills. The actress was riding high after her Oscar win for The Blind Side when the deal was struck in 2010.
Angelina Jolie had pulled out of Gravity when her management failed to strike a deal with Warner Bros. The studio needed an A-list replacement who could carry the film's long sequences of a woman floating alone in space, giving Bullock considerable leverage.
Such "first dollar" guaranteed box office deals for actors are becoming rare, the Hollywood Reporter said, because studios now want to recoup all the costs for expensive productions before sharing the profits with talent.
Access unlimited streaming of movies and TV shows with Amazon Prime Video Sign up now for a 30-day free trial
Sign up
Bullock's co-star George Clooney, Gravity director Alfonso Cuarón and producer David Heyman are also believed to have "back end" pay deals.
Cuarón and Heyman may have renegotiated their deals during shooting, reducing their upfront fees, in order to keep the ambitious 3D film on track as the budget rose beyond $110m.
Bullock's windfall contrasts with the admission by fellow Oscar-nominee Jonah Hill that he gladly accepted the Screen Actors Guild minimum of $60,000 to work with Martin Scorsese and Leonardo DiCaprio on The Wolf of Wall Street. "I would sell my house and give (Scorsese) all my money to work for him," Hill said.
Downey Jr. was denied his own Gravity payday. He was originally cast as the lead but Avengers and Iron Man 3 scheduling conflicts ended his involvement.
If Bullock gets to deliver another Oscar-winning speech, she might be advised to thank the team which boosted her bank balance – her representatives at CAA and the Ziffren Brittenham law firm.
Bullock has selected her roles sparingly in recent years. She is next due to appear as the voice of villain Scarlet Overkill in Minions, a 3D animated prequel to Despicable Me, set for release in Summer 2015. Gravity is up 10 prizes at the Oscars including best film and best director for Cuarón.
Hollywood's biggest pay-days
Keanu Reeves
Agreed a $30 million flat fee to return in The Matrix Reloaded and The Matrix Revolutions sequels but a 15 per cent cut of those movies' combined gross earnings bumped his total earnings to $185m.
Bruce Willis
Paid $14 million for role in supernatural thriller The Sixth Sense and agreed a 14 per cent cut of the gross. Surprise box office success made Willis $103 million richer.
Tom Hanks
Waived his usual $25 million fee for a profit-share agreement in 1994 romantic comedy Forrest Gump. Decision vindicated as huge hit paid out Hanks $70 million.
Tom Cruise
Back-end profit shares earned Cruise $100 million for both Mission: Impossible 2 and War of the Worlds. Tougher economic times forced star to cut his basic $25 million fee for MI: Ghost Protocol in 2011.
Harrison Ford
The veteran pocketed $65 million for 2008 return in Indiana Jones and the Kingdom of the Crystal Skull. Waived full fee for profit share to help Paramount cover soaring budget.
Register for free to continue reading
Registration is a free and easy way to support our truly independent journalism
By registering, you will also enjoy limited access to Premium articles, exclusive newsletters, commenting, and virtual events with our leading journalists
Already have an account? sign in
Register for free to continue reading
Registration is a free and easy way to support our truly independent journalism
By registering, you will also enjoy limited access to Premium articles, exclusive newsletters, commenting, and virtual events with our leading journalists
Already have an account? sign in
Join our new commenting forum
Join thought-provoking conversations, follow other Independent readers and see their replies