Gregory Walcott dies: The blameless actor who couldn't shake off being a part of the worst movie ever
"Ed Wood has etched my name forever in the annals of film history"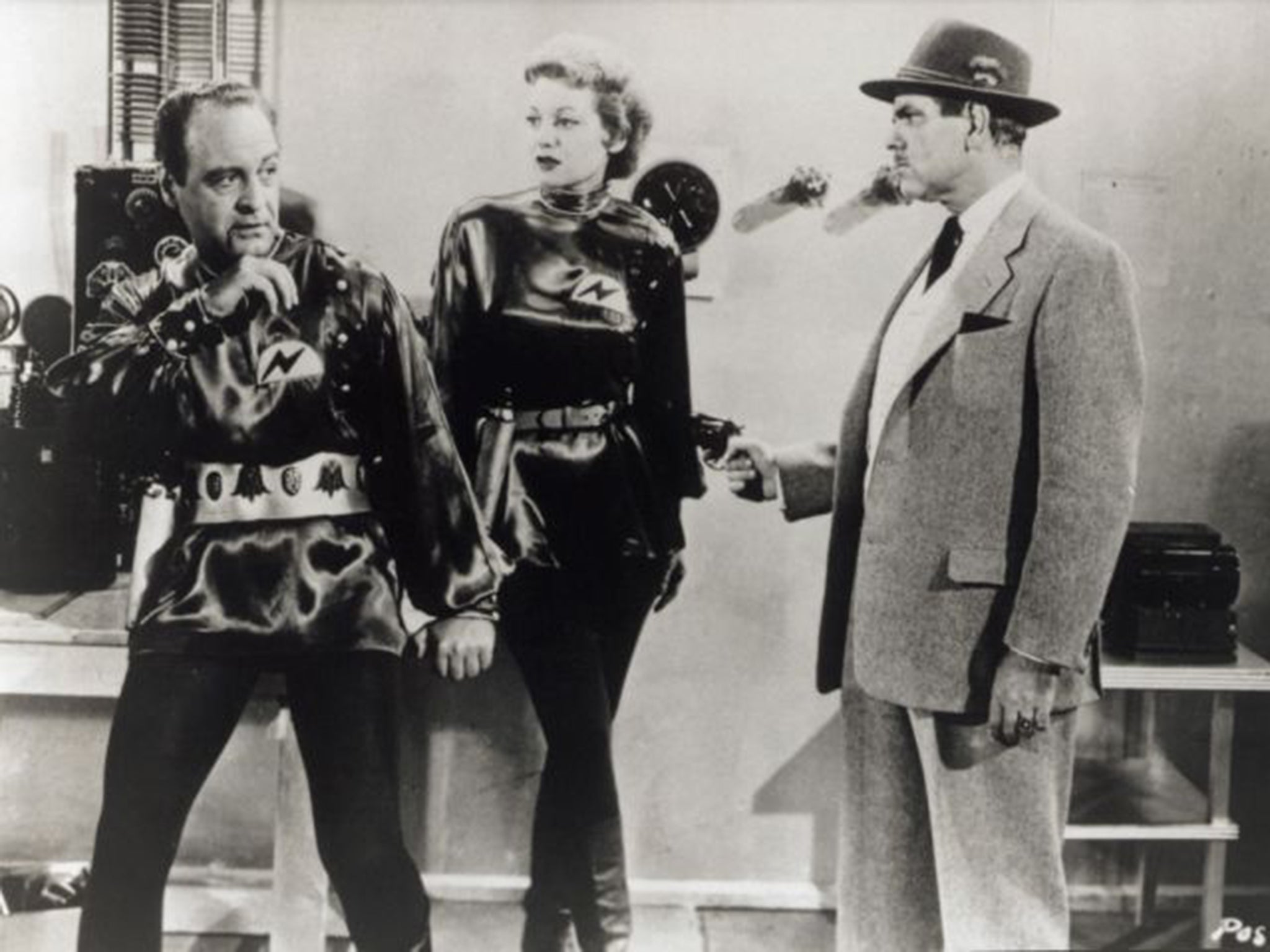 Gregory Walcott had a film career lasting more than four decades, in which he made more than 30 movies, working with luminaries such as Steven Spielberg, Clint Eastwood and Jane Fonda along the way.
But he will only be remembered for one film – commonly cited as the worst ever made.
As was proved today, when his death aged 87 was announced, internet obituaries all began by describing Walcott as "the star of Plan 9".
Exactly as Walcott predicted they would.
"Ed Wood," he told Filmfax magazine in 1998, "Has etched my name forever in the annals of film history.
"I will go to my grave not remembered for those meaty roles I did for the likes of John Ford or Steven Spielberg, but as the leading man in a film that many movie historians regard as the worst of all time. It's enough to drive a puritan to drink!"
His misfortune was that Plan 9 From Outer Space was so dreadful it retains a devoted following among fans of the so-bad-it's-good movie genre.
Alarm bells should perhaps have been louder than they were when Walcott was first approached about appearing in the film.
"How would you like to star alongside the legendary horror actor Bela Lugosi", he was asked.
"But Bela Lugosi is dead," came his not unreasonable reply.
Lugosi's death in 1956 did not, however, deter the legendary (in the sense of legendarily awful) director and writer Edward D Wood Jnr, who was portrayed by Johnny Depp in the Tim Burton 1994 biopic Ed Wood.
Wood simply used earlier, unused footage he had shot of Lugosi for another project, even though the scenes were entirely unrelated to the plot of Plan 9. Then he got his wife's chiropractor to stand in for the now-deceased Lugosi in other scenes by hiding his face behind a cape – fooling nobody given that Lugosi had a full head of hair while the chiropractor was nearly bald and significantly taller than his supposed double.
The film, released in 1959, also featured toy flying saucers dangling from strings, ropey sets and risible dialogue.
Access unlimited streaming of movies and TV shows with Amazon Prime Video
Sign up now for a 30-day free trial
Sign up
Access unlimited streaming of movies and TV shows with Amazon Prime Video
Sign up now for a 30-day free trial
Sign up
Walcott later struggled to explain what possessed him to play alien-fighting pilot Jeff Trent.
The most controversial films
Show all 20
"I refused at first," he told Filmfax, "I read the script and it was gibberish."
But, he said, he wanted to help one of the film's backers, his fellow churchgoer Ed Reynolds. Perhaps unwisely, he didn't tell his agent what he was doing. "I honestly thought it would only be shown out in the boondocks and no-one would ever see it."
By 1961, however, he was back and winning critical acclaim in The Outsider, playing a drill instructor to Tony Curtis's Ira Hayes, the Native American Second World War hero. He also appeared in Steven Spielberg's 1974 feature film directorial debut The Sugarland Express, as well as a string of Clint Eastwood films including Every Which Way But Loose and The Eiger Sanction.
He also had that rare thing in Hollywood – an enduring marriage, to Barbara, which lasted 55 years until her death in 2010.
Walcott had in fact been reconciled to his role in film history for decades, his comments about Plan 9 almost always made more in good-humoured acceptance than anger.
"I didn't want to be remembered for that," he told the LA Times in 2000, "But it's better to be remembered for something than for nothing, don't you think?"
And there was one consolation. His Plan 9 performance helped land him his last film role, a 1994 cameo in Ed Wood about his real-life nemesis, in which he played a potential movie investor. That film won two Oscars.
Join our commenting forum
Join thought-provoking conversations, follow other Independent readers and see their replies