Harry Potter fans enjoy Christmas dinner at Hogwarts in true wizarding style
Don't worry, we're as green as a Christmas tree too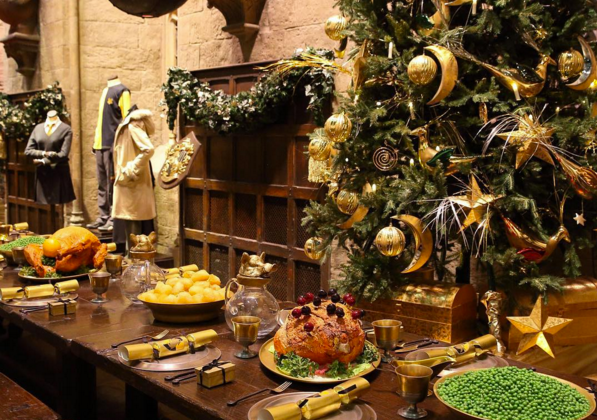 Ever wondered how amazing it would be to experience Christmas dinner at Hogwarts? If you were one of the lucky Harry Potter fans wealthy enough to fork out £230, you already know, but if not, pictures from the festive event at Warner Bros Studio last Thursday will give you a pretty good idea (and make you green with envy, we're sorry).
The famous Great Hall was decked out with original props from first movie Harry Potter and the Philosopher's Stone and around 200 guests were greeted with welcome drinks and canapés upon arrival.
Replica wands were waiting on tables to encourage the casting of spells and one look at the menu will be enough to get you salivating, not to mention the wines. The second course was served by Death Eaters, according to Time, with many fans donning their best fancy dress outfits.
Christmas trees were covered with snow and "topped with flying witches", while an array of fiery lanterns and elaborate wreaths created a cosy, opulent atmosphere.
Mugs of traditional Butterbeer could be grabbed from the backlot cafe, with a selection of yummy puddings served next to the Hogwarts Express on Platform 9 and ¾. Gryffindor common room, the Weasley's kitchen in The Burrow and the Wooden Bridge of Hogwarts Castle were also decorated, complete with falling snowflakes.
There was music and dancing at the party, which ran from 6pm until midnight. Is anybody else feeling a big case of FOMO coming on?
Join our commenting forum
Join thought-provoking conversations, follow other Independent readers and see their replies