Here's what the Edward Scissorhands suburb looks like 25 years on
The beloved 1990 Tim Burton flick used locations around Tampa, Florida.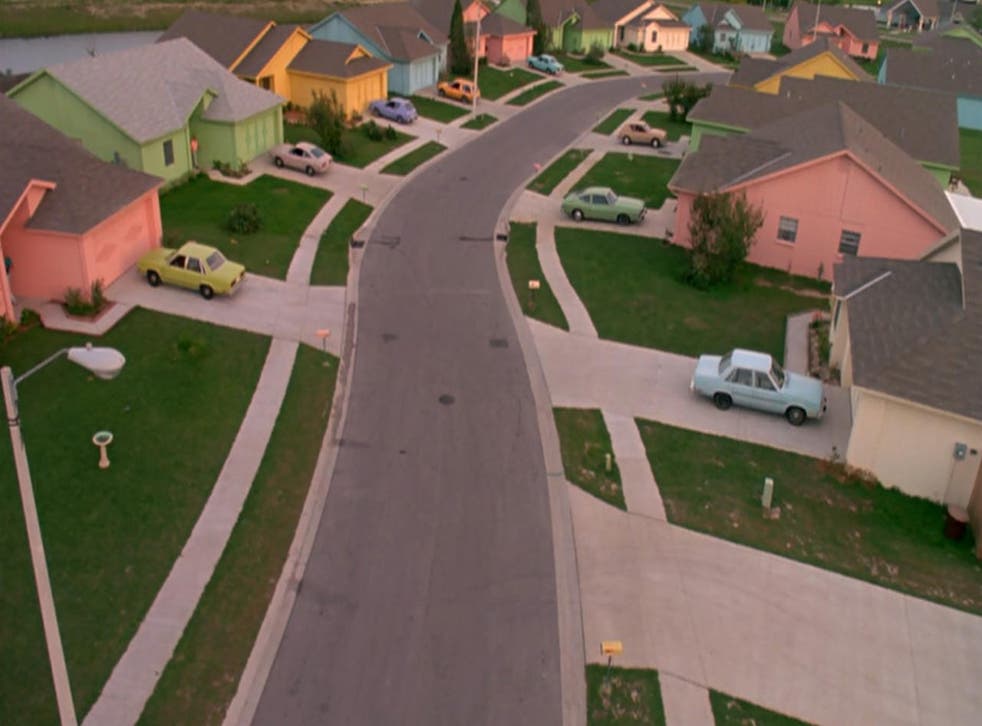 As Edward Scissorhands celebrates its 25th anniversary, a local resident of the film's original locations has shared some then-and-now photographs. 

Director Tim Burton's suburban fairytale has won over the heart of so many since its 1990 release. Capturing the misfit sentimentality amongst fair-weather, socially rigid Americana, Edward's inconvenient scissors for hands painted a tale both sweet and sweepingly tragic. 

The director was keen to recreate the suburbia of his own childhood, though claimed his hometown of Burbank, California had altered too much for use. So, production shipped out to the Tampa Bay Area of Florida, specifically the town of Lutz; which according to production designer Bo Welch was, "a kind of generic, plain-wrap suburb, which we made even more characterless by painting all the houses in faded pastels, and reducing the window sizes to make it look a little more paranoid."

The production supposedly injected over $4 million into the local economy, with the individual who took the photographs recalling their mother had worked for the doctor who had been placed on call for incidents on set. 

The poster, whose username is 'Voodrew', points out that the biggest difference between then-and-now on the location is the change in trees. At the time, the houses were part of a brand new complex; those bare lawns were a perfect canvas for Burton and his team to erect those famous hedge sculptures conceived by the ever-creative Edward. The other major change, of course, is the sickly sweet, pastel paint job the houses received for the film; though the houses of today still reflect just a little of that false, sterile perfection Burton was attempting to parody with his tale of a scissor-handed misfit. 
Here's what the Edward Scissorhands suburb looks like 25 years on

Show all 7
Register for free to continue reading
Registration is a free and easy way to support our truly independent journalism
By registering, you will also enjoy limited access to Premium articles, exclusive newsletters, commenting, and virtual events with our leading journalists
Already have an account? sign in
Register for free to continue reading
Registration is a free and easy way to support our truly independent journalism
By registering, you will also enjoy limited access to Premium articles, exclusive newsletters, commenting, and virtual events with our leading journalists
Already have an account? sign in
Join our new commenting forum
Join thought-provoking conversations, follow other Independent readers and see their replies