The Independent's journalism is supported by our readers. When you purchase through links on our site, we may earn commission.
how to enjoy back to the future day
if you have never seen back to the future 2 before then dont worry because here is a helpful guide for you to have a read of so you can enjoy back to the future day with everyone else without looking like a complete idiot who knows nothing about futuristic films.
Chris (simpsons Artist
Wednesday 21 October 2015 08:05 Comments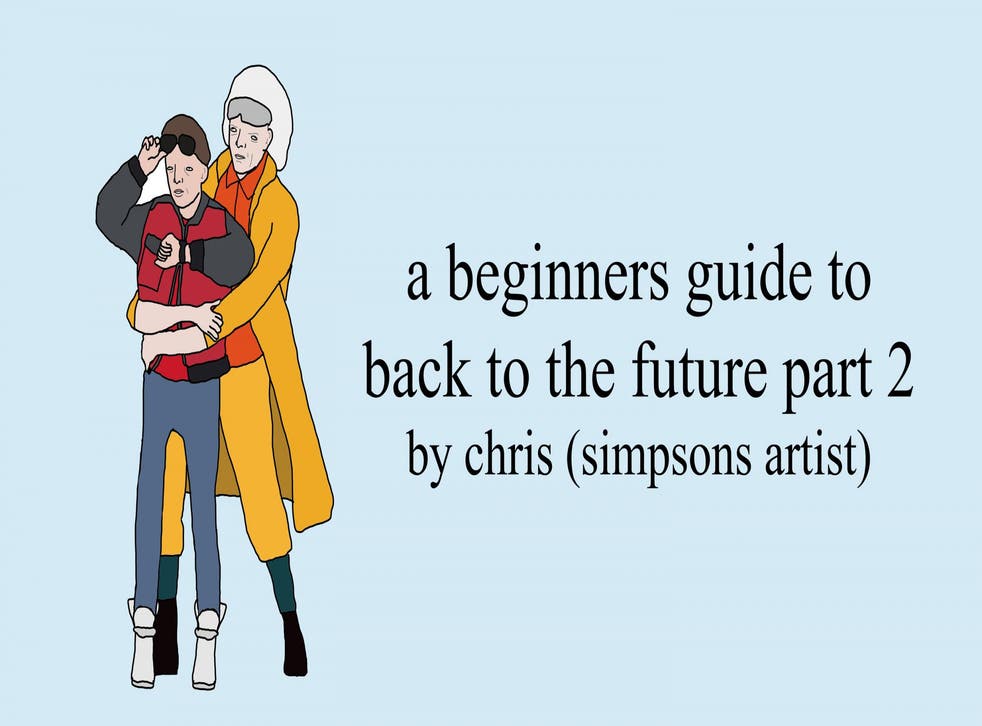 THE 8 BEST BITS FROM BACK TO THE FUTURE 2
1. when marty shakes hands with himself
as soon as the film starts marty sees a hole in a wall so he puts his hand through the hole and there is a hand on the other side so he shakes hands with it but what he doesnt realise is that he just shook hands with himself and in doing so he has just killed his own mum.
2. when marty is being chased by the wolves
near the middle of the film it shows marty being chased by a pack of wolves that belong to biff who is the main idiot in the film but marty manages to escape from them by using his hover shoes to float over their snapping beaks to safety.
3. the part with the feather
one of the most beautiful parts in the film is when marty sees a white feather floating in the sky and he jumps up and he catches it in his mouth and the camera does a close up shot of his mouth and he says feathers.
4. any bit with doc brown in it
not many people know that doc brown in the film was actually a puppet who was controlled by the famous dutch puppeteer jim henson and i think that this just makes all of the bits he is in even more special to watch because of the way they were able to make him thrash about and scream just like a real person even before special effects existed.
5. marty and the priest
if someone asks you what your favourite part of back to the future 2 is you should always say the bit when marty hovers over the church in his hover shoes and he pulls a priests heart out of his body and then he takes a bite out of it and he looks at the priest through the hole and he says i guess you really are holy now arent you and then he does a massive screaming laugh that sounds like someone scraping a glass pipe across the top of a radiator.
6. when marty has to get himself pregnant
after shaking hands with himself through the hole in the wall and killing his own mum marty realises that the only way he can stop himself from becoming a ghost is if he gets himself pregnant so he has to track himself down and get himself pregnant before the bell chimes noon or it will be too late.
7. when marty finally kills biff
the end battle scene between marty and biff is one of the most iconic battle scenes in the history of cinema and when marty chops off biffs head and holds it into the air and he screams and loads of spit goes down his chin it really is such a beautiful moment and it is no wonder that people from all around the world have voted it the most emotional battle scene since the war.
8. the bit where marty washes doc in the bath
right at the very end of the film it shows marty kneeling next to a bath washing docs back with a cloth and after about 30 seconds they both look at the camera and they say time travel is a tiring business isnt it and then they both look at each other and they burst out laughing and they start splashing each other with water and then marty splashes water at the camera and the film just ends really suddenly and it is just the most perfect ending to the most perfect film.
Five times Back To The Future got it right
4 THINGS THAT CAME TRUE FROM BACK TO THE FUTURE 2
was the writer of back to the future 2 a time traveller or something because if he wasnt then how did he manage to predict all of these things about the future:
Access unlimited streaming of movies and TV shows with Amazon Prime Video Sign up now for a 30-day free trial
Sign up
1. internet blogging - at the start of the film we see marty lay in his kitchen blogging about necklaces and now blogging about necklaces is enjoyed by people from all around the world.
2. glitter dispensers in mobile phones - after marty gives birth to himself he celebrates by pouring glitter all over his hair from out of his glitter dispenser in his telephone just like you can do if you own any modern day telephone in 2015.
3. 5 pence charges on plastic bags - in scene 8 doc buys a pair of futuristic lace leggings from a shop and when the lady in the shop says that it will be 5 pence for a bag doc spits in her face and he says he would rather kill himself than pay 5 pence for a plastic bag just like people do today.
4. tin fingers - tin fingers are everywhere in 2015 thanks to pop singers like beyonce and lorraine kelly getting their actual fingers replaced with unbendable tin fingers just like in the film.
The 7 things Back to the Future actually got right

Show all 7
Motivational Quotes to Help You Be More Positive by Chris (Simpsons artist) is out on 5 November. Published in hardback by Orion Books. Have a buy of it here.
Register for free to continue reading
Registration is a free and easy way to support our truly independent journalism
By registering, you will also enjoy limited access to Premium articles, exclusive newsletters, commenting, and virtual events with our leading journalists
Already have an account? sign in
Join our new commenting forum
Join thought-provoking conversations, follow other Independent readers and see their replies