Hugh Grant jokes his children 'don't get fed' if they don't watch his films each night
Actor shares lockdown anecdotes with Drew Barrymore in SAG-AFTRA interview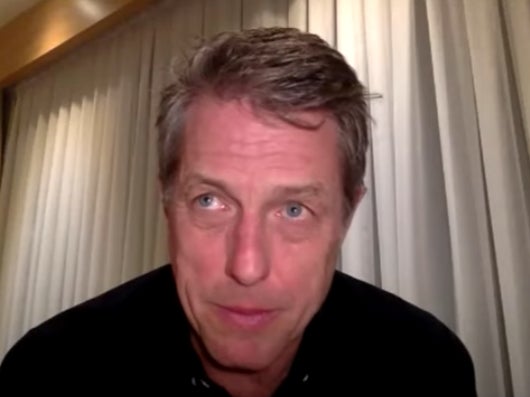 Hugh Grant has joked that he forces his children to watch his films, and that they "don't get fed" if they refuse.
The British actor spoke to Drew Barrymore in a video interview for the SAG-AFTRA Foundation this week, in which they discussed their careers along with life during lockdown.
Grant asked Barrymore if her children had seen Music and Lyrics, the 2007 romantic comedy they starred in together.
When Barrymore said they hadn't, Grant said it was "insane" and claimed his children "didn't get fed" if they didn't watch his films every night.
"I think I'm going to force them to watch it," Barrymore said.
She revealed they didn't enjoy ET, which Barrymore starred in when she was seven years old, or her romantic comedy Never Been Kissed.
"I'm sorry you have two mentally damaged children like that, I love all those films," Grant said.
He later joked that the reason he did his hit series The Undoing in London was "to get away from my children", but then became overwhelmed because he missed them so much.
He revealed that his children are now accompanying him while he works on his next project.
You can watch the full interview here.
Join our commenting forum
Join thought-provoking conversations, follow other Independent readers and see their replies