Coronavirus: Hugh Jackman and Ryan Reynolds pause joke feud to raise money for charity
Actors are raising funds for America's Food Fund amid the ongoing Covid-19 crisis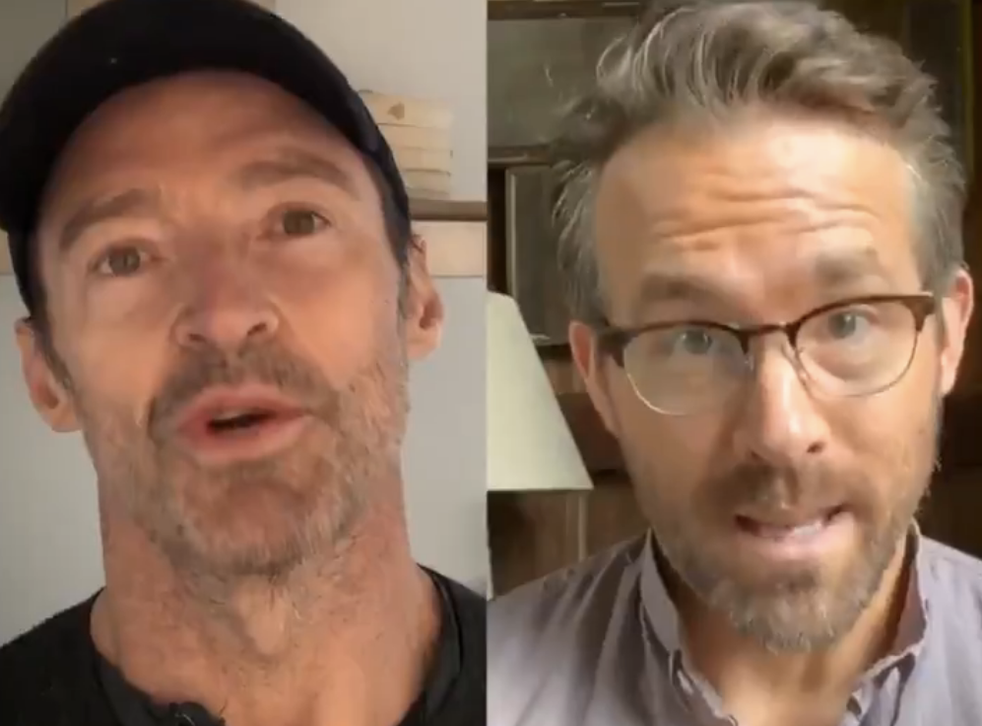 X-Men actors Hugh Jackman and Ryan Reynolds have put their "feud" on hold as they come together to help out with coronavirus relief efforts.
In the pair's most recent spoof video, Jackman – who portrayed Wolverine in the X-Men film franchise between 2000 and 2017 – and Deadpool actor Reynolds announce their participation in the All In Challenge.
The campaign is designed to raise money for America's Food Fund amid the ongoing Covid-19 crisis, and those who donate will earn the chance to have Jackman and Reynolds fly to their home and help their children sell lemonade.
Reynolds took to Twitter to announce the pair's involvement in the challenge, writing: "Hugh and I have a temporary cease-fire on our feud for the @allinchallenge. So, I nominate legendary Astronaut @Cmdr_Hadfield​, Soccer Superstar @AshleyLawrence – and just to screw with him... @RealHughJackman​. (WHAAT? A challenge inside a challenge.)"
In the corresponding video, Reynolds says: "For one day and one day only, we've agreed to agree to not disagree. And only a pandemic could make that happen."
The pair's joke feud has lasted for years, with Reynolds crashing one of Jackman's press junkets during the run-up to the X-Men film Logan and dressing up as Deadpool to interrupt the Australian's birthday message on Twitter in 2018.
Fellow actors Leonardo DiCaprio and Robert De Niro also joined the All In Challenge by revealing a lottery to win a walk-on role in their upcoming film Killers Of The Flower Moon, directed by Martin Scorsese.
Register for free to continue reading
Registration is a free and easy way to support our truly independent journalism
By registering, you will also enjoy limited access to Premium articles, exclusive newsletters, commenting, and virtual events with our leading journalists
Already have an account? sign in
Register for free to continue reading
Registration is a free and easy way to support our truly independent journalism
By registering, you will also enjoy limited access to Premium articles, exclusive newsletters, commenting, and virtual events with our leading journalists
Already have an account? sign in
Join our new commenting forum
Join thought-provoking conversations, follow other Independent readers and see their replies