'Is it because I has a mankini?' Ali G creator to take on Queen
Sacha Baron Cohen to play Freddie Mercury in a film about the star's colourful life
Saturday 18 September 2010 00:00 BST
Comments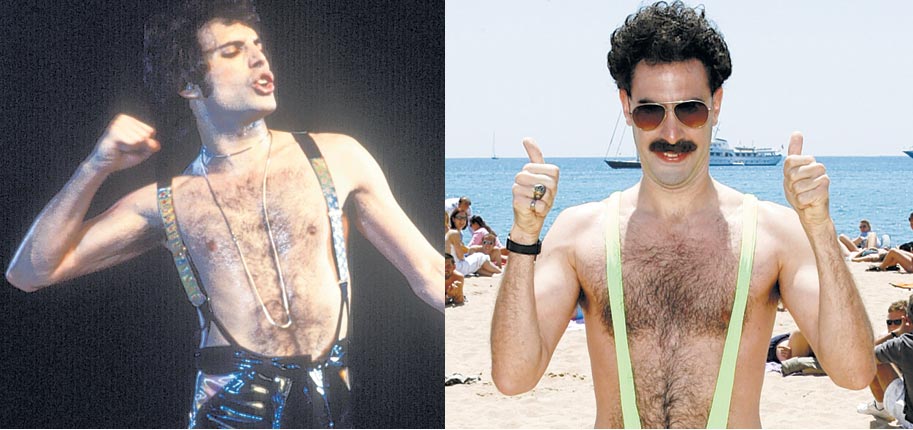 As Borat, the hapless Kazakh television presenter, Sacha Baron Cohen became used to wearing a bushy moustache and skintight suits. Now the British comedian and actor is preparing to flex the Spandex once more as the Queen singer Freddie Mercury.
After months of rumours about an impending film treatment of the life and early death of the flamboyant frontman, the decision to cast Baron Cohen, the creator of comic characters including Ali G and Brüno, was revealed in a BBC interview by the guitarist Brian May.
"We have Sacha Baron Cohen, which will probably be a shock to a lot of people, but he's been talking with us for a long time. He has been in on this project since we started talking about it seriously a couple of years ago," said May, who added that neither he nor Roger Taylor, the other surviving member of the group, would appear in front of the camera. They will, however, direct the music.
The screenplay will be written by Peter Morgan, a colourful figure in his own right. The brains behind The Special Relationship, which will be shown on BBC2 tonight and stars Michael Sheen as Tony Blair and Dennis Quaid as Bill Clinton, also wrote The Deal, The Queen and Frost/Nixon. The son of two refugees – his father a German Jew who fled the Nazis, his mother a Catholic Pole who escaped the Soviets – Morgan now lives in Vienna with his wife, an Austrian princess.
The Mercury film, which is being co-produced by Robert De Niro's TriBeCa Productions, will focus on Queen's formative years and the period leading up to the celebrated performance at the 1985 Live Aid concert. Filming is due to begin next year, though it is still not known whether Cohen will sing.
Having found themselves in the wilderness after a decade as one of the biggest bands in the world, the appearance at Wembley helped breathe new life into Queen's declining fortunes. Their career had taken a nose dive in the United States, not helped by Mercury's cross-dressing vacuum-cleaner-wielding performance in the video for "I Want to Break Free", the irony of which was lost on large swathes of Middle America. The band then alienated a whole new generation of fans when they committed one of the cardinal sins of the politically aware mid-80s music scene by performing at South Africa's Sun City.
This made their show-stealing 21-minute set in front of a global television audience numbering hundreds of millions even more dramatic. The performance was recently voted the greatest ever live show.
Fans had become concerned over Mercury's increasingly gaunt appearance from 1988 and the once consummate showman was forced to issue a statement in 1991 confirming he had Aids. He died within 24 hours from bronchial pneumonia, aged 45.
Graham King, of GK Films, which is co-producing the new film, said Queen was "a music brand all unto itself". He said: "Freddie Mercury was an awe-inspiring performer so with Sacha in the starring role, coupled with Peter's screenplay and the support of Queen, we have the perfect combination to tell the real story behind their success."
Access unlimited streaming of movies and TV shows with Amazon Prime Video
Sign up now for a 30-day free trial
Sign up
Access unlimited streaming of movies and TV shows with Amazon Prime Video
Sign up now for a 30-day free trial
Sign up
Fans appeared to welcome news of Cohen's casting in the still untitled venture. "Baron Cohen is an intriguing choice. For one thing, he looks more like Mercury than any star I can think of," wrote a correspondent for the Queen International Fan Club.
Farrokh Bulsara, aka: Freddie Mercury
Born: 1946, Zanzibar
Religion: Zoroastrian
Height: 5ft 9in
Style: Gave up operatics and spangly leotards in favour of Nuremberg-style concerts and over-tight white T-shirts.
Best quote: 'Who wants to live forever?'
Sacha Noam Baron Cohen, aka: Ali G, Brüno and Borat
Born: 1971, Hammersmith
Religion: Jewish
Height: 6ft 3in
Style: Former Socialist Zionist youth star turned international sex symbol
Best quotes: 'I like sex!' (Borat); 'Is it because I is black?' (Ali G)
Join our commenting forum
Join thought-provoking conversations, follow other Independent readers and see their replies