It movie: How the book's infamous orgy scene is handled and why Stephen King wrote the scene
**Spoilers ahead for It below**
Jack Shepherd
Sunday 10 September 2017 12:04 Comments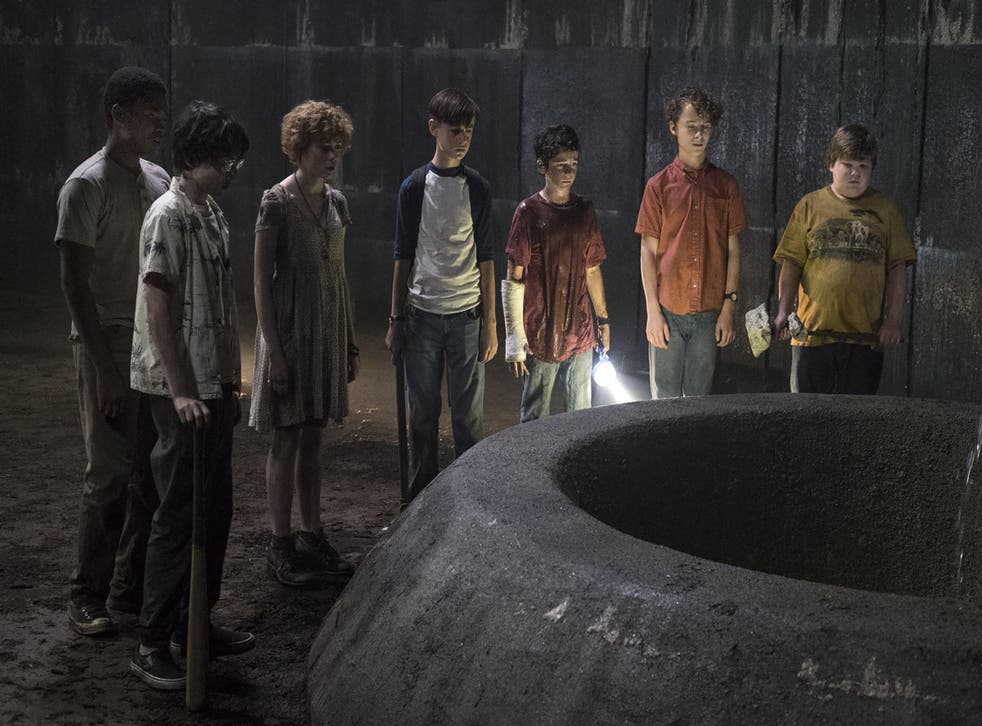 After months of growing excitement, the new adaptation of Stephen King's It has finally reached cinemas, the infamous killer Pennywise returning to screens 27 years after being portrayed by Tim Curry.
Fans of the novel have questioned whether one of King's most infamous scenes would make an appearance in the film.
After the Losers' Club defeat Pennywise, they get lost in Derry's sewer system. After coming to the realisation that they can't escape without being unified, Beverly — the single female member — decides she needs to have sex with the six boys.
The text reads, via Entertainment Weekly: "I have an idea," Beverly said quietly. In the dark, Bill heard a sound he could not immediately place. A whispery little sound, but not scary. Then there was a more easily place sound… a zipper. What—? he thought, and then he realised what. He was undressing. For some reason, Beverly was undressing.
After Beverly has had sex with each member, one of the boys instantly remembers the way out and they subsequently escape.
Films to get excited about in 2017

Show all 13
In the film, rather than have the group getting lost in the sewer system, they instantly appear safe outside, director Andy Muschietti deciding to leave out the scene entirely.
Discussing the infamous scene with EW, one of the script's authors, Gary Dauberman, revealed there was some debate over its inclusion, the original draft having the gang getting lost but Beverly touching their faces, providing each with the 'light' to get home.
"Besides Georgie in the sewer [the It opening], I think it's the one scene that everybody kind of brings up and it's such a shame," Dauberman said. "While it's an important scene, it doesn't define the book in any way I don't think and it shouldn't. We know what the intent was of that scene and why he put it in there, and we tried to accomplish what the intent was in a different way."
Audiences at special screening of Stephen King's It scream in horror
King has spoken about the scene numerous times, the most recent being in 2013. "I wasn't really thinking of the sexual aspect of it," King noted on an official message board, as confirmed by his manager.
Access unlimited streaming of movies and TV shows with Amazon Prime Video Sign up now for a 30-day free trial
Sign up
"The book dealt with childhood and adulthood — 1958 and Grown Ups. The grown ups don't remember their childhood. None of us remember what we did as children—we think we do, but we don't remember it as it really happened.
"Intuitively, the Losers knew they had to be together again. The sexual act connected childhood and adulthood. It's another version of the glass tunnel that connects the children's library and the adult library. Times have changed since I wrote that scene and there is now more sensitivity to those issues."
Speaking to Vulture, King's agent added another note from the author: "To it, I'd just add that it's fascinating to me that there has been so much comment about that single sex scene and so little about the multiple child murders. That must mean something, but I'm not sure what."
Whatever the case, Muschietti probably made a good decision not including the scene. It: Chapter One is currently playing in cinemas.
Register for free to continue reading
Registration is a free and easy way to support our truly independent journalism
By registering, you will also enjoy limited access to Premium articles, exclusive newsletters, commenting, and virtual events with our leading journalists
Already have an account? sign in
Join our new commenting forum
Join thought-provoking conversations, follow other Independent readers and see their replies