Jada Pinkett Smith interview: The Magic Mike actress talks sex, the Pope and Will's striptease
'Will could never understand why I didn't want to be the biggest star in Hollywood'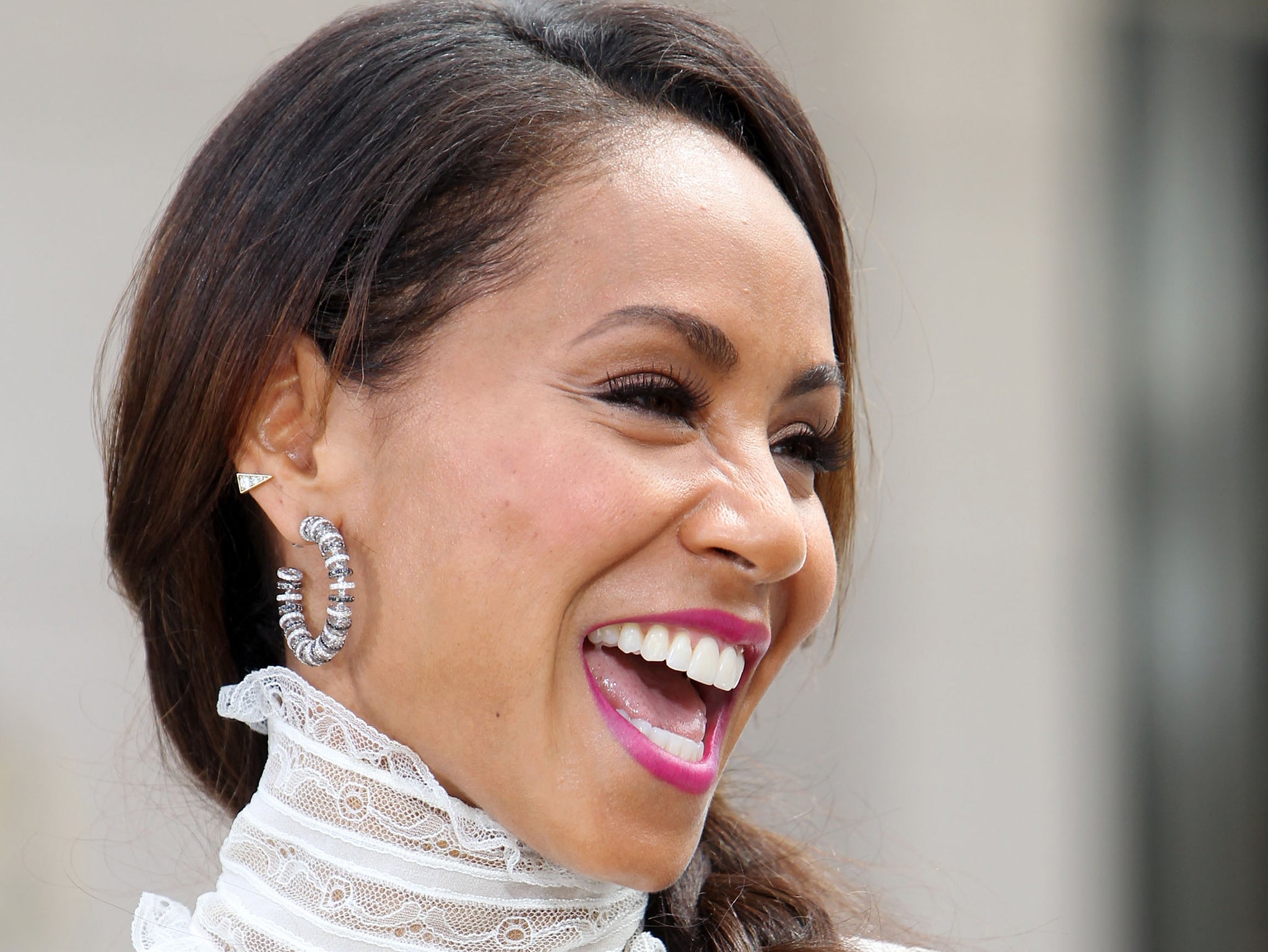 Jada Pinkett Smith wants to talk about sex. Not in a girly, coy kind of way but as a mother-of-two who wants to lift the veil of shame from female desire and open up a valid conversation about women and sex.
"Kids watch so much violence and yet we all get so uptight about the most beautiful thing that human beings can encounter: sensuality, love and sex. People are afraid of intimacy. That's more scary than seeing somebody's head blown off," asserts the actress who plays a strip-club manager in Magic Mike XXL.
In this sequel to Channing Tatum's surprise box-office hit three years earlier – a story based on the actor's own real-life experience as a male stripper – it's a testament to Pinkett Smith's hardcore attitude that Tatum offered her a role originally envisioned for a male actor.
Magic Mike XXL is not your mother's Full Monty, and Pinkett Smith, 43, came to the role with eyes wide open having produced sex trade documentary Rape for Profit in 2012.
"Channing came to me and asked 'How can we make adult entertainment responsible and fun?' And I replied, 'You know what, I'm down for the ride because I've been wondering the same thing because stripping is going to exist'."
She even wishes there were more topless beaches in the US: "We don't do all that taking shirts off at the beaches over here, but I tell my kids, 'It's OK, it's just breasts'. I have more of a European approach in my house." Pinkett Smith is one half of one of Hollywood's most influential power couples – she has been married to Will Smith for 18 years and is mother to son Jaden, 16, daughter Willow, 14, and step-mum to Smith's son Trey, 22.
Earthy, sensual and totally up front, she's never been a "Hollywood wife", forging her own career as actress, singer-songwriter, producer philanthropist and author.
Unlike her husband, global domination was never her goal. Beginning her career with guest roles on popular TV shows like Doogie Howser MD, 21 Jump Street and A Different World, she recently took a supporting role in TV thriller Gotham. Along the way there have been roles in blockbusters, starring in two of The Matrix movies as well as hit comedy The Nutty Professor and dramas Collateral and Ali.
"Will could never understand why I didn't want to be the biggest star in Hollywood. But I never wanted that. I just feel blessed to be able to do what I love and to do it when it works for me," says Pinkett Smith who also plays a large role in nurturing the careers of their precocious offspring.
Access unlimited streaming of movies and TV shows with Amazon Prime Video
Sign up now for a 30-day free trial
Sign up
Access unlimited streaming of movies and TV shows with Amazon Prime Video
Sign up now for a 30-day free trial
Sign up
Living in an exclusive enclave in Hidden Hills, some 25 miles outside Los Angeles, she says the reason for the couple's longevity is simple. "We work very hard at being happy. Marriage is not an easy thing. We have a lot of love and respect for one another and we work really hard at attaining happiness. Not just being together but being happy together."
She wishes she had the answers. "I don't have any miracle formula so I read from different sources, pull together different information and I 'Frankenstein' a philosophy. I like to understand the physics of things."
If in doubt, she follows a simple principle. "Love the god and the devil in your partner," she says. "And that's the truth. You have to be able to sit as close to someone when they're in the light as when they're in the dark. You have to be friends. Having that understanding allows me to look at Will as a man and as this beautiful other worldly creature and to be able to walk with him hand-in-hand and for him to be able to look at me in the same way, takes a lot of love, depth and friendship."
Laughing easily and frequently, gold bangles and bling jingle as a percussion as she erotically elongates the S's in her vocabulary, especially in favourite words like sexual, delicious or sensual.
Unashamed to admit she enjoyed the fringe benefits of working on Magic Mike XXL, she visited the set even on her days off. "I did not miss one dance routine. I always found the best seat in the house. But I've got to be honest, I'm not a big fan of thongs – but it works in this."
Her husband, she admits, would be lost on a stripper pole, avoiding the film set where Channing Tatum and Joe Manganiello would strut their stuff. "Will struts enough in his own films. I don't think he felt the need to come into this world. Will is such a joker so his striptease is not sexy at all, just know that. He's the kind of guy who hides behind doors and jumps out."
One of her guilty pleasures on the Magic Mike XXL set was studying the behaviour of the male cast almost as an anthropologist.
"I got to be a witness to how men interact when women aren't around and the importance of male bonding time because men are completely different with each other than they are with us. Then I got to witness how when their wives and beautiful fiances would come on set, everything changed, and to see a complete shift," says the actress referring to Tatum's actress wife, Jenna Dewan, and Manganiello's fiance, Sofia Vergara.
Born in a tough neighbourhood of Baltimore, her parents divorced within months of their marriage. Raised by her mother and grandmother, she's never lost sight of her roots.
Suggest that she's a superwoman, she shakes her sleek pony-tailed head in denial. "Its all hard. I'm resilient because I haven't had an easy ride since day one so I'm used to just doing it and I don't complain and I don't wallow in the difficulty because, growing up, wallowing in the difficulty of things could get you killed. So, for me it's just part of my nature to look at a situation and think of the best solution. That's been part of my survival since I grew up. You had to be a quick problem solver. Get out of the way! A bullet's coming!"
But such fears and instincts are in the distant past, tucked away behind the solid walls of the family's vast estate with 24-hour security, private planes and everything money can buy.
"That's not true. I think it's all difficult, no matter who you are, no matter your economics or fame or whatever," she argues. "The one thing we all share is being human and with being human, there's always conflict – trying to find a balance and figure it all out and I'm just one that's decided that I want to have as much in this life as possible," says the actress who swears by daily meditation in a phone-free quiet zone.
Born of West Indian, Creole and Jewish ancestry, from an early age she studied at The Ethical Society where she learned about all religions. "My grandmother took me there every Sunday and told me to pick my own god."
Despite persistent rumours of the Smiths' affiliation with Scientology, she's a huge fan of the Pope, even tweeting about him.
"I just love him. I love his position on human trafficking. What a courageous man. He could easily convert me to Catholicism. I'm such a nerd. I love religion."
As a mother she says she leads by example. "Your kids don't do what you say, they do what you do. Our children see how their father has a high regard for both me and his ex-wife and how he interacts with his mother and his sisters. It's a great example and I am so proud of how Jaden and Trey conduct themselves."
Her daughter, she says needs little advice. "I don't have to tell her anything because Willow is her own individual self and the only thing I've ever told Willow is 'don't ever do anything that you can't look at yourself in the mirror and feel good about'. It's really about having some pride about yourself."
'Magic Mike XXL' is in cinemas now
Join our commenting forum
Join thought-provoking conversations, follow other Independent readers and see their replies