Javier Botet: could the 6'7", 120 pounds actor be horror's saviour?
The actor terrifies once more in The Other Side of the Door, but has horror found its newest iconic performer?
Clarisse Loughrey
Wednesday 02 March 2016 21:31 Comments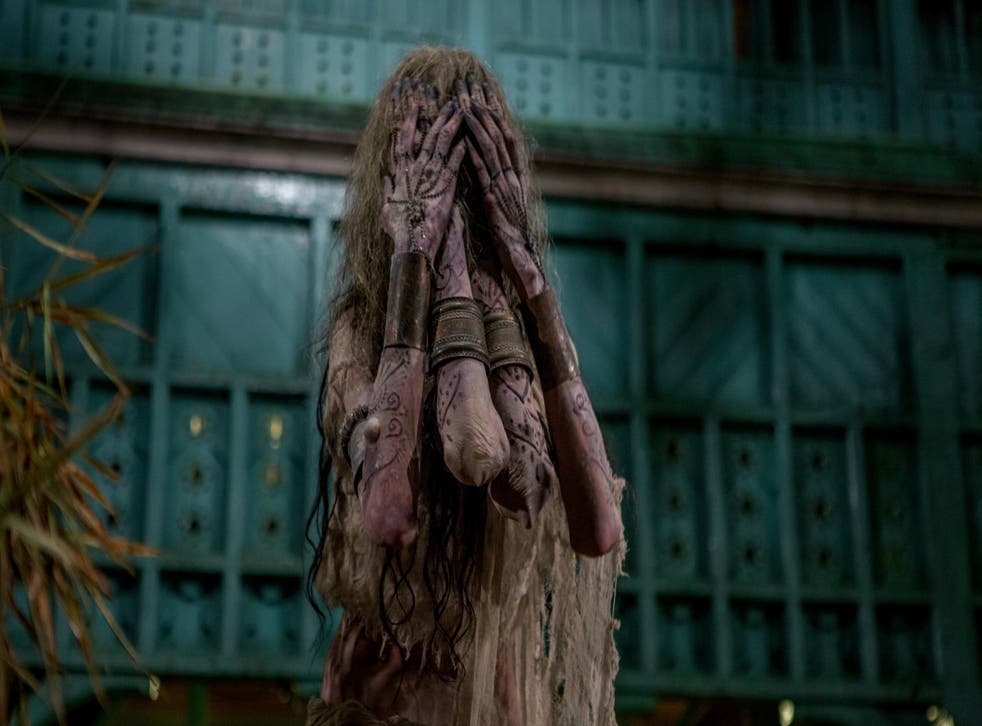 CGI is a plague amongst many things in Hollywood, but horror seems always to be played the most brutal card; a tumbling avalanche of endless, hastily rendered ghouls and phantoms.
Yet, it's pretty hard to be scared by a computer; as admirable as Y2K's efforts may have been. Shadows need presence to be truly frightening. They need the vibrations of blood pumping under flesh and breath steaming the night air.
It's something we so often forget. That behind each of horror's most iconic creatures, from Dracula to Freddy Krueger, or Ridley Scott's Alien, there lies a consummate performer mastered in exactly which bodily manipulations, which sense of presence can drive the most violent of fears from cinematic audiences.
Where is the Bela Lugosi of today? The Robert Englund of horror's new breed? Though not (yet) of the same iconic stature, there does exist an actor primed to return that call: Javier Botet.

Perhaps not a household name, yet his form will be familiar to so many. In Mama, the actor played the titular spirit of a vengeful matriarch; the REC series saw him as the monstrously infected Tristana Medeiros.
Guillermo del Toro's Crimson Peak featured him as several of the ghosts seen haunting the corridors of the decaying Sharpe mansion, crawling out of the floorboards to terrorise Gothic heroine Edith (Mia Wasikowska).
And, though he's cut from the theatrical version of Alejandro González Iñárritu's The Revenant, it's extremely likely his appearance in the film will eventually make its way to its home entertainment release.

At five years old, Botet was diagnosed with Marfan syndrome, a genetic disorder which can result in the affected being unusually tall, with lengthened limbs, fingers, and toes. As a result, he is 6'7", 120 pounds, and double-jointed.
Though Botet is burdened with its resultant respiratory issues, spending stretches of his childhood in a hospital bed, he soon learned to embrace what unique abilities had been gifted to him; discovering and playing with the contortions his body was capable of in the mirror.
Access unlimited streaming of movies and TV shows with Amazon Prime Video Sign up now for a 30-day free trial
Sign up
"I was always creative," the actor reflects, passionately describing his own admiration for the art of illustration, of which he's still an avid practitioner. Cinema thus never felt like any great step for Botet, but another outlet in which he could utilize his own body to further explore his creativity.
Creating a monster to spark that most primal of human instincts, however, is no easy task. "I think fear is the most complicated moment to reproduce in movies," he reflects. "I think the real, frightening moment is very, very complicated; I'm still learning day-by-day what is better... I try to speak with my body."
That voice is crucial to the impact of Botet's creatures; they move and breathe within their universe with a sense of urgency, driven by wordless fear, anger, and sorrow. "Sometimes it'll be a creature who acts like an animal, or something very mechanical," he states. "But when the role has a story, I try to make my movements speak to that."
And no story of Botet's characters is perhaps more affecting than that of Mama, where the terror is the purity of fury and fear stirred by the losses of a grieving mother. Botet's body, doubled over by the burden of those feelings, renders its final, cliff-bound scene so eerily tragic.
Botet was initially approached for his latest film, Johannes Roberts' The Other Side of the Door, after producers saw his movement test for Mama; a show of the capabilities of raw, physical performance.

Inspired by Indian myth and underworld creatures of Greek mythology, the monstrous goddess Myrtu guards a secret temple door which forms the barrier between life and death; driven to hunt down the woman (Sarah Wayne Callies' Maria) who dares to open the door to seek her deceased son.
In Botet's eyes, Myrtu represents both "a hunter and victim, at the same time. As the gatekeeper between death and life, Myrtu must control and punish humans who disobey the rule to never open the door. Myrtu is like a mother lioness keeping limits, with ferocity. It's a powerful, violent, but ultimately sad character."
What perhaps differentiates Myrtu from the actor's previous works is her inscrutability, the lack of Mama's sad and sympathetic backstory. "I think it's more frightening when you're not sure about what the monster, what the creature wants," Botet reflects. "It's more like having no control over what's going to be the next steps, and that's what's really frightening."
The Other Side Of The Door Exclusive Interview With Sarah Wayne Callies & Director Johannes Roberts
The role also presents one of Botet's biggest challenges as a performer, working through complex and heavy layers of make-up. Myrtu is faceless, shielded by the touch of four hands and arms; an extreme example of the fact the actor is rarely granted the easy gifts of facial expressions.
"It's harder, it's different," he states. "I have to re-calibrate my level of expression. So, in part, it helps to feel sure about the character, but in parts it makes it hard to feel comfortable in how I express myself."
Then there's all that time spent in the makeup chair, which can stretch to as long as eight hours in a single sitting. "It's hard," he admits. "Usually the roles I play aren't sitting in a coffee shop, relaxing; it's strange, uncomfortable places doing aggressive stuff."
It's no easy task, but neither is it thankless; Botet's creatures are so remarkable in their presence, so unnerving in their movement, that each becomes sharply seared into the memories of those cinematic audiences who fall victim to his frights. Once you see Botet at work, it's hard to ever forget him.
The Other Side of the Door hits UK theatres 4 March.
Register for free to continue reading
Registration is a free and easy way to support our truly independent journalism
By registering, you will also enjoy limited access to Premium articles, exclusive newsletters, commenting, and virtual events with our leading journalists
Already have an account? sign in
Join our new commenting forum
Join thought-provoking conversations, follow other Independent readers and see their replies