Joan Fontaine death: Oscar winner dies at 96, but will sister Olivia de Havilland mourn her?
The 1940s film stars were sibling rivals and rarely spoke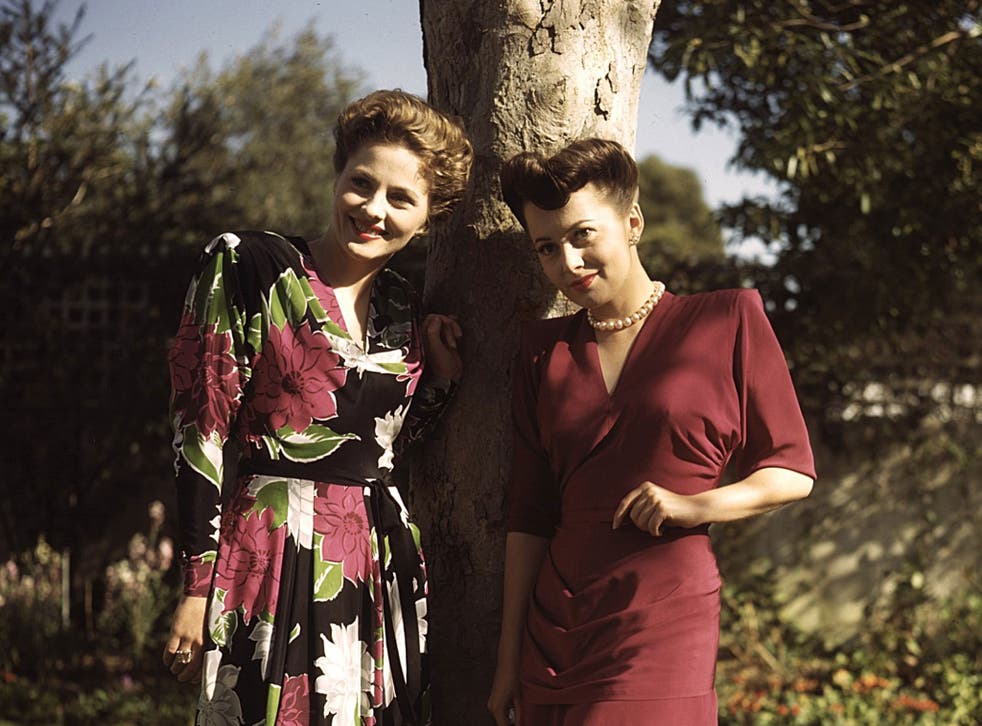 The 1942 Academy Awards were a watershed for Joan Fontaine, and not just because she won an Oscar for her performance in Alfred Hitchcock's Suspicion. In doing so, the 24-year-old triumphed over her older sister, Olivia de Havilland, who had also been nominated. It marked the beginning of a public feud between the siblings that apparently remained unresolved when Fontaine died at her home in California on Sunday, aged 96.
Noel Beutel, a friend of the actress, saw her last week. "She was an amazing woman, she had such a big heart and she will be missed," he said.
Fontaine, who is survived by her sister, once told The Hollywood Reporter: "I married first, won the Oscar before Olivia did, and if I die first, she'll undoubtedly be livid because I beat her to it."
Joan de Beauvoir de Havilland was born in Tokyo in 1917, the second daughter of British parents. Two years later her mother Lillian moved with Joan and Olivia to California, divorced their lawyer father Walter, and married retail executive George Fontaine.
Though Fontaine was opposed to his step-daughters' pursuit of acting, Joan would take his surname as her stage name. At 15, she returned to Japan to live with her father, but moved back to the US in 1934 to live with her mother and sister in Hollywood.
De Havilland was the first to enjoy screen success, starring alongside Errol Flynn in Captain Blood and The Adventures of Robin Hood, and taking a significant supporting part in Gone With the Wind.
Meanwhile, Fontaine struggled to stand out in B-movies and minor roles. Her big break came in 1940, when Alfred Hitchcock cast her opposite Laurence Olivier in his screen adaptation of Daphne Du Maurier's Rebecca. She and Olivier were nominated for Oscars, and the film won Best Picture.
Her next film was Suspicion, in which she played a meek newlywed who thinks her husband, played by Cary Grant, is plotting her murder. Fontaine and de Havilland had fought bitterly as children, but Fontaine's Oscar win brought their rivalry into the open. The two often competed for the same roles – and even the same men. When de Havilland won an Oscar of her own in 1947, a photographer captured the moment she snubbed Fontaine's attempts to congratulate her.
The sisters finally stopped speaking altogether in 1975, following their mother's death from cancer. Fontaine claimed de Havilland failed to invite her to the memorial service, while de Havilland said Fontaine had told her she was too busy to attend. Fontaine later told an interviewer: "My sister was born a lion, and I a tiger, and in the laws of the jungle, they were never friends."
Access unlimited streaming of movies and TV shows with Amazon Prime Video Sign up now for a 30-day free trial
Sign up
Fontaine's career thrived throughout the 1940s and 1950s, with acclaimed performances including the title role in Jane Eyre (1944), with Orson Welles. She earned another Oscar nod for The Constant Nymph (1943) and was critically lauded for her turn in 1948's Letter From an Unknown Woman, directed by Max Ophüls. Yet she faded from prominence in the 1960s, and her last film role was as a schoolteacher in the 1966 horror The Devil's Own, after which her talents were limited to television movies and soap operas.
In her 1978 memoir, No Bed of Roses, Fontaine wrote that Hollywood careers "often begin by chance, [and] can evaporate just as quickly".
Fontaine was married four times, beginning in 1939, when she wed the British actor Brian Aherne. She divorced her last husband, Sports Illustrated editor Alfred Wright Jr, in 1969. She also claimed to have turned down a marriage proposal from the eccentric tycoon Howard Hughes.
She is survived by her daughter Deborah Dozier, from her second marriage to actor and producer William Dozier, and by her adopted daughter Martita. De Havilland, who is 97, lives in Paris.
Register for free to continue reading
Registration is a free and easy way to support our truly independent journalism
By registering, you will also enjoy limited access to Premium articles, exclusive newsletters, commenting, and virtual events with our leading journalists
Already have an account? sign in
Register for free to continue reading
Registration is a free and easy way to support our truly independent journalism
By registering, you will also enjoy limited access to Premium articles, exclusive newsletters, commenting, and virtual events with our leading journalists
Already have an account? sign in
Join our new commenting forum
Join thought-provoking conversations, follow other Independent readers and see their replies