Joan Lee dead: Stan Lee's wife dies aged 93 after 69 years of marriage to Marvel comics legend
She suffered a stroke earlier in the week, according to sources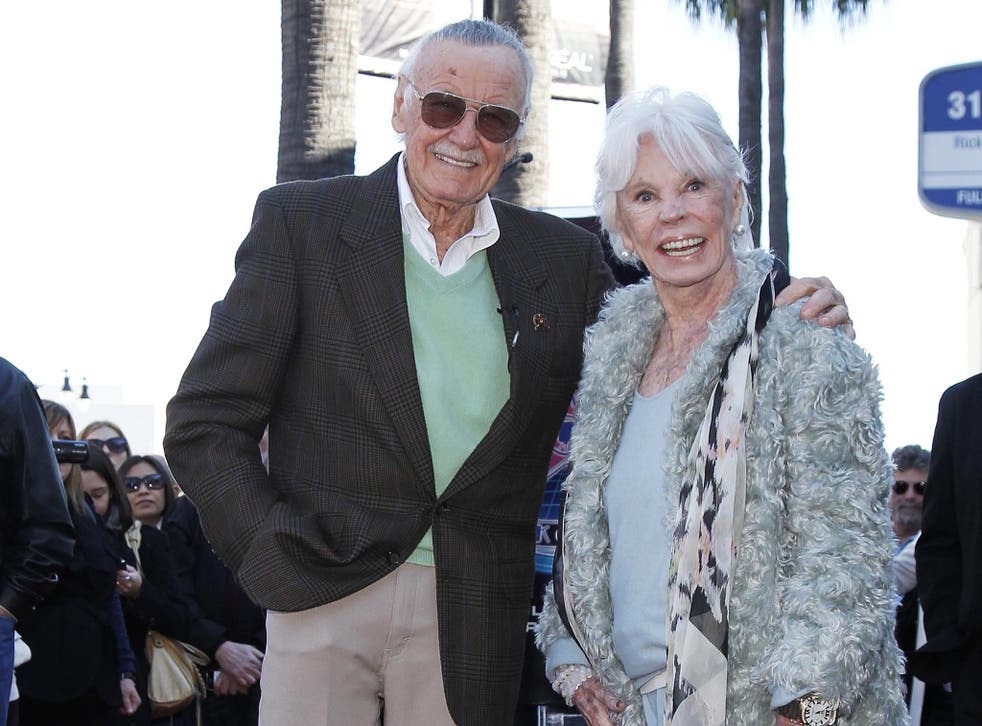 Joan Lee — a former British hat model and wife of Stan Lee — has died, aged 93. She suffered a stroke earlier in the week and was hospitalised, according to The Hollywood Reporter.
"I can confirm the sad news that Joan Lee passed away this morning quietly and surrounded by her family," a family statement has reads. "The family ask that you please give them time to grieve and respect their privacy during this difficult time."
Joan was married to Stan for 69 years, the pair having met after the Marvel Comic legend was supposed to take her friend on a date. They had two children, Joan Celia (born 1950) and Jan, who died three days after being born.
Marvel issued a statement reading: "We are so saddened to hear about the loss of Joan Lee. We lost a member of the Marvel family today and our thoughts and prayers go out to Stan and his daughter Joan in this difficult time."
While celebrating his 75th year creating comics, Stan retold the lovely story of how he met Joan, who was married to a solider at the time.
Notable deaths in 2016

Show all 42
"When I was young, there was one girl I drew; one body and face and hair. It was my idea of what a girl should be. The perfect woman. And when I got out of the Army, somebody, a cousin of mine, knew a model, a hat model at a place called Laden Hats. He said, 'Stan, there's this really pretty girl named Betty. I think you'd like her. She might like you. Why don't you go over and ask her to lunch.' Blah, blah, blah.
"So I went up to this place. Betty didn't answer the door. But Joan answered, and she was the head model. I took one look at her — and she was the girl I had been drawing all my life. And then I heard the English accent. And I'm a nut for English accents! She said, 'May I help you?' And I took a look at her, and I think I said something crazy like, 'I love you.' I don't remember exactly. But anyway, I took her to lunch. I never met Betty, the other girl. I think I proposed to [Joan] at lunch."
Unhappy with her marriage, Joan fled with Stan to Nevada, where they established residency so Joan could quickly divorce her ex-husband. An hour after being granted the divorce, the pair married in the courtroom next door.
Stan credited Joan with helping create the Fantastic Four. The writer was depressed at the time and thinking of leaving the business when Joan said: "Before you quit, why don't you write one comic you are proud of?" From there, the iconic characters were born.
Access unlimited streaming of movies and TV shows with Amazon Prime Video Sign up now for a 30-day free trial
Sign up
Joan also helped develop Marvel TV, voicing two characters: Miss Forbes on the Fantastic Four, and Madame Web in Spider-Man. She also had a cameo role in last year's X-Men: Apocalypse. Joan was also an author, writing the 1987 novel The Pleasure Palace.
Join our new commenting forum
Join thought-provoking conversations, follow other Independent readers and see their replies