Keanu Reeves on the Point Break remake, the third Bill and Ted film and why John Wick goes on a killing spree after his dog dies
The metalhead hero of Bill and Ted who has reinvented himself as a leading man is back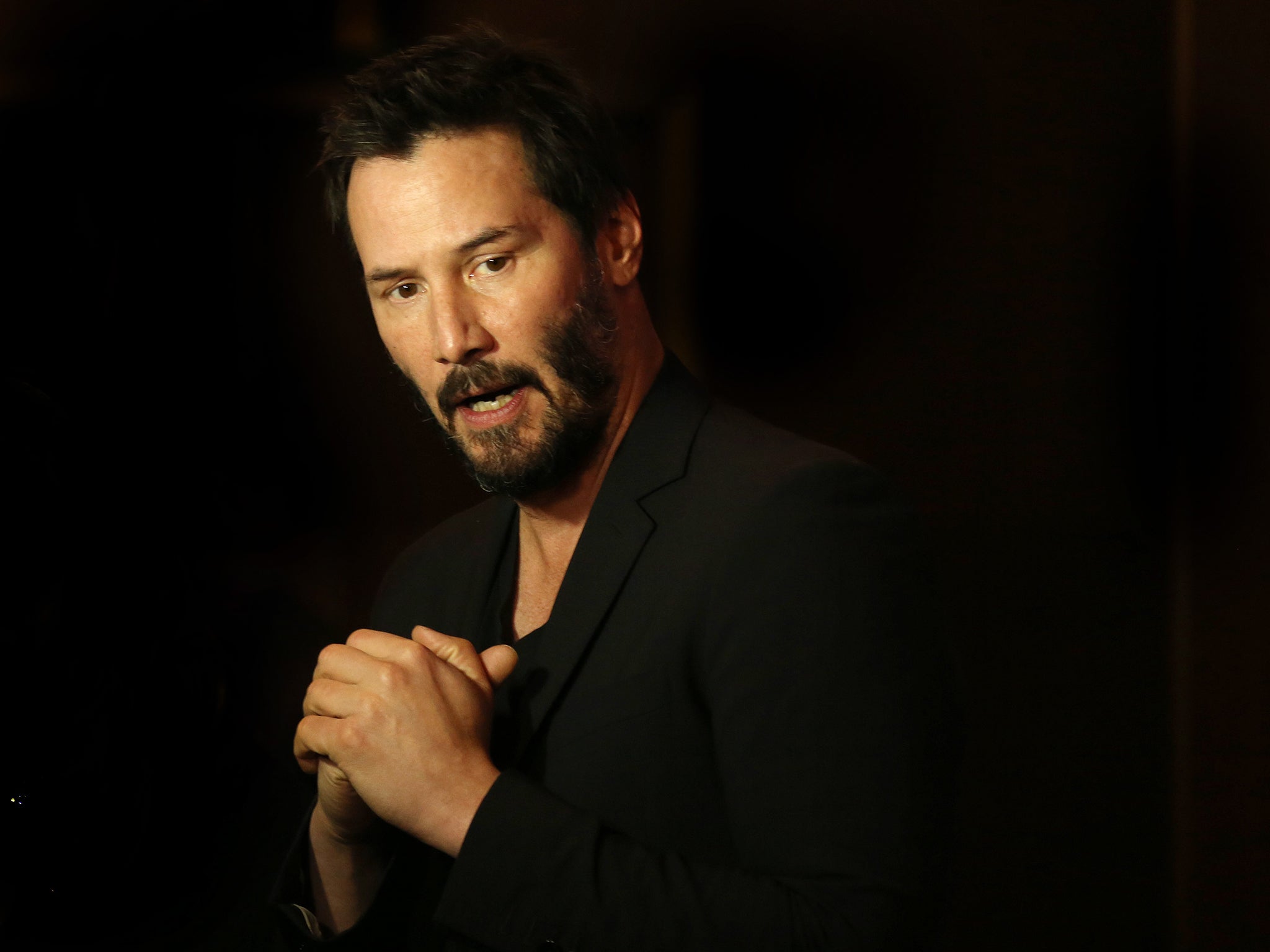 Keanu Reeves is reliving the time he attended the 2003 Oscars and when the gulf between Hollywood illusion and reality was strikingly laid bare. "Peter O'Toole was a hero of mine," he says.
"He gets this special award at the Academy Awards, like: 'You are the man! 'Yeah!' Then you go to the Vanity Fair after-party and it's champagne and he's there. Coming outside of the Vanity Fair party, there was Peter O'Toole with his family waiting for a car. I was like: 'How can that be? How can none of these people who were celebrating him have a car waiting for him?' But that's the hustle… The glamour is not 24-hour."
The episode crystallised for Reeves the artificial nature of performance. "There's something about being in front of the camera or after the curtain opens and you're on stage and then it closes," he says. "I remember being struck by this when I was doing high-school theatre. Facing the audience was a forest and behind the flat it was wood and staples and nails and splodges of paint. That idea of being celebrated and then going home, it's just life. You still do all this s**t."
It's 30 years since, as Reeves simply puts it, "I drove from Toronto to Los Angeles to act in Hollywood." He's now 50 years old but when we meet in New York, his high cheekbones and piercing brown eyes ensure his boyish aura remains intact. Reeves has long confounded interviewers by being well-mannered but withdrawn and melancholic. He dwells hard upon every question posed, as though a stranger to English language, only to then answer with a mixture of exaggerated emphasis and acute intelligence.
Take his attitude to turning 50. "Forty went by fast," he says. "That's what they say, right, it just goes by faster and faster as you go towards the white light. It used to be the march, now it's the run, soon it will be the sprint… for me 50 was like starting to connect and I think it's part of the second childhood that Shakespeare speaks about. I'll sit here and be like: 'Oh I remember I did this when I was eight. Or this was someone that was the first love.' Involuntarily these connections are being made to the first imprimatur to where you are now that somehow doesn't take into account the middle section."
Reeves definitely left a deep imprint on my first childhood. His "Too Cool for School" vibe in the nineties ensured that at my suburban Surrey school his every character proved a constant source of conversation: seeing the air head in Bill and Ted's Excellent Adventure soon after starting secondary school; sneaking in to see him as a prostitute opposite River Phoenix in My Own Private Idaho; Buddha in Bernardo Bertolucci's Little Buddha; and as a sixth-former catching him foiling a bomb-on-a-bus threat in action-thriller Speed.
His latest memorable character is as the title role in John Wick, a stylish, violent revenge tale about a former hitman seeking revenge on the Russian mafia after the murder of his late wife's dog. Every decade, it seems, Reeves roars back into life with a new action film and, just over 10 years, after he concluded the Matrix trilogy, John Wick has been a box-office smash in the US.
Directed by The Matrix stuntmen Chad Stahelski and David Leitch, John Wick is a familiar story but the eponymous hero is off the beaten track. "It's the type of person," Reeves says, adding that the character was inspired by Clint Eastwood's Man with No Name, the Old Testament, Bruce Lee and Greek mythology.
"John's ambivalence is talked about and he denies it for a little bit but in an odd way it's about his will and using the dark side to reclaim something. John Wick is like this fantasy on the screen, because he just takes care of business so the directors have differentiated themselves with the vision, the architecture, the cameras, the colours, the costumes. You might have seen this story but you haven't seen a story told like this."
Access unlimited streaming of movies and TV shows with Amazon Prime Video
Sign up now for a 30-day free trial
Sign up
Access unlimited streaming of movies and TV shows with Amazon Prime Video
Sign up now for a 30-day free trial
Sign up
"Keanu brings something different to an action movie – a soft side, instead of this guy that's just a Terminator," says Stahelski. Reeves says he owes his action-man status to Kathryn Bigelow, who directed him in 1991 surfing thriller Point Break alongside Patrick Swayze. "She had this idea I could play Johnny Utah," he reflects. "It changed my life. " Its influence resonates today: "You can almost say that without Point Break, you don't have The Fast and the Furious. They're connected, aren't they, in terms of action?" He is undecided about whether to see the Point Break remake out this summer. "I don't know. We'll see. It's cool that a period in time is trying to be inspired by something."
John Wick pairs Reeves with Willem Dafoe, who played the villain in Speed 2, the sequel to Speed that Reeves notoriously turned down because he didn't like the script. That reinforced the perception of Reeves's idiosyncratic independence – he was as unusual as his Christian name in not returning for the obligatory sequel to a huge hit.
"Hopefully one can afford to do what you're creatively interested in and what creatively challenges because then it makes life better," he says. "I think definitely in the 1990s that was an issue, it was definitely involved with Speed 2. There have been certain moments in time like that and there's other ones that would be, 'why do you say "no" to that?' (He turned down roles in Heat and Platoon.) Speed 2 bombed with Jason Patric in the lead so he was right, I point out. "Speed 2? I feel like we're talking about something from 800 years ago. That doesn't even have a ripple anymore and I don't mean that in a bad way."
Reeves was born in Beirut to a Chinese-Hawaiian father and an English mother. The latter raised him in Toronto when his parents divorced. Did he get a British upbringing? "Absolutely. There were a lot of behavioural cues and certain manners: set the table, please and thank you, yes and no, ma'am and sir." This prepared him well for an early supporting role in Stephen Frears's 1988 costume drama Dangerous Liaisons. "I didn't get a lot of rehearsals," he says.
"Literally the first day I had to work on set with John Malkovich and Glenn Close, they gave me my shoes that afternoon. I was like, 'Wow! OK! Better get comfortable fast, kid! OK I think I'll just lay down my head on Glenn Close's bosom!" His co-stars included Peter Capaldi, aka Dr Who. "Capaldi's a punk rocker… His insouciance! His intelligence!"
Not long ago Sad Keanu, the Photoshop meme based on a paparazzi image of him sitting on a park bench, went viral. He says he "hates" the paparazzi but has learnt to avoid them. "Just stay home," he says. 'Don't go out. Don't do anything! Just don't go out where the other people are."
Some have ascribed Reeves' glumness to his personal life which has been tinged with sadness. His girlfriend Jennifer Syme lost their baby in pregnancy in 1999 and died in a road accident two years later. He is reputedly presently single. Following the Matrix trilogy, Reeves extended himself. "The past 10 years have been trying to make things," he says. He directed his first film, little-seen martial arts film Man of Tai Chi ("I was like: 'Let's go do a movie in China!' It was two years in there which I don't regret at all") and produced a documentary, Side by Side, chronicling the rise of digital film ("When the digital cinema camera showed up, I was like: 'Wow! Film is going to go away.')
John Wick is an independent film but rather more mainstream than his recent efforts. He implies it's easy for smaller films to get exploited by financiers: "There are a lot of people who know how to make money for themselves by buying your movie for a certain number and then streaming it. Hopefully they make their money back and the artists don't have such a great deal there." Another problem with Hollywood now, according to Keanu, is the decline in repeat viewings of films: "Before if you used to go to a film, you would be, 'I saw it five times!' I guess what I'm hearing is that people aren't going five times!" Is that the case with his new film? "John Wick would be fun at least three times!"
He's particularly proud of 2010 theatre-set heist film Henry's Crime that he researched by visiting Simon Russell Beale when he was performing The Cherry Orchard at the Old Vic: "The Chekhov journey! Simon was lovely." Reeves's performance as Hamlet in a Canadian stage production in 1995 was acclaimed yet he has not done theatre since, to his regret. "That was the dream," he says. "When I was a kid it was Broadway and the West End. I remember reading the plays of Joe Orton and you'd open them and it would always have the original cast."
He reveals he's keen to return to the stage with one stipulation. "I'd like to do a new play," he says. "I don't want to do a classic." He adopts a booming theatrical voice: 'I'm doing A Streetcar Named Desire!' Who gives a fuck? I'd rather have some edgy play that has something to say." The ghost of Tennessee Williams seemingly enters the room. "Of course that's [Streetcar is] an edgy play, I don't mean to imply or infer [it's not]. I do want something now to do on stage."
Best films to watch in 2015
Show all 10
He is also keen to return to comedy and make a third Bill and Ted movie but that's caught up in red tape. "There's a script but we're trying to get money together to get the rights from MGM to let us make it so it's in the business part of showbusiness," he says. "Right now it's in a place where it needs the dough to take the next step." John Wick will return – a sequel has been announced.
Reeves has been thoughtful throughout our conversation so I ask him if it is really necessary for John Wick to embark on a killing spree following the death of his dog? "Watch the movie and then tell me if you think that. Because if you watch this movie, you're going to be going, 'I've got no problem with what John Wick is doing'... John isn't killing innocent people, there is an honour to him and a process and I think that people will relate."
Reeves is oddly drawn to playing characters called John. "I believe I've done seven Johns," he says. "I think there's a strength to the name but I don't know why." He pauses and his next statement touches on why this far-from-average John is still having it his way in Hollywood. "What are the analytics on that?"
'John Wick' is released on 10 April
Join our commenting forum
Join thought-provoking conversations, follow other Independent readers and see their replies