La La Land: Watch side-by-side comparison to classic movie references
How the film has referenced - and been influenced by - the likes of Singin' in the Rain, The Umbrellas of Cherbourg, and Funny Face
Clarisse Loughrey
Wednesday 25 January 2017 09:18 Comments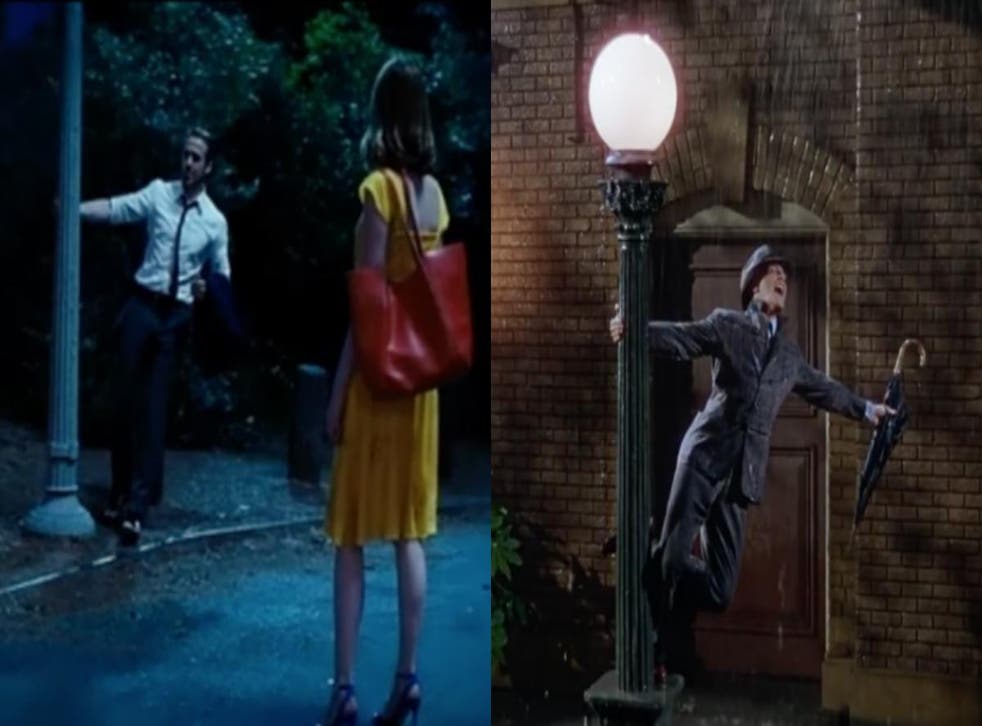 La La Land may have racked up a record-tying number of nominations at the Academy Awards, but perhaps that's not so surprising: Damien Chazelle's own take on the screen musical tradition is just about as Hollywood as it gets.
A follow-up to Chazelle's 2014 sleeper hit Whiplash, the film pairs Ryan Gosling's spirited jazz musician and Emma Stone's struggling actress; in a lively, nostalgic look at classic Golden Age cinema and all of its big-hearted romance.
La La Land returns to many of the old tropes frequented during Hollywood's Golden Age, all while exploring a romantic relationship which feels so thoroughly modern in its beats. Editor Sara Preciado took a closer look at the film's references and influences in a video which paired the film side-by-side with some cinematic classics.
Chazelle has certainly inserted plenty of direct references here, especially in the sweeping, dreamlike 'Epilogue' sequence, from Audrey Hepburn's Arc de Triomphe moment in Funny Face, to Le ballon rouge and the musical sailors of On the Town and Anchors Aweigh.
Elsewhere, the video illustrates how La La Land revisits the structures and formats of the Golden Age; from outlandish, theatrical sound stages to the montages of the city's neon lights as a precursor to any glamorous night out.

It also points out how Chazelle has echoed the styles of both US musicals, like Singin' in the Rain, and their French counterparts, most famously Jacques Demy's Les demoiselles de Rochefort and Les parapluies de Cherbourg.
La La Land is out now.
Register for free to continue reading
Registration is a free and easy way to support our truly independent journalism
By registering, you will also enjoy limited access to Premium articles, exclusive newsletters, commenting, and virtual events with our leading journalists
Already have an account? sign in
Register for free to continue reading
Registration is a free and easy way to support our truly independent journalism
By registering, you will also enjoy limited access to Premium articles, exclusive newsletters, commenting, and virtual events with our leading journalists
Already have an account? sign in
Join our new commenting forum
Join thought-provoking conversations, follow other Independent readers and see their replies