Leonardo DiCaprio has played rich maniacs in 9 of his last 14 films
A toast to Leonardo DiCaprio
Christopher Hooton
Wednesday 12 August 2015 16:14 Comments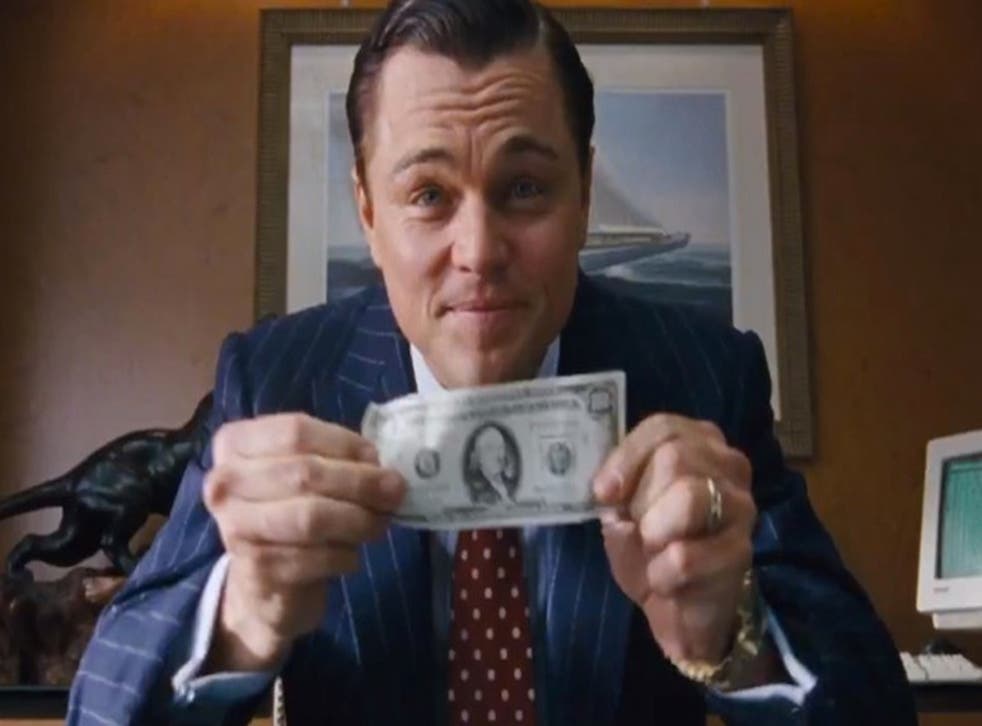 Not to take anything away from him - he's an inimitable and rare talent - but boy, Leonardo DiCaprio loves to play avaricious megalomaniacs whose thirst for power often leads to their downfall, doesn't he?
Yesterday we learned he is to play H.H. Holmes in what will be his sixth collaboration with director Martin Scorsese and his ninth rich maniac role in 13 years.
Discounting only The Revenant (2015 - Hugh Glass, a fur trapper mauled by a bear), Shutter Island (2010 - Teddy Daniels, a US Marshal), Revolutionary Road (2008 - Frank Wheeler, a bored longshoreman), Body of Lies (2008 - Roger Ferris, a CIA case officer in Iraq [arguably a rich maniac]) and The Departed (2006 - Billy Costigan, a police officer), here we look back at his wonderfully-deranged on-screen pleonastic assholes:
The Devil in the White City (????) - Dr Henry Howard Holmes
In his next film, DiCaprio will play a 19th century serial killer who quite decadently went to the extent of buying a hotel (known as the "Murder Castle") specifically so he had a place to murder people.
The Wolf of Wall Street (2013) - Jordan Belfort
Certainly maniacal in his ripping off of the gullible and penchant for Quaalude-fuelled antics, fraudulent stockbroker Belfort was so unapologetic about his rich maniac-ness in the film that several bankers missed the subtly implied condemnation and hailed him a folk hero, packing out cinemas.
The Great Gatsby (2013) - Jay Gatsby
A wealthy, inscrutable socialite who throws wildly opulent parties, Gatsby was somewhat of good guy ("You're worth the whole damn bunch put together!"), but let us not forget how he used protagonist Nick Caraway and tried to get away with Myrtle's homicide.
Django Unchained (2012) - Calvin Candie
He drinks from a coconut and wields a hammer for goodness sake!
J. Edgar (2011) - John Edgar Hoover
Certainly rich as the first Director of the Federal Bureau of Investigation, and a touch maniacal in his abuse of power and harassment of political dissenters.
Inception (2010) - Cobb
This one's a bit of a stretch but Jesus, how do you wind up committing corporate espionage by infiltrating targets' subconscious? This is a line of work that is definitely both lucrative and attracts odd personality types.
Blood Diamond (2006) - Danny Archer
While he might ultimately come off as a good guy in Edward Zwick's film, let us not forget Archer starts out as a gunrunner jailed while trying to smuggle diamonds into Liberia.
The Aviator (2004) - Howard Hughes
Perhaps DiCaprio's finest performance, and certainly the best example of him in rich maniac mode.
The aviation pioneers poured all of his fortune into a doomed film, winding up locking himself in his own personal cinema for months on end and pissing in jars.
Catch Me If You Can (2002) - Frank Abagnale Jr.
The Steven Spielberg film in which DiCap first showed his talent for pulling off 'smug assholes that you'll definitely trust but probably shouldn't' roles, playing a serial fraudster who is still trying to pull cons even when he's completely backed into a corner by the FBI.
Register for free to continue reading
Registration is a free and easy way to support our truly independent journalism
By registering, you will also enjoy limited access to Premium articles, exclusive newsletters, commenting, and virtual events with our leading journalists
Already have an account? sign in
Join our new commenting forum
Join thought-provoking conversations, follow other Independent readers and see their replies