Matthew McConaughey delivers impassioned, ecstatic speech at SAG Awards
Actor won award for Dallas Buyers Club
Christopher Hooton
Monday 20 January 2014 12:33 Comments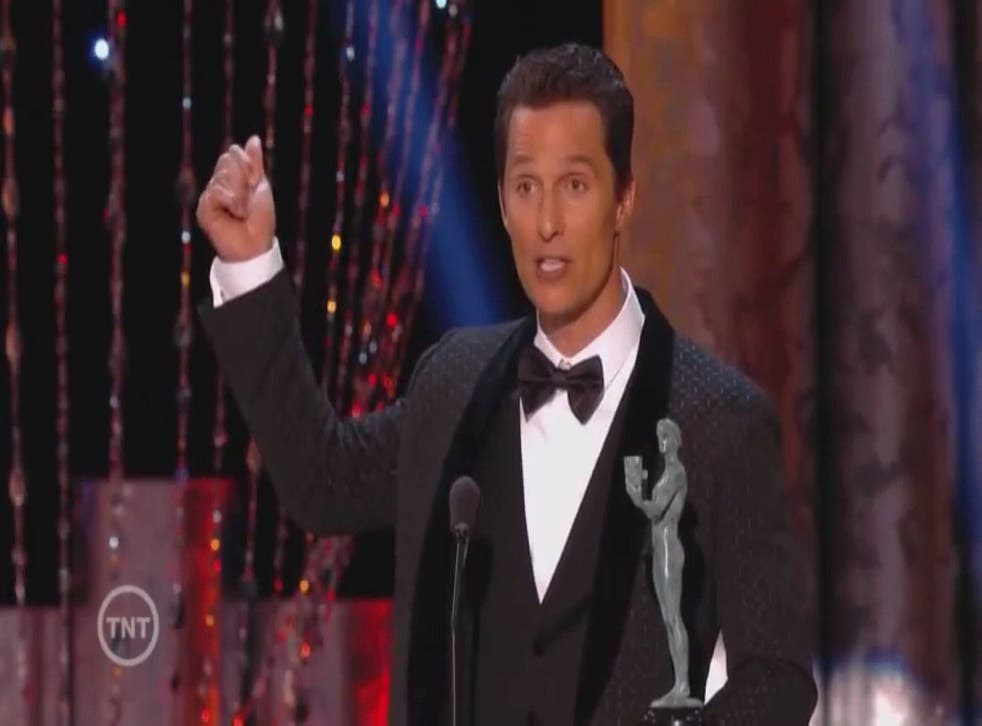 All eyes were not on Jennifer Lawrence for once when she presented a prize at the 2014 Screen Actors Guild Awards, with Matthew McConaughey stealing focus with a spirited acceptance speech for Dallas Buyers Club.
McConaughey practically leapt to the stage to receive the award for Male Actor in a Leading Role, thanking his fellow actors who voted for the prize.
He went on to discuss how brilliant it feels when one finds a role they can truly inhabit, as was the case with Dallas Buyers Club in which he played a drug smuggling AIDS patient.
"I've been able to recently find some characters that I could humble myself to their humanities and then get feverishly drunk on their obsessions," he told the audience. "And that's really been fun for me.
"There's a magic place we as actors strive to get to and we don't always get there but when we touch it it's magic," he continued.
"When you're seeing the character from the inside out, when you're walking out every day and everything you see and smell and touch and observe is coming through that character and it's making sense and you're the subject, you're the eye, you're first person seeing it - that doesn't always happen - but boy when it does it feels like they could put a blindfold on you and put you in a spaceship and take you to Neptune and you could hop off on the planet and they better have the sprockets rolling because when you get off that spaceship because you are going to behave as your man. That, is a glorious feeling."
McConaughey is now in the frame for the Best Actor award at this year's Oscars, where Dallas Buyers Club will also vie for Best Film.
---
Register for free to continue reading
Registration is a free and easy way to support our truly independent journalism
By registering, you will also enjoy limited access to Premium articles, exclusive newsletters, commenting, and virtual events with our leading journalists
Already have an account? sign in
Join our new commenting forum
Join thought-provoking conversations, follow other Independent readers and see their replies