Matthew McConaughey reveals origin of 'Alright, Alright, Alright' catchphrase from Dazed and Confused on SNL
'Buddy, you got three out of four. Alright, alright, alright!'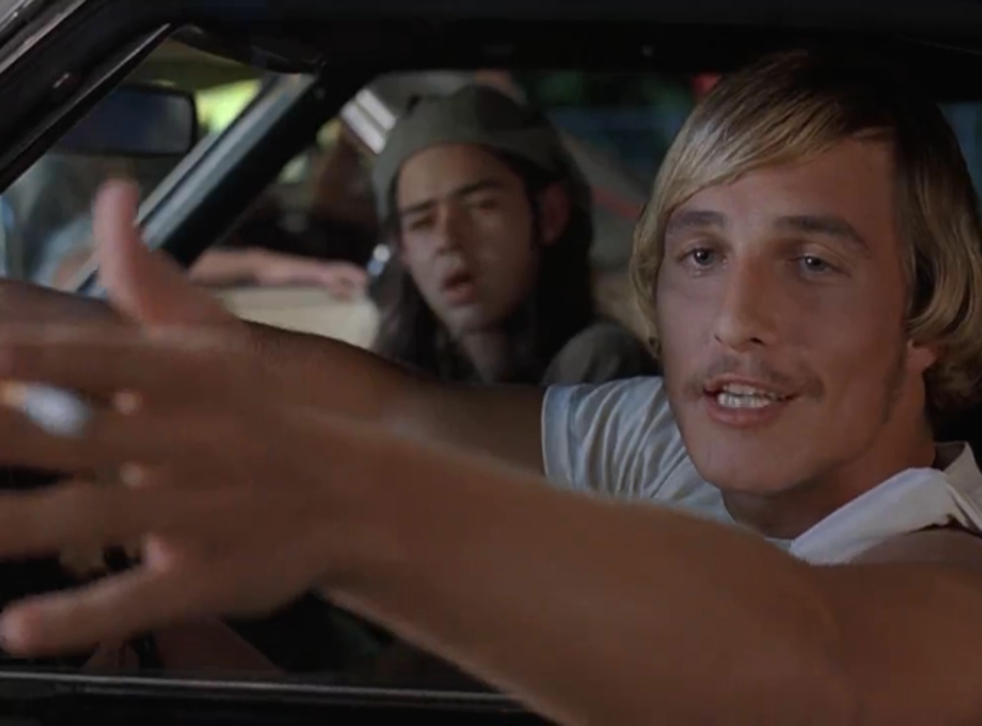 Matthew McConaughey is famous for a number of things: his early coming-of-age films, a bucket load of noughties romcoms, his McConaissance-era.
However, there's one catch-phrase that has been intrinsically linked to the actor throughout his entire career: "Alright, Alright, Alright."
The line was a completed unscripted part of Dazed and Confused, the film that would launch McConaughey's career.
During the opening monologue of his first SNL show in 14 years, the 46-year-old detailed exactly how the line came about, explaining how it was the very first scene of his filmed acting career.
Here's the monologue in all its glory: "It's 1992. I'm in Austin Texas in college, not even thinking about being an actor at this point. I go to this bar and I get introduced to this producer. This producer and I start talking and four hours later we get kicked out of said bar.
"In the taxi on the way home he says 'Hey, McConaughey, you ever done any acting.' And I say 'Well no, not really'. He says 'Well, I'm doing this movie and you might be right for this part.'
"Well, sure enough I wake up the next morning and I go pick up this script called Dazed and Confused.
"My character, David Wooderson, he has three lines in the entire film. But one of those lines is what I like to call a launch pad line. Now what I mean by that, a launch pad line is a line that if a character really believes it, then I can feel like I can write a whole book on this character.
"The scene goes like this: Wooderson's hanging out at a pool hall with some buddies, some girls walk by, he smacks one of them on the a** and his buddy says, 'Man, you're going to go to jail for that, Wood Man.' And Wooderson says 'Nah. That's what I love about those high school girls, man. I get older, but they stay the same age.'
Access unlimited streaming of movies and TV shows with Amazon Prime Video Sign up now for a 30-day free trial
Sign up
"So, I get called into this wardrobe make-up test. I'm not supposed to work, but I get called in for it.
"The director comes up to me, Richard Linklater, and he says, 'Oh my God, you look great, this is Wooderson, this is exactly who I hoped you'd be.'
"And he says, 'Listen, we're doing this drive-through scene tonight, and I know you're not supposed to work, but you think Wooderson might be picking up on the red headed intellectual You know, he's already been with the cheerleader and the 'typically' hot girls, what about a red headed intellectual?'
"I said, sure he would man, he flirts with all kinds of women. He said, 'You wanna shoot it?'
"Next thing I know, I'm in a car, getting ready to shoot the very first scene of my film acting career, unscripted. Am I nervous? Damn right, I'm nervous.
"So I'm thinking, 'Who is Wooderson? Who is my man? You know, what's he about?' And I tell myself, 'Wooderson's about four things: he's about cars, weed, rock 'n' roll, and chicks.'
"I look around, where I am, well I'm in my 70's Chevelle. That's one. I've got Slater riding shotgun, so I'm definitely getting high, that's two. And we've got Ted Nugent playing Stranglehold on the eight-track, well that's three. '
"At this point I hear over the intercom, 'Action!' And I look up across the drive-through at this red headed intellectual and I say to myself, 'Buddy, you got three out of four. Alright, alright, alright!'"
Register for free to continue reading
Registration is a free and easy way to support our truly independent journalism
By registering, you will also enjoy limited access to Premium articles, exclusive newsletters, commenting, and virtual events with our leading journalists
Already have an account? sign in
Register for free to continue reading
Registration is a free and easy way to support our truly independent journalism
By registering, you will also enjoy limited access to Premium articles, exclusive newsletters, commenting, and virtual events with our leading journalists
Already have an account? sign in
Join our new commenting forum
Join thought-provoking conversations, follow other Independent readers and see their replies