Nike Mags given to Michael J Fox on Back To The Future Day ahead of release in spring 2016
Nike said proceeds from shoe sales would go to the actor's charity for Parkinson's research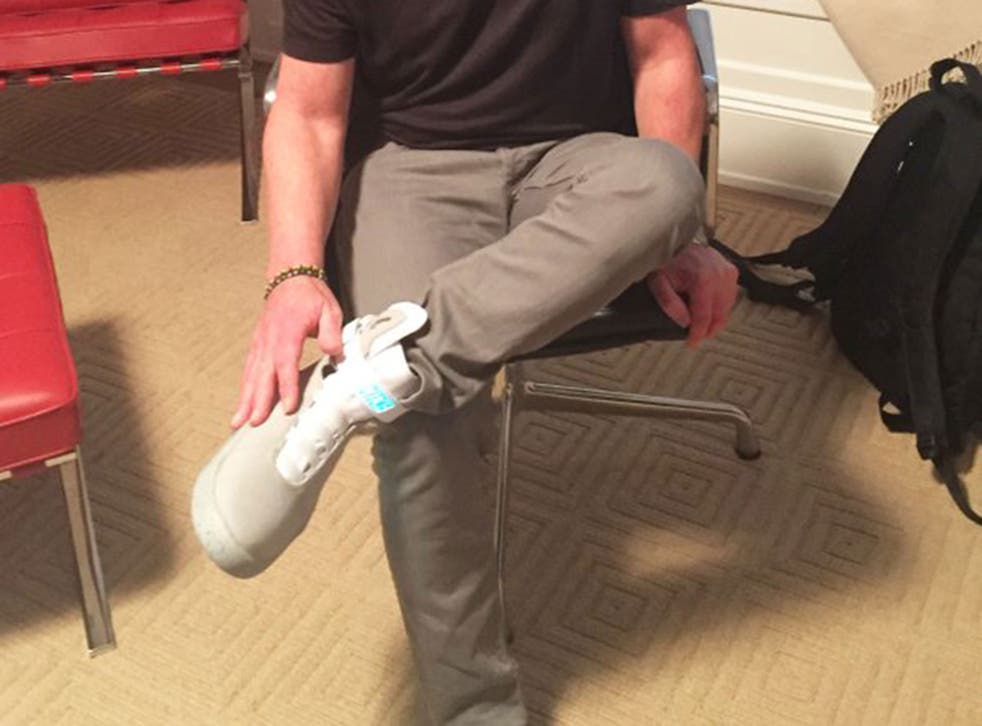 As fans celebrate Back To The Future Day, Michael J Fox is wearing Nike Mags once again.
The futuristic self-tying shoes beloved by Marty McFly will apparently hit the shelves within months, although any new features are a closely-guarded secret.
A photo of Fox trying on their 2015 incarnation was shared on Twitter by his charity with the caption: "This is real. This is today. Coming spring 2016."
The shoes were first worn in Back to the Future: Part II, when Marty travelled to 21 October 2015 in the DeLorean.
The 1989 film famously depicted futuristic inventions including flying cars, hoverboards and rehydrated pizza.
Nike has long been rumoured to be re-launching the Mags and its designer, Tinker Hatfield, wrote Fox a letter saying they were now turning "fiction into fact".
"We wanted you to be the first to receive a living pair," the hand-written note continued.
"In addition to your personal pair, we're creating more pairs for support in aid of the Michael J Fox Foundation in 2016."
Nike Mags were made previously to raise funds for the Parkinson's charity in 2011, raising more than $9.4 million (6 million) in auctions.
Previous designs showed a button on the side to activate the Power Laces. Much of the machinery to allow the shoes to tie themselves up is built into the bottom, using a series of wheels and motors.
The shoes also have a built-in weight sensor — which some have speculated could give it compatibility with hoverboards.
Join our new commenting forum
Join thought-provoking conversations, follow other Independent readers and see their replies