Orson Welles' rarely seen masterpiece is restored and re-released
The money ran out during shooting, leading to a bailout and then litigation over the distribution rights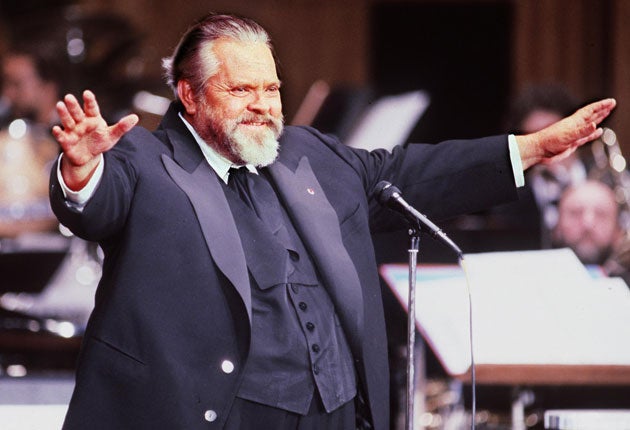 It was Orson Welles' favourite among his own films and many critics bracket it alongside Citizen Kane as his masterwork, yet Chimes At Midnight (1965) has been impossible to see for many years.
This is why there is such excitement among Welles' devotees about plans to screen the movie in a "brand new, never-seen-before restoration" early next month as part of Picturehouse Cinemas' "Screen Arts Festival."
The film is Welles' sprawling adaptation of Shakespeare's history plays, his "lament for Merrie England" as he called it. He gives arguably his finest screen performance as Falstaff.
Like many of Welles' films, Chimes At Midnight was made on the hoof. It's a full-blown epic shot in the director's customary improvisatory style, but on a modest budget – one reason that it has subsequently proved so hard to see. The rights issues have proved so complicated that no one – until now – has been able fully to untangle them.
The money ran out during shooting, leading Welles to turn to Harry Saltzman for help. When Saltzman pumped in a reported $750,000 (£465,000) so it could be completed, he received worldwide distribution rights (excluding France and Spain, which belonged to Spanish producer Emiliano Piedra).
Saltzman gave his rights to another company, which got taken over. Piedra died in 1991 and Saltzman in 1994.
Litigation soon followed as to exactly who owned which rights and Chimes At Midnight disappeared from film screens. When the National Film Theatre in London held an Orson Welles' season in 2003, Chimes At Midnight wasn't shown.
When a major Welles' retrospective was held at the Locarno Festival in 2005, the organisers had to secure permission from Saltzman's widow Adriana for a one-off screening of a very ropey print. Now, it appears that the 1965 film has finally been liberated. David Buttle of British distributor Mr Bongo, working with Dolores Piedra (the Spanish producer's daughter), is the person behind the British screenings of the restored version.
"I've been in touch with her (Dolores) since 2006," he explained. "It has taken her that long to sort out the legal aspect of it."
Access unlimited streaming of movies and TV shows with Amazon Prime Video
Sign up now for a 30-day free trial
Sign up
Access unlimited streaming of movies and TV shows with Amazon Prime Video
Sign up now for a 30-day free trial
Sign up
Whenever Welles' films are revived, there is nearly always a sting in the tail. No one knows who might emerge to lay claim to the rights or to complain about not being consulted.
But at least audiences can savour (at least for now) Welles' magnificent performance in the role of Falstaff.
Join our commenting forum
Join thought-provoking conversations, follow other Independent readers and see their replies