Oscar nominations 2017: 5 snubs including Amy Adams, Nocturnal Animals, and Deadpool
From Tom Ford's Nocturnal Animals and Martin Scorsese's Silence racking up only one nomination each - to Deadpool nearly becoming the first superhero film nominated for Best Picture
Clarisse Loughrey
Tuesday 24 January 2017 14:49 Comments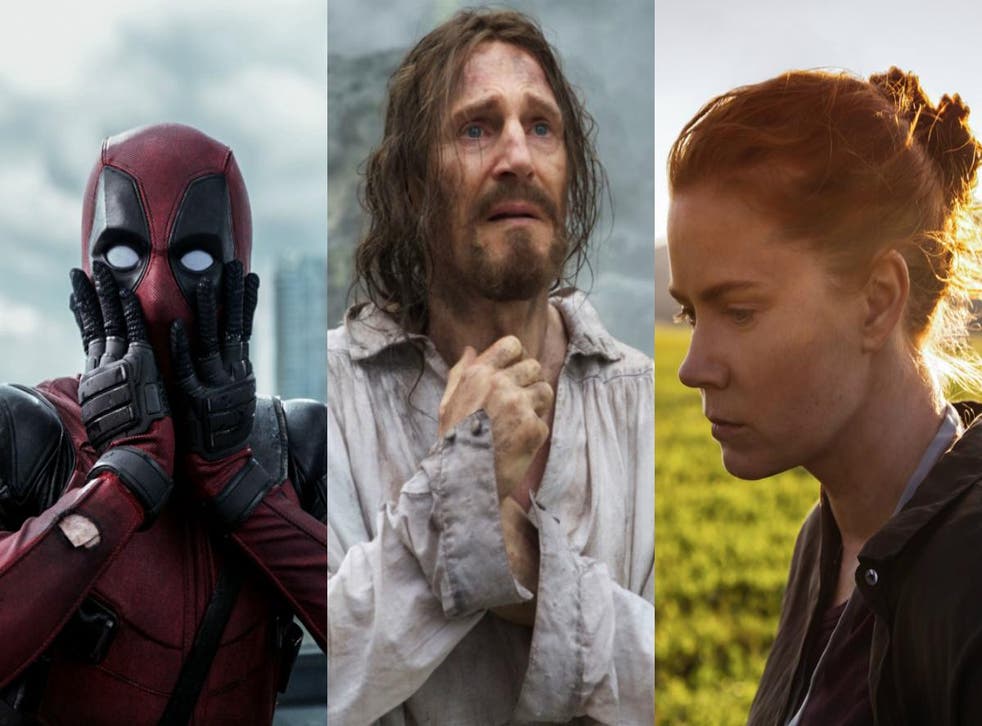 The 2017 Oscars nominations were unsurprisingly dominated by the usual suspects - between La La Land's record-tying 14 nominations, and a healthy dose for both Moonlight and Manchester by the Sea.
Acting-wise, expected nominations came for Casey Affleck (Manchester by the Sea), Isabelle Huppert (Elle), Natalie Portman (Jackie) and Fences actors Denzel Washington and Viola Davis; while the likes of Hacksaw Ridge, Arrival, Hidden Figures, Lion, and Rogue One: A Star Wars Story saw a smattering of nominations elsewhere.
A few surprises cropped up in the form of Michael Shannon's Supporting Actor nomination for Tom Ford's Nocturnal Animals, and a Best Actor nomination for Viggo Mortensen's understated performance in Captain Fantastic.
Oscars 2017: Our film team discuss who will win and who should
Best Picture's nine-picture long nominations list also allowed for a few more unexpected choices: from Hacksaw Ridge, Hell or High Water, to Hidden Figures - with Mel Gibson even picking up a surprise Best Director nomination for Hacksaw Ridge.
However, there were a few notable omissions from the list which may leave just a few fans absolutely fuming. We listed five of the biggest below.
Amy Adams
If Meryl Streep ever had an Academy favourite hot on her tail, it might just be Amy Adams; she's been nominated five times since 2005, almost entirely for supporting roles, with the exception being 2013's American Hustle. Which makes it also bizarre not see her nominated in 2017; specifically when she nailed two leading performances in what might be her best work yet.
The more obvious snub is her fearless, emotive role as linguist Louise Banks in Arrival, having already received both BAFTA and Golden Globe nominations for the role. The lack of nominations for her role in Tom Ford's Nocturnal Animals is perhaps not quite as surprising, however, considering its lack of nominations elsewhere.
Nocturnal Animals
Which brings us conveniently here; Tom Ford's stylish, chilled piece about a woman's ordeal in facing her past may have racked up a nomination for Best Director at both the BAFTAs and the Golden Globes, but its lack of Best Picture nominations at both awards shows may have been the film's ultimate demise.
When it came to the Academy Awards, the film managed only to nab one nomination, and a surprising one at that: a Best Supporting Actor nod for Michael Shannon, where the previous focus had been on his co-star Aaron Taylor-Johnson, who went so far as to win the Golden Globe for his role.
Access unlimited streaming of movies and TV shows with Amazon Prime Video Sign up now for a 30-day free trial
Sign up
Silence
Admittedly, Silence had never really been in the running for the Academy Awards, yet it's still just as surprising when put to its simplest facts: Martin Scorsese's grand passion project, the one he spent over a decade on, landed only one Oscar nomination.
Tellingly, that nomination was for cinematography, which may hint as to exactly why voters were so put off by it; it's an undeniably beautiful film, but Scorsese's strictly dense, intellectual approach to ideas of faith and colonialism may have proved too daunting for most.
Early Oscars 2017 contenders

Show all 19
Natalie Portman's nomination for Best Actress was a dead certainty that, thankfully, did actually come to pass; plus, it's also nice to see Mica Levi's utterly haunting, gripping soundtrack land a nomination as well - a nice reminder that the Academy are sometimes more willing to reward daring, challenging work than might otherwise be expected.
However, it's interesting not to see Jackie land either a Best Picture nomination, or a nomination for its director Pablo Larraín, although the latter was always rather unlikely. Jackie has regularly been heralded as one of the strongest films of the entire year, and a biopic about one of America's most beloved first ladies seemed like a shoo-in; though, like Silence, the complexity of her depiction may have put viewers off.
Deadpool's Oscars 'For Your Consideration' video pitch is (unsurprisingly) hilarious
Deadpool
Deadpool was in the strange position of being a surprise either way; certainly a surprise if it ended up nominated for anything other than technical awards, but equally something of a surprise if it didn't end up on the Best Picture nominations list.
Seemingly out of nowhere, the meta-superhero film started picking up awards steam; picking up nominations (and even some wins) at various critics and guild awards, culminating in Golden Globe Award nominations for both the film and star Ryan Reynolds.
Sure, the concept of Deadpool beating the likes of Christopher Nolan's sombre Dark Knight trilogy to become the first Oscar-nominated superhero film seemed a little out there; but for, a while, it seemed increasingly like a real possibility. Alas, the Merc with the Mouth won't be attending the 2017 Academy Awards, racking up precisely zero nominations in every category.
Register for free to continue reading
Registration is a free and easy way to support our truly independent journalism
By registering, you will also enjoy limited access to Premium articles, exclusive newsletters, commenting, and virtual events with our leading journalists
Already have an account? sign in
Join our new commenting forum
Join thought-provoking conversations, follow other Independent readers and see their replies