Jared Leto wins the Best Supporting Actor Oscar for Dallas Buyers Club
Leto beat competition from Bradley Cooper and Barkhad Abdi to win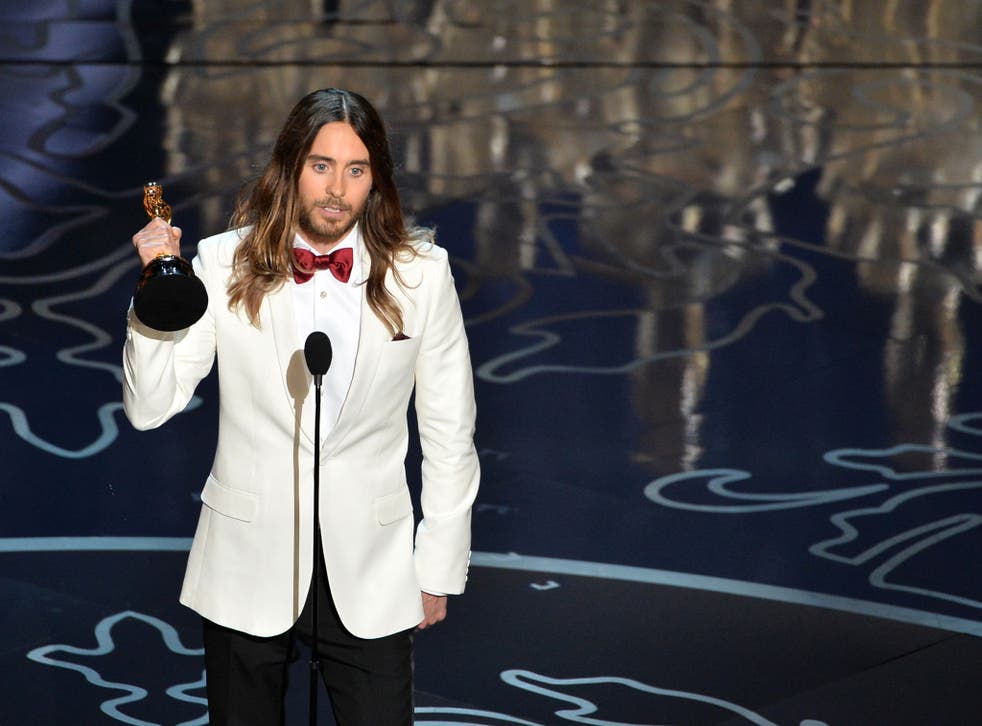 Jared Leto has won the Best Supporting Actor award for his role as transgender Aids patient Rayon in Dallas Buyers Club.
Leto, who stars alongside Best Actor nominee Matthew McConaughey, had been the favourite to take the accolade after winning at multiple recent awards ceremonies.
As last year's Best Supporting Actress winner Anne Hathaway announced Leto's name as winner, he hugged McConaughey before taking to the stage.
"Ellen I love you," Leto began, in a nod to this year's Oscars host Ellen DeGeneres. "To my fellow nominees, I'm so proud to share this journey with you. I have awe and so much respect for you all. To the academy, thank you."
Leto went on to thank his mother, who he had invited along to the ceremony as his date.
"In 1971, Louisiana, there was a teenage girl who was pregnant with her second child. She was a high school drop-out and a single mum but somehow she managed to make a better life for herself and her children, she encouraged her kids to be creative and work hard and do something special. That girl is my mother and she's here tonight - thank you for teaching me to dream."
Leto continued his speech to mention the crisis in Ukraine and those who are struggling with Aids and accepting who they are as people:
"To all the dreamers out there around the world watching this tonight in places like the Ukraine and Venezuela, I want to say we are here and, as you struggle to make your dreams happen, to live the impossible, we're thinking of you tonight.
Oscars 2014: Red carpet in pictures

Show all 31
"This is incredibly special as well because there's so many people who helped me get here.
"This is for the 36 million who have lost the battle to Aids and to those of you out there who have ever felt injustice because of who you are and who you love.
"Tonight I stand here in front of the world, with you and for you."
Speaking to reporters after his win, Leto explained why he name-checked the situations in Ukraine and Venezuela during his acceptance speech.
"You have an opportunity when you stand on this stage. You can make it all about yourself, or you can hold up a mirror and shine a light," he said, noting that his band, 30 Seconds to Mars, is due to play in the Ukraine "in a couple of weeks", and until recently had a concert in Venezuela "in the works".
"I feel at home all over the world," the 42-year-old added. " Social issues like this affect us in a really immediate way… Being a person in a global band, it was important to me to address these things."
Register for free to continue reading
Registration is a free and easy way to support our truly independent journalism
By registering, you will also enjoy limited access to Premium articles, exclusive newsletters, commenting, and virtual events with our leading journalists
Already have an account? sign in
Register for free to continue reading
Registration is a free and easy way to support our truly independent journalism
By registering, you will also enjoy limited access to Premium articles, exclusive newsletters, commenting, and virtual events with our leading journalists
Already have an account? sign in
Join our new commenting forum
Join thought-provoking conversations, follow other Independent readers and see their replies