Oscars 2014: Cate Blanchett wins Best Actress for Blue Jasmine
Australian actress accepted award for her role in Woody Allen's acclaimed film
Jess Denham
Monday 03 March 2014 05:58 Comments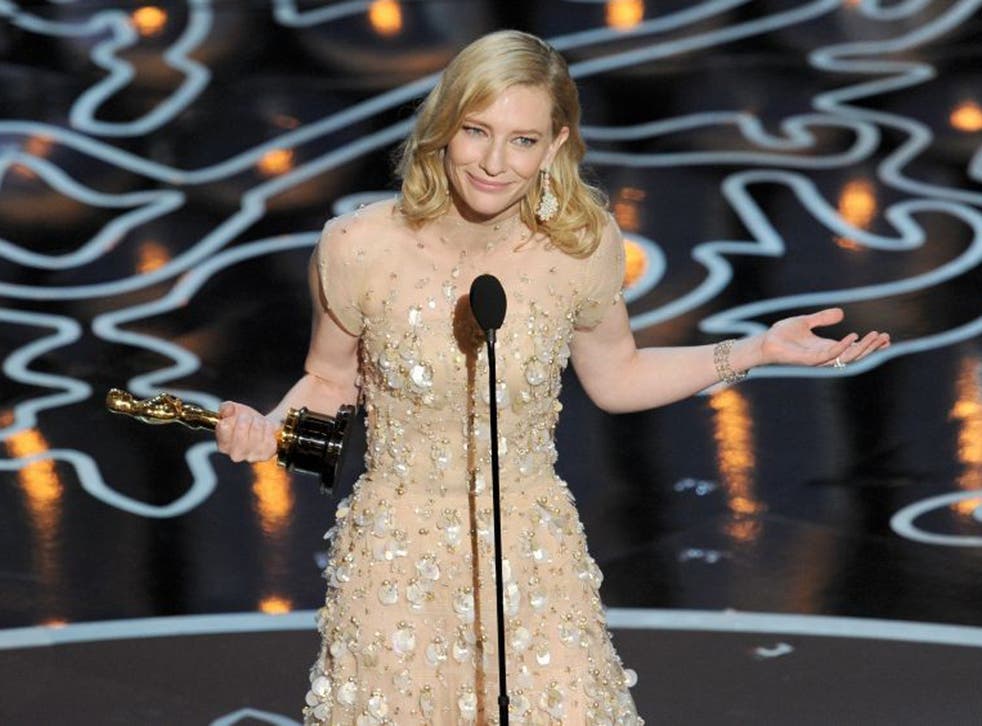 Cate Blanchett has won Best Actress at the 86th Academy Awards, beating competition from American Hustle's Amy Adams and Gravity's Sandra Bullock.
The Blue Jasmine star accepted the accolade from last year's Best Actor, Daniel Day Lewis, for her performance as deeply troubled socialite Jeanette 'Jasmine' Francis in Woody Allen's acclaimed film.
"Sit down you're too old to be standing!" she joked to open her speech. "Thank you Mr Day Lewis. Thank you so much to the Academy, as random and as suggestive as this award is, it means a great deal in a year of extraordinary performances by women.
"Thank you so much Woody for casting me. I'm so very proud that Blue Jasmine stayed in the cinemas for as long as it did.
"Female films with women at the centre - people want to see them, they earn money. The world is round people!
"To the hair and make-up people who sweated me up and tried to make me look attractive.
"There is so much talent in Australia, we are just the tip of the iceberg. Thank you so much."
Oscars 2014 Winners

Show all 8
Blanchett had been the runaway favourite before the ceremony at Hollywood's Dolby Theater, having swept the board at recent awards.
The 44-year old Australian actress won the Golden Globe and Critics Choice awards for her latest role. She last won an Oscar in 2005 for her Best Supporting Actress role in The Aviator.
Register for free to continue reading
Registration is a free and easy way to support our truly independent journalism
By registering, you will also enjoy limited access to Premium articles, exclusive newsletters, commenting, and virtual events with our leading journalists
Already have an account? sign in
Join our new commenting forum
Join thought-provoking conversations, follow other Independent readers and see their replies