Oy Vey! Spider-Man is Jewish, Andrew Garfield confirms
He's neurotic, loves his aunt and feels the weight of the world on his shoulders, of course Spider-Man is Jewish, says star Andrew Garfield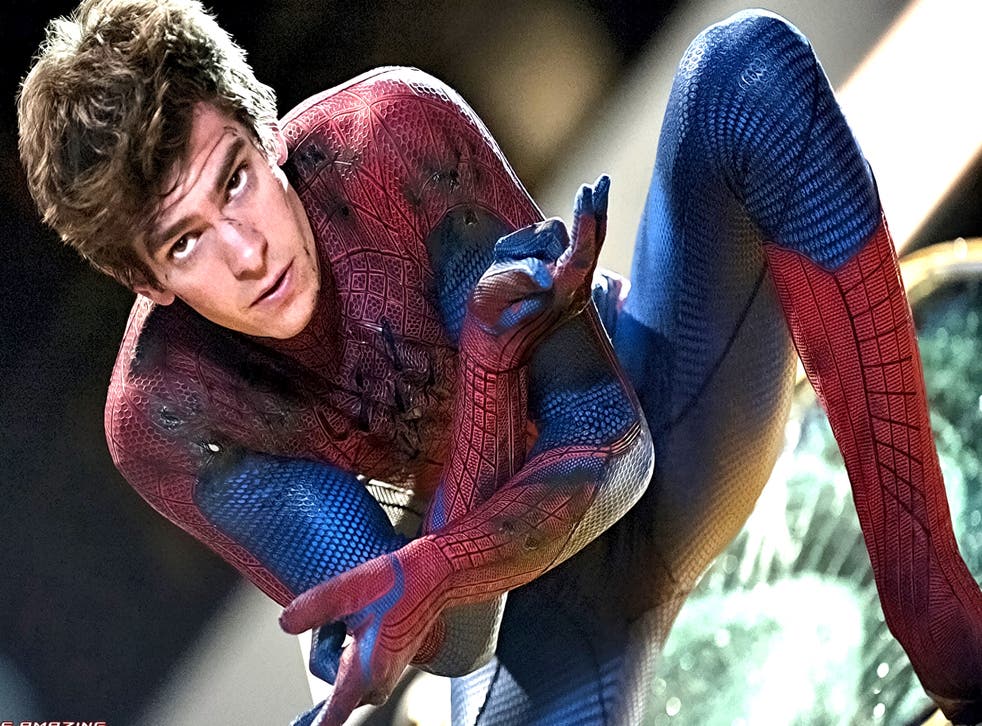 Oy Vey! He's a nebbish boy from Queens, New York, who loves his Aunt May but feels the weight of the world on his shoulders – of course Spider-Man is Jewish.
The web-slinger's Semitic origins, a source of fierce internet speculation, has finally been confirmed by Andrew Garfield, star of The Amazing Spider-Man 2.
Garfield, the British actor who was brought up Jewish, argued that the superhero's neuroses are a surefire sign that the character is culturally Jewish.
"Spider-man is neurotic. Peter Parker is not a simple dude. He can't just switch off," Garfield told Time Out. "He never feels like he's doing enough. And Peter suffers from self-doubt. He ums and ahs about his future because he's neurotic. He's Jewish. It's a defining feature."
Garfield, 30, making his second big-screen outing as Spider-Man, adds: "I hope Jewish people won't mind the cliché, because my father's Jewish. I have that in me for sure." The actor says of Spidey: "He's an over-thinker. It would be much easier if he was a life-saving robot."
Spider-Man isn't just any Jew. His roots are biblical. "He is misunderstood , like Jesus," Garfield claims. "I don't mind the Jesus parallel for Spider-man. Jesus is an awesome guy. When Pontius Pilate said: 'They say you're the son of God. If you're the son of God tell me.' Jesus was like: 'I know who I am, bitch.'"
The star, who now lives in Los Angeles, said: "Peter (Parker) is not that evolved. Peter wants to tell the world he's a good guy: ' Like me, I'm nice.' He's a 19 year-old kid. He's a kid struggling with being misunderstood. We've all been misunderstood. That's universal too. I like being Peter."
Stan Lee, the Jewish-American comics pioneer Stan Lee, who created Spider-Man in 1962, once compared the character to another biblical figure, David. In the Book of Samuel, King Saul sends soldiers to kill David, who finds a cave and weaves a giant web to hide from them.
Lee wrote: "To me you can wrap all of Judaism up in one sentence, and that is 'Do not do unto others…' All I tried to do in my stories was show that there's some innate goodness in the human condition. And there's always going to be evil; we should always be fighting evil."
Access unlimited streaming of movies and TV shows with Amazon Prime Video Sign up now for a 30-day free trial
Sign up
Some Spidey scholars believe the story is an allegory for post-War Judaism in America. An orphan, as many Jewish children were as a result of Nazi atrocities, Parker is a "good, smart boy" who lives with his aunt and uncle in Forest Hills, Queens, home to one of the largest Jewish communities in New York.
The angst-ridden Parker fights evil by adopting an alter-ego – some Jews chose to submerge their identities to avoid future persecution – and often uses native wit whilst outsmarting his enemies, speaking lines of dialogue close to "yiddish shtick".
Spider-Man is perhaps, a less than observant Jew. The producers of The Amazing Spider-Man 2, which opens this week, angered the Hasidic population of the New York neighbourhood of Williamsburg, when they shut down streets to film during last year's Jewish holiday of Passover.
Spider-Man is not the only "Jewish" super-hero. Kate Kane, aka Batwoman, was reintroduced to the DC Comics world in 2006 as a lesbian, of Jewish descent.
Superman has also been claimed for "the tribe". Creator Jerry Siegel said he was influenced by the rising tide of anti-semitism in the 1930s and modelled the character on Samson. The baby Kal-El's escape to earth from Krypton parallels the placing of Moses in a basket of reeds by his mother.
Hezbollah's Al-Manar TV recently ran a report claiming that Superman was a Jewish invention designed to "take over the greatest superpower in the world, to control all aspects of its daily life, and to harness it in the service of Jewish goals worldwide."
As yet, there are insufficient semitic superheroes to form an "Avengers Minyan" – the quorum of ten Jewish males required to form a religious congregation.