Peddler at beginning of Aladdin is the Genie, directors finally confirm
Fan theory had been questioned since 1992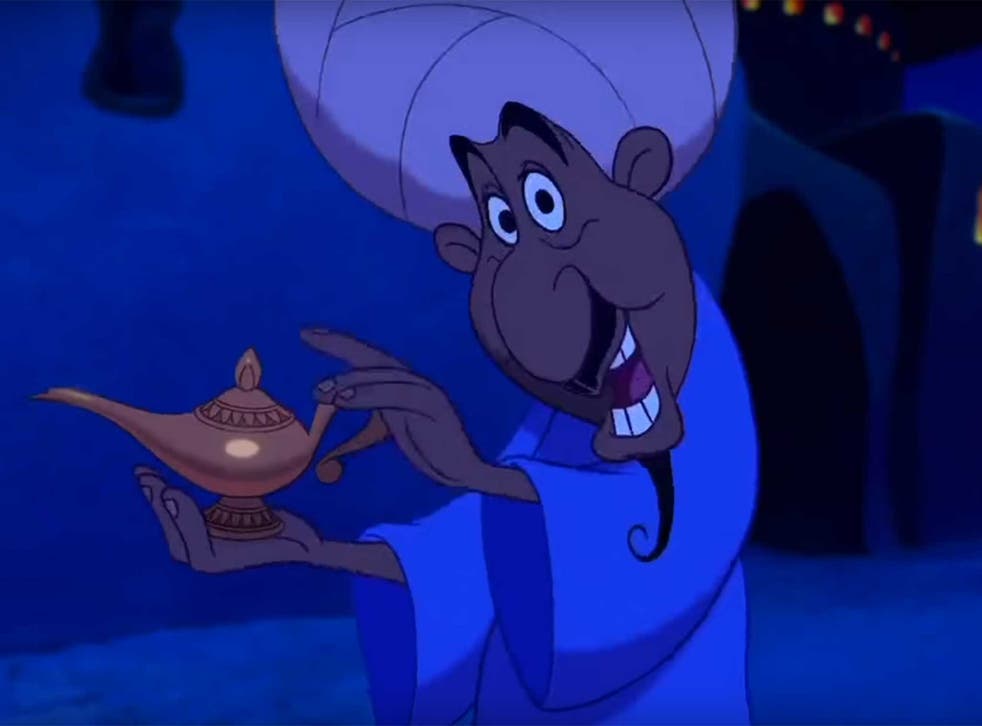 One of the most popular urban legends surrounding Disney's Aladdin has finally been revealed as true, two decades after fans began speculating.
Directors Ron Clements and John Musker confirmed fans' speculation the bazaar's peddler – also voiced by Robin Williams – was in fact the Genie himself.
"That was the whole intention, originally," Clements told US news channel Entertainment! Online during a round of publicity to promote the release of the latest version of the Disney classic.
"We even had that at the end of the movie, where he would reveal himself to be the Genie, and of course Robin did the voice of the peddler. Just through story changes and some editing, we lost the reveal at the end. So, that's an urban legend that actually is true."
The 1992 film was originally set in Baghdad, but prior to release the "Gulf War happened" said Musker. "So, I took letters and did a jumbled anagram and came up with Agrabah."
Aladdin remains one of Disney's most successful animations, spawning two spin-off films, a Broadway adaptation and a host of toys, video games and official merchandise.
Which Disney Princess are you? - 'Disabled Disney Princesses' illustrations are a stark reminder of discrimination in society

Show all 10
It was a critical success as well, winning two Academy Awards for Best Music, Original Score and Best Music, Original Song.
Register for free to continue reading
Registration is a free and easy way to support our truly independent journalism
By registering, you will also enjoy limited access to Premium articles, exclusive newsletters, commenting, and virtual events with our leading journalists
Already have an account? sign in
Register for free to continue reading
Registration is a free and easy way to support our truly independent journalism
By registering, you will also enjoy limited access to Premium articles, exclusive newsletters, commenting, and virtual events with our leading journalists
Already have an account? sign in
Join our new commenting forum
Join thought-provoking conversations, follow other Independent readers and see their replies