Pitch Perfect 2 star Hailee Steinfeld interview: on adulthood, famous friends and having fun
The Oscar-nominated 17-year-old actress tells of the wise words she received from True Grit co-star Jeff Bridges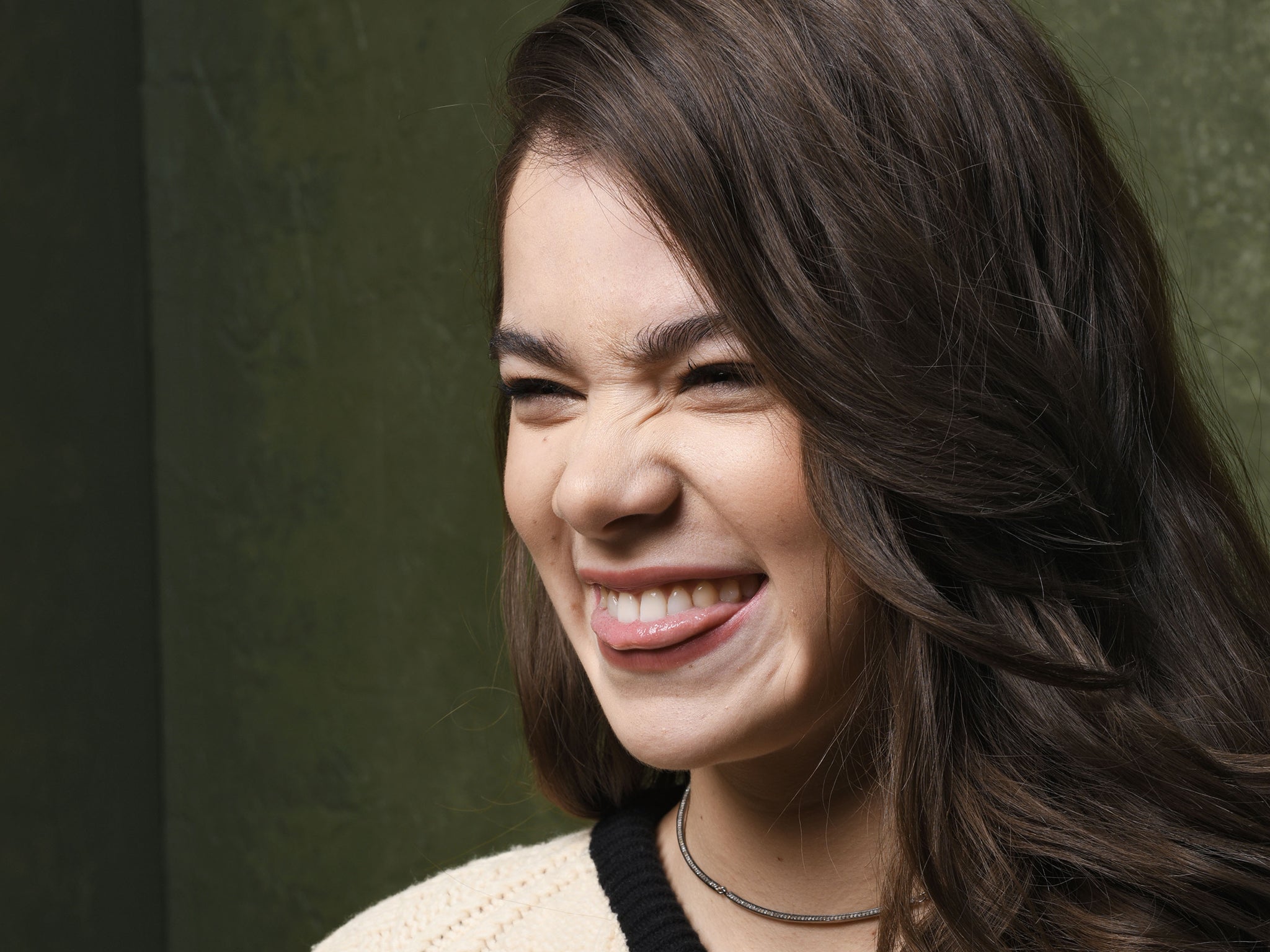 Hailee Steinfeld was just 14 years old when she received an Oscar nomination for her role in the Coen brothers' remake of True Grit – and could easily have become one of those world-weary, seen-it-all girls that haunt the Hollywood party scene.
Instead she's bouncy and sweet – shy one minute, the next giggling, words spilling out in a rush of teen exuberance that befits her 18 years.
A few hours before we meet in Los Angeles, she'd woken at her Thousand Oaks home in leafy San Fernando to find her friends' prom photos splashed across Twitter and Facebook: gloss-lipped pretty girls all dressed up with tuxedoed, pimply boys on their arm.
Having been home-schooled since sixth grade – she left school shortly after her True Grit success made her the target of bullies – high-school milestones like prom and year-book appearances are unavailable to her. That makes her sad, although she puts it into perspective: "It's funny, because actually when I'm getting ready for an event, my friends see those pictures the next day on Twitter.
"I think there are some crucial moments [that I've missed] throughout high school and young adulthood – but I really do feel like I have been places in the world, and attended certain events, that I wouldn't have been able to if I were anywhere else," says the actress, whose new circle of friends includes Taylor Swift and Game of Thrones' Sophie Turner – the pair becoming close after filming Barely Lethal last year.
Doubtless any one of Steinfeld's old school pals would readily exchange places with her now. Hosting a blow-out 18th birthday party in December last year, she invited old pals to mingle with shiny new friends like Modern Family's Sarah Hyland.
Already a fashionista, she was anointed as the face of Miu Miu in 2011; today, she's dressed in a chic black-and-white Christopher Kane ensemble.
Instead of studying Shakespeare in the classroom, in 2011 she played Juliet in Carlo Carlei's film adaptation of Romeo & Juliet opposite Douglas Booth's Romeo. The same year she attended space school, floating in zero gravity in preparation for her role in Ender's Game with Harrison Ford.
I first met Steinfeld on the set of that film three years ago; the biggest attraction, she said at the time, apart from working with Ford, was working with kids her own age, having first begun acting at the age of eight.
Access unlimited streaming of movies and TV shows with Amazon Prime Video
Sign up now for a 30-day free trial
Sign up
Access unlimited streaming of movies and TV shows with Amazon Prime Video
Sign up now for a 30-day free trial
Sign up
In no hurry to flee the nest, she remains at home with her mother, Cheri, an interior designer, and her father, Peter, a personal-fitness trainer. On screen she's had various fathers: Kevin Costner in 3 Days to Kill, Mark Ruffalo in Begin Again and Vince Vaughn in the upcoming drama Term Life, co-starring Taraji P Henson and Terrence Howard.
Perhaps the most fun she's had on a movie set, however, was while shooting her latest film, Pitch Perfect 2. She plays the new girl on campus in the sequel to the beloved movie about a group of misfits who share a common love for a cappella.
"I really don't know how many times I saw the first Pitch Perfect," she says. "A lot. I actually just watched it again last week. Being such a huge fan of the first movie, and knowing that I was going to be a part of the second one, was just so surreal."
It was a perfect opportunity to showcase her own nascent singing talent. She solos on Sia and Sam Smith's catchy ballad "Flashlight", a song subsequently released by Jessie J. As a member of Pitch Perfect's Barden Bellas, she also performed live before an audience of 3,500 extras and fans for the film's moving finale.
Aware that she should try to weave her vocal talents into her own career, she says, "I think I was just looking for the right opportunity to explore it – because as an actor, wanting to sing is viewed in a different sort of way. But to be able to have that live reaction is something you don't usually get as an actor – and we got a taste of that shooting our finale over the course of a week," says the actress, who recently spent the weekend at Coachella festival.
"I've visited friends that are on tour and going to concerts is one of my favourite things in the entire world."
Pitch Perfect 2

was filmed during 45 sweaty days and nights in Baton Rouge, Louisiana. It wasn't difficult for Steinfeld to get into character. "I do think there's maybe some similarities between me and my character in terms of being the deer in the headlights – completely new and very eager. Walking into a world that's already established was as intimidating as it was exciting and thrilling, but I had a very warm welcome."
Pitch Perfect 2 director, Elizabeth Banks, was duly impressed. "She was 17 years old when she joined our cast and we were looking for the perfect little sister – and her journey as an actress perfectly matched her journey as a person. The group loved her; I don't think you could find a person that worked on our movie who doesn't just absolutely adore Hailee Steinfeld.
She brought the perfect amount of charm and energy to the group and really served that little-sister role perfectly," says Banks. "And I'm sure that the girls took her out on adventures that her mother would not approve of..."
Approval or not, the friendship of the cast endures; almost a year after completing filming, they still all share a group text.
Best films to watch in 2015
Show all 10
While convincingly portraying a college freshman, she has no immediate plans to attend university. "I haven't even graduated from high school yet – and I've realised in the last four years, with all the travelling I've done and all of the movies I've made, that the world is my classroom. I've experienced things I don't know you can necessarily get from reading a history book."
Not that she rules out college entirely. "I would love to pursue that when I'm in a place where I can give myself to an education for four years – because I do find that balancing school and work is like working two full-time jobs. Its not easy."
Her parents, she says, have never pressured her or her older brother, Griffin, a NASCAR driver.
"I think there's a lot of pressure: 'Where are you going to college and what are you going to study?' In my community that's a big thing with the parents. The difference in my family, I think, is that my parents always supported my brother and I 100 per cent with what we wanted to do – and luckily we found something that we're decently good at that makes us happy."
Attending Sundance for the first time in January in support of the upcoming dramedy Ten Thousand Saints, in which she co-stars with Ethan Hawke and Emily Mortimer, she told US Marie Claire, "Walking down main street, you'd see ten people you know. I've never been in a school club or been part of a team – so it was really cool living on the same street as your peers for a minute."
At 13 years old, she says she received an important piece of advice: "The one piece of advice that sticks with me, which also happens to be the most simple, is to have fun. Once it becomes anything other than fun, is when you realise you're not in the right place.
"Someone told me that when I was 13 – and that was when I was having the most fun and I've not stopped having fun since. So I think that's really important."
Ask the name of this mysterious mentor, and she blurts out, "Jeff Bridges" – which makes perfect sense given that he co-starred with her and Matt Damon in True Grit. Dissolving into laughter – or perhaps just embarrassment – at calling out her famous friends, she quickly adds, "I was just kidding. It was a name-drop!"
Pitch Perfect 2 is on nationwide release
Join our commenting forum
Join thought-provoking conversations, follow other Independent readers and see their replies