Princess Leias parade New Orleans to honour Carrie Fisher
'This is a public demonstration of our love for Princess Leia'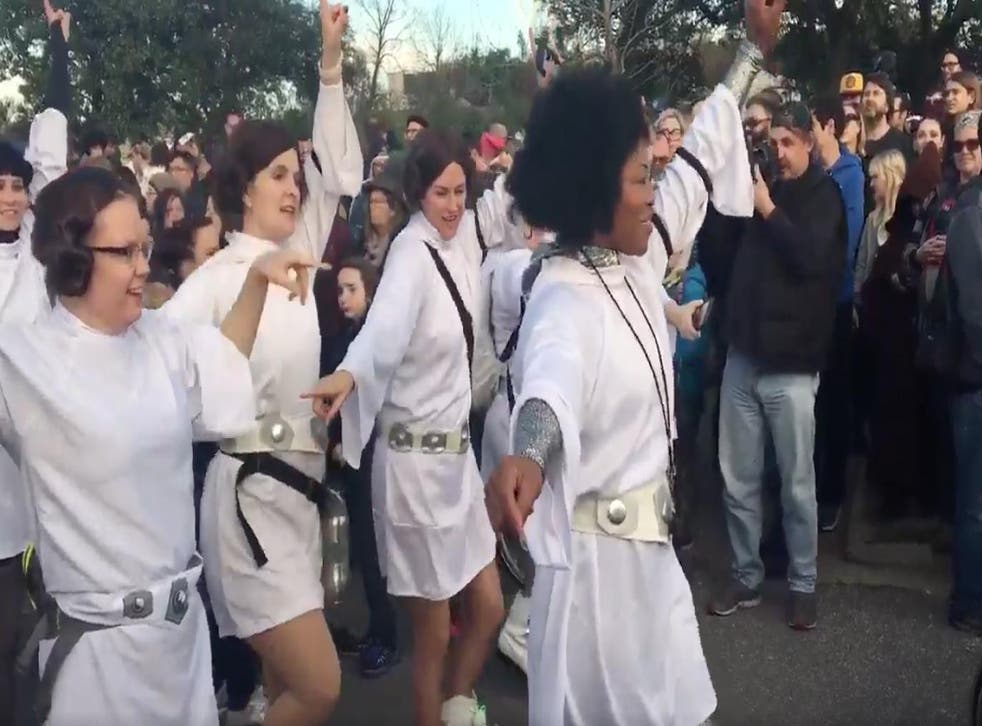 Following her untimely death, Star Wars fans across the world paid tribute to Carrie Fisher, the actor behind the iconic character, Princess Leia. In New Orleans, thousands took to the streets to honour Fisher, many dressed as the tough-talking princess.
Organised by the Intergalactic Krewe of Chewbacchus - who celebrate all things Star Wars - the parade saw members of the community join in merriment to celebrate Fisher's life.
"This is a public demonstration of our love for Princess Leia," Brooke Ethridge - a member of the Leijorettes, a dancing group made up of fans who dress like Princess Leia - told the Associated Press.
"Our first instinct was to hit the streets and parade and celebrate Princess Leia and Carrie Fisher."
Alongside the Leijorettes, a brass band - dressed up as various Star Wars characters - performed at the parade, with fans lining the streets, taking photos and remembering Fisher.
"I didn't know her. But as [she was] an iconic character and as a person, a writer and a smart, funny, fantastic woman and role model, I was heartbroken and devastated," one fan Dale Hrebrik.
Of course, it wasn't just Fisher's iconic role as Princes Leia that people were remembering. Fans at the event also praised her outspoken nature and mental health advocation.
Jacquelyn Ryan, who attended with her husband and two children while dressed as Leia, said: "Probably my first introduction to her was Star Wars, but she as a person was really important. Her activism, her mental health awareness, her activism for women, her unapologetic attitude about youth and beauty in Hollywood really spoke to me."
Debbie Reynolds and Carrie Fisher

Show all 9
Fisher was hospitalised on the 23 December following a flight from London to New York. One day after her death, her mother - Debbie Reynolds - passed away.
Register for free to continue reading
Registration is a free and easy way to support our truly independent journalism
By registering, you will also enjoy limited access to Premium articles, exclusive newsletters, commenting, and virtual events with our leading journalists
Already have an account? sign in
Register for free to continue reading
Registration is a free and easy way to support our truly independent journalism
By registering, you will also enjoy limited access to Premium articles, exclusive newsletters, commenting, and virtual events with our leading journalists
Already have an account? sign in
Join our new commenting forum
Join thought-provoking conversations, follow other Independent readers and see their replies