Quvenzhané Wallis v Emmanuelle Riva: Best actress Oscar contested by oldest and youngest ever nominees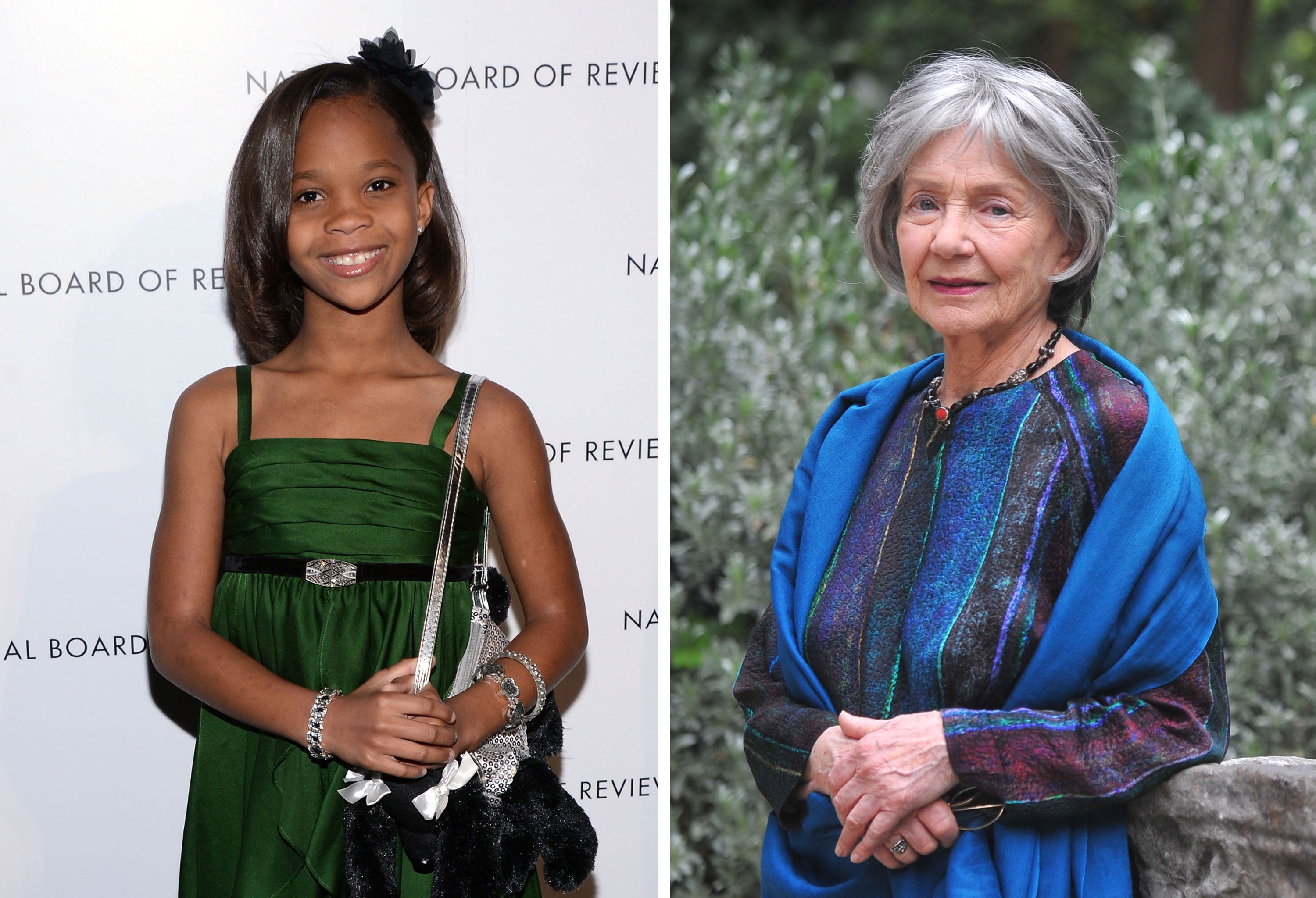 The Academy Award for Best Actress will this year be contested by both its youngest and its oldest ever nominees. Nine-year-old Quvenzhané Wallis was shortlisted yesterday for her leading role in Beasts of the Southern Wild, while Emmanuelle Riva, 85, also earned a nomination for her performance in the Palme D'Or-winning Amour.
Their competition in the category comes from Jennifer Lawrence (Silver Linings Playbook), Jessica Chastain (Zero Dark Thirty) and Naomi Watts (The Impossible).
Wallis was aged just five when she beat 4,000 other young hopefuls to the part of Hushpuppy, the tiny heroine of Beasts, a fantasy drama set in a flooded bayou. She had never acted before the film, which began shooting soon after she turned six. Her first name, pronounced Kwuh-VIN-juh-nay, combines the names of her mother Qulyndreia, a teacher; her father, Venjie, a truck driver; and "zhané", a Swahili word meaning "fairy". The youngest of four children, she grew up and still attends school in Houma, Louisiana, some 60 miles south-east of New Orleans.
Until now, the youngest Best Actress nominee was Keisha Castle-Hughes, shortlisted in 2003 for Whale Rider, aged 13. The youngest of all acting nominees was eight-year-old Justin Henry, who was nominated as Best Supporting Actor for his affecting turn in Kramer vs Kramer in 1979 – though he was seven when the film was shot. Wallis's next project is Twelve Years a Slave, a slavery drama directed by Steve McQueen, and starring Chiwetel Ejiofor, Brad Pitt and Michael Fassbender.
Riva was born on 24 February, 1927, and will turn 86 on the same day as this year's Oscars ceremony. Her breakthrough came as long ago as 1959, with a leading role in Alain Resnais's classic Hiroshima Mon Amour. Beasts and Amour are Oscar overachievers, with four and five nominations respectively. Both were nominated for Best Picture, while their directors Benh Zeitlin and Michael Haneke beat the much-fancied Quentin Tarantino, Kathryn Bigelow and Ben Affleck to spots in the Best Director category. They are joined by David O Russell (Silver Linings Playbook), Ang Lee (Life of Pi) and Steven Spielberg (Lincoln).
The nominations were unveiled at a 5.30am ceremony in Los Angeles yesterday, by actress Emma Stone and Seth MacFarlane, who will host the 2013 Oscars ceremony. Lincoln leads the field with 12 nods, while Silver Linings Playbook earned a place in all four acting categories: the first film to do so since Reds in 1981. Among them was Robert De Niro for Best Supporting Actor, his first nomination since 1991's Cape Fear.
Jennifer Lawrence told The Independent she was drawn to Silver Linings Playbook, "by the script and by David O'Russell. I just love his characters and the way he works with the actors." 2012 was, she suggested, a good year to be an actress. "Through the years I've been reading scripts there are clearly seasons," she said. "Sometimes it favours men, and other times it is good for women of a certain age."
British hopes, meanwhile, rest on Daniel Day-Lewis, the runaway favourite for a record third Best Actor win, for his performance as Abraham Lincoln in Spielberg's biopic of the 16th President. Though its director Tom Hooper was overlooked, the British-made Les Misérables has garnered eight nominations, including Best Picture and Best Actor for Hugh Jackman.
Tim Bevan of Working Title Films, who produced Les Mis and Anna Karenina (which earned four nominations in so-called "craft" categories), said, "It's the bigger British films – Les Mis, Anna Karenina and Skyfall – that have done well this year, while smaller films haven't had such a look-in, even at the BAFTAs. Part of the fun of this year's awards season, though, is that it's a pretty open book."
Access unlimited streaming of movies and TV shows with Amazon Prime Video
Sign up now for a 30-day free trial
Sign up
Access unlimited streaming of movies and TV shows with Amazon Prime Video
Sign up now for a 30-day free trial
Sign up
Skyfall, which recently passed £100m at the UK box office, received five nominations, including one for Roger Deakins in the Best Cinematography category. Devon-born Deakins has been nominated nine times previously, but never won. "It's long overdue for the Bond films to be recognised," said Bevan. "But when they picked Sam [Mendes] to direct, it was bound to receive more critical recognition than Bond traditionally has."
Also nominated is Adele, whose "Skyfall" theme is in the running for Best Original Song. "Oh my god I feel like Meryl Streep!!" the singer tweeted yesterday.
Here are the nominees in the main categories:
Actor in a Leading Role:
Bradley Cooper in Silver Linings Playbook
Daniel Day-Lewis in Lincoln
Hugh Jackman in Les Miserables
Joaquin Phoenix in The Master
Denzel Washington in Flight
Actor in a Supporting Role:
Alan Arkin in Argo
Robert De Niro in Silver Linings Playbook
Philip Seymour Hoffman in The Master
Tommy Lee Jones in Lincoln
Christoph Waltz in Django Unchained
Actress in a Leading Role:
Jessica Chastain in Zero Dark Thirty
Jennifer Lawrence in Silver Linings Playbook
Emmanuelle Riva in Amour
Quvenzhane Wallis in Beasts of the Southern Wild
Naomi Watts in The Impossible
Actress in a Supporting Role:
Amy Adams in The Master
Sally Field in Lincoln
Anne Hathaway in Les Miserables
Helen Hunt in The Sessions
Jacki Weaver in Silver Linings Playbook
Directing:
Michael Haneke for Amour
Benh Zeitlin for Beasts of the Southern Wild
Ang Lee for Life of Pi
Steven Spielberg for Lincoln
David O. Russell for Silver Linings Playbook
Music (Original Score):
Dario Marianelli for Anna Karenina
Alexandre Desplat for Argo
Mychael Danna for Life of Pi
John Williams for Lincoln
Thomas Newman for Skyfall
Music (Original Song):
J. Ralph for Before My Time from Chasing Ice
Walter Murphy and Seth MacFarlane for Everybody Needs A Best Friend from Ted
Mychael Danna and Bombay Jayashri for Pi's Lullaby from Life of Pi
Adele Adkins and Paul Epworth for Skyfall from Skyfall
Claude-Michel Schonberg, Herbert Kretzmer and Alain Boublil for Suddenly from Les Miserables
Best Picture:
Amour
Argo
Beasts of the Southern Wild
Django Unchained
Les Miserables
Life of Pi
Lincoln
Silver Linings Playbook
Zero Dark Thirty
Join our commenting forum
Join thought-provoking conversations, follow other Independent readers and see their replies