Read the alternative phrases to 'All work and no play makes Jack a dull boy' Stanley Kubrick considered for The Shining
Including the creepy 'The morning has gold in its mouth'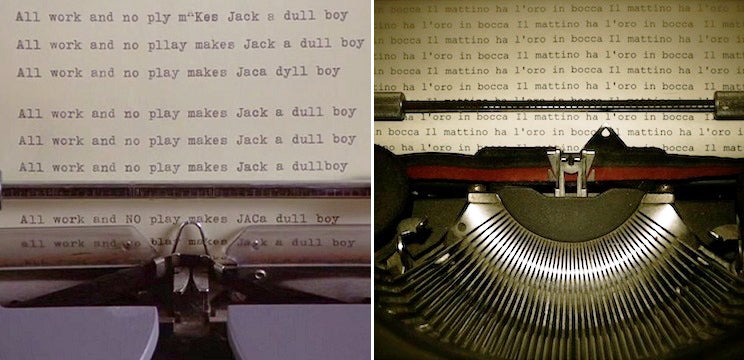 Stanley Kubrick was a notorious perfectionist, particularly with regards to The Shining, with the infamous "Here's Johnny" scene taking three days to film and seeing Jack Nicholson have to chop through 60 doors.
Slim Pickens turned down the role of Dick Hallorann because the director refused to promise to limit his number of takes on any of his shots to less than 100, and Shelley Duvall suffered from nervous exhaustion throughout filming, losing hair in the process.
It comes as little surprise then that the typewriter scene was also obsessed over by Kubrick.
According to Toy Story 3 director Lee Unkrich, who runs a site dedicated to The Shining and its legacy, "Kubrick filmed a number of different language versions of the 'All work and no play makes Jack a dull boy' insert shot as Wendy leafs through Jack's work."
Kubrick realised the importance of the scene and how it would lack impact in foreign language versions of the film if explained via subtitles.
He didn't just translate the original phrase however, but came up with different stacks of repeated sentences, many of which can be seen in the Stanley Kubrick Archive:
Italian:
Il mattino ha l'oro in bocca
(The morning has gold in its mouth)
German:
Was du heute kannst besorgen, das verschiebe nicht auf morgen
(Never put off until tomorrow what can be done today)
Spanish:
No por mucho madrugar amanece más temprano
(No matter how early you get up, you can't make the sun rise any sooner)
French:
Un Tiens vaut mieux que deux Tu l'auras
(What you have is worth much more than what you will have)
At first glance these alternatives don't sound as creepy as the original, though this may simply be because we are used to the "Jack" line. You can certainly imagine 'The morning has gold in its mouth' being an unsettling thing to come across someone feverishly typing over and over again.
DangerousMinds attempted to track down these stacks a couple of years back but came away empty-handed, though they did find unconfirmed photos of some of them online that seem legit (above).
During the scenes in which we can hear Jack typing but cannot see what it is he is committing to paper, Kubrick reportedly recorded the sound of a typist actually typing the words "All work and no play makes Jack a dull boy" due to the fact that each key on a typewriter sounds slightly different and he wanted to ensure authenticity.
Join our commenting forum
Join thought-provoking conversations, follow other Independent readers and see their replies