Rosamund Pike has 'deeply psychological' need to bury her acting awards in her back garden
Gone Girl actor stipulated that she leaves them slightly exposed so onlookers can catch 'an enticing glimpse'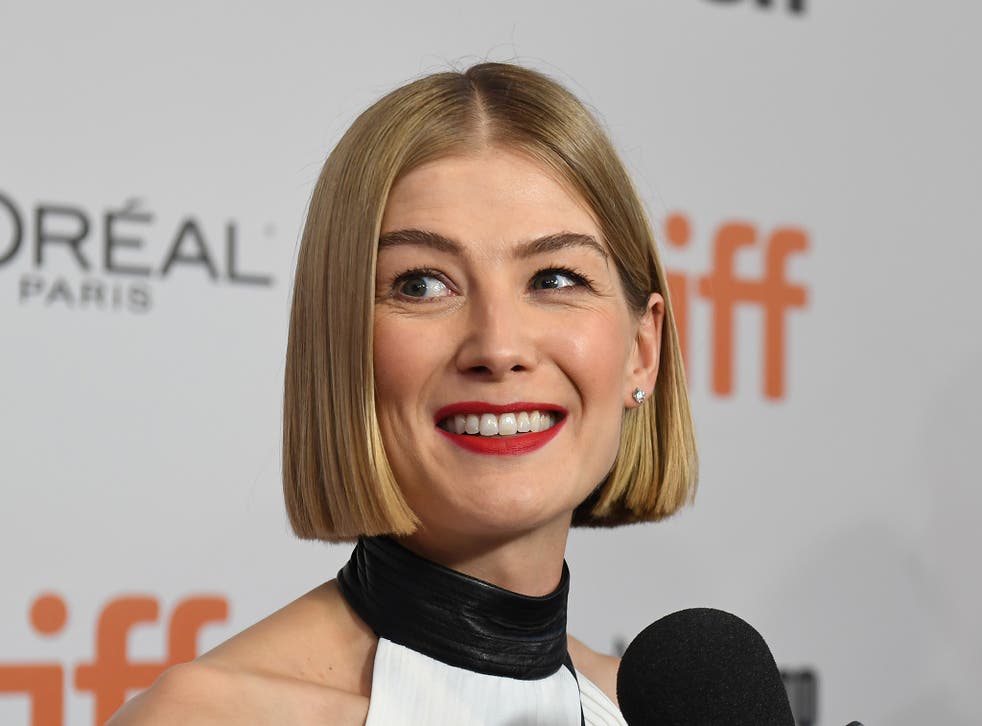 Rosamund Pike has revealed she has a "deeply psychological" need to bury her acting awards in her back garden.
The British actor took home a Golden Globe last month for her performance in the dark comedy I Care a Lot, and said to to Ellen DeGeneres that the trophy will suffer the same fate as her others.
While appearing on DeGeneres's US talk show on Wednesday (10 March), Pike confirmed rumours that her back garden features a bizarre half-buried display of awards.
"It's probably some deeply psychological… if you've got any psychiatrists or therapists in your audience, maybe they'll say it's probably some deep lying imposter syndrome," she suggested. "I find it an uneasy thing to display any award in your home. How do people interact with them when they come home? … I think it's awkward."
Pike said that her awards are only half-buried in the ground, "with a little bit showing up, so you can have an enticing glimpse of a hand, or a… globe", she said.
Read more: Rosamund Pike skewers Rudy Giuliani over infamous Borat scene in Golden Globes speech
She continued: "I think it's amusing, because in the future when I'm dead and gone, or when someone else buys the house, there will be landscaping and they'll hit metal and they'll think they've found buried treasure, and in fact they've found a host of awards, and they'll think, 'What's this about?'"
While Pike was only nominated for an Oscar and a Bafta for Gone Girl in 2015, she has won a host of other awards, including an Emmy, a British Independent Film Award and a Golden Schmoe award.
While collecting her Golden Globe in February, Pike memorably skewered Donald Trump ally Rudy Giuliani over his controversial participation in the Borat sequel.
Register for free to continue reading
Registration is a free and easy way to support our truly independent journalism
By registering, you will also enjoy limited access to Premium articles, exclusive newsletters, commenting, and virtual events with our leading journalists
Already have an account? sign in
Register for free to continue reading
Registration is a free and easy way to support our truly independent journalism
By registering, you will also enjoy limited access to Premium articles, exclusive newsletters, commenting, and virtual events with our leading journalists
Already have an account? sign in
Join our new commenting forum
Join thought-provoking conversations, follow other Independent readers and see their replies