Rose McGowan shouts at transgender woman during her Barnes and Noble book event
This is not good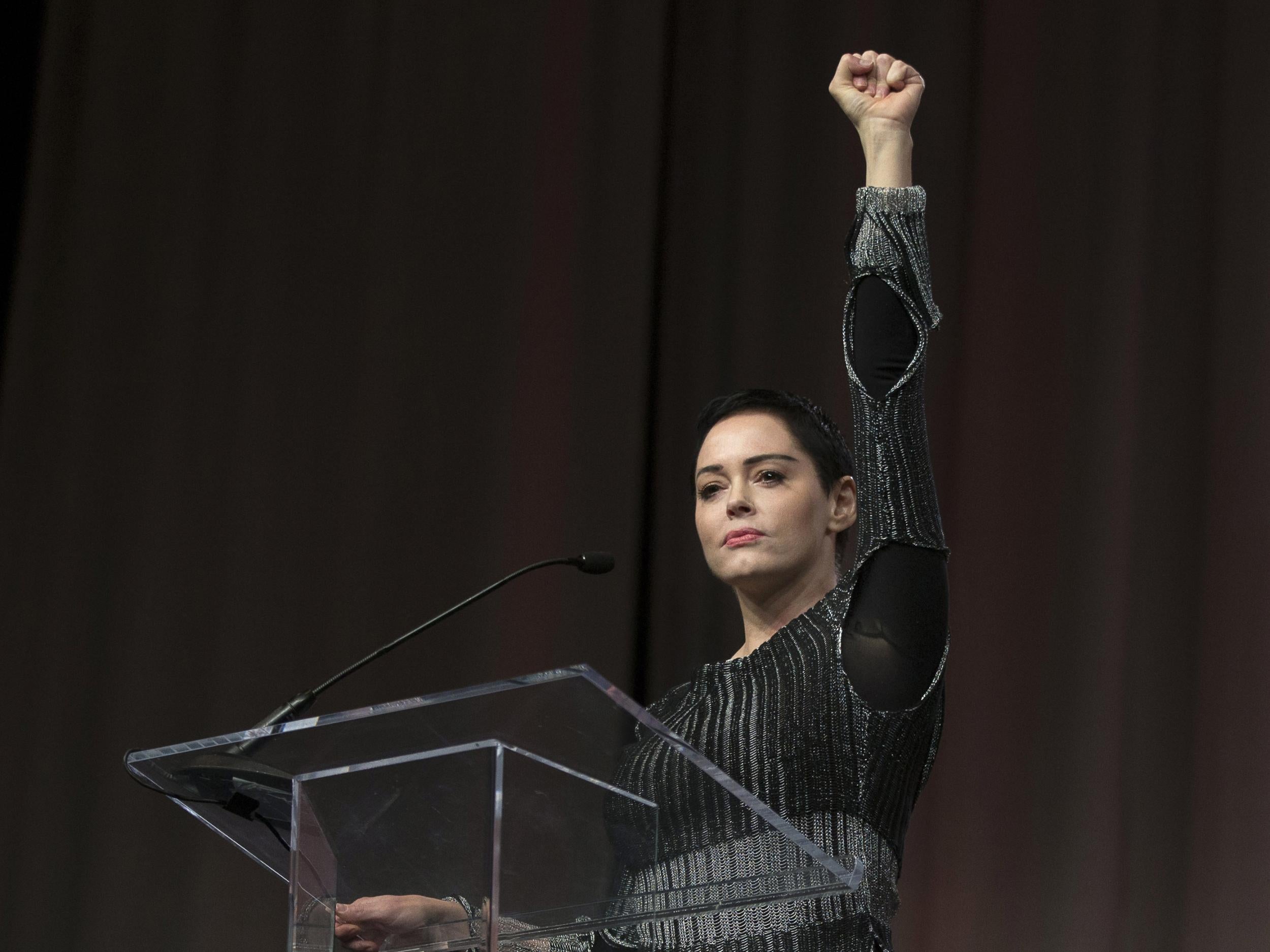 Rose McGowan got into a public shouting match with a transgender woman at her Barnes & Noble book event.
The event - in New York City on Wednesday night - was held to promote her memoir Brave, which came out in January 30.
While onstage, McGowan answered pre-approved questions from attendees, but things became heated when a trans woman spoke up and asked about McGowan's divisive comments she's previously said about trans women.
Things escalated quickly when the woman remarked, ""I have a suggestion. Talk about what you said on RuPaul. Trans women are dying and you said that we, as trans women, are not like regular women. We get raped more often. We go through domestic violence more often. There was a trans woman killed here a few blocks [away]. I have been followed home —."
She was then interrupted by McGowan who said, "Hold on. So am I. We are the same. My point was, we are the same. There's an entire show called ID channel, a network, dedicated to women getting abused, murdered, sexualized, violated, and you're a part of that, too, sister. It's the same."
Her response didn't go over well with the audience member who then asked, "You do nothing for them. Trans women are in men's prisons. And what have you done for them?"
At that point the women started yelling at each other simultaneously and the trans woman was taken out of the event by security while saying "white cis feminism" on repeat.
McGowan then had a meltdown of her own onstage saying, "Don't label me, sister. Don't put your labels on me. Don't you f****** do that. Do not put your labels on me. I don't come from your planet. Leave me alone. I do not subscribe to your rules. I do not subscribe to your language. You will not put labels on me or anybody. Step the f*** back. What I do for the f****** world and you should be f****** grateful. Shut the f*** up. Get off my back. What have you done? I know what I've done, Goddammit."
Some audience members praised her for her comments saying "We love you, Rose."
But McGowan still had more to say.
"I'm not crying; I'm f****** mad with the lies," she exclaimed. "I'm mad that you put shit on me because I have a f****** vagina and I'm white or I'm black or I'm yellow or I'm purple. Fuck off. All of us want to say it. I just do."
Access unlimited streaming of movies and TV shows with Amazon Prime Video
Sign up now for a 30-day free trial
Sign up
Access unlimited streaming of movies and TV shows with Amazon Prime Video
Sign up now for a 30-day free trial
Sign up
But then she addressed the "breakdown" she was having saying, "And you can label this thing as a breakdown. That, motherf*******, is a breakdown. Maybe not for me, but for you. I might have information you want. I might know shit that you don't. So f****** shut up. Please systemically. For once. In the world. You know what I'm talking about. Just tell the God damned truth. Stop boxing everybody into shit. I didn't agree to your cis f****** world. Ok? F*** off."
McGowan concluded her monologue with trying to differentiate between what happens to women and trans women.
"Trans women are women and what I've been trying to say is that it's the same," McGowan said. "The stats are not that dissimilar. When you break it down, it is a much smaller population. There's not a network here devoted to your f****** death. There's not advertisers advertising tampons with a camera lovingly going up a girl's body as she's being lovingly raped and strangled. Piss off. And until you can collect that f****** check, back up. My name is Rose McGowan and I am obviously f****** brave."
McGowan became the centre of attention during the #MeToo conversation when she claimed she was raped by Harvey Weinstein - something she had been hinting at for a long time on the internet.
Since then, she's been calling out members of Hollywood for their predatory behaviour and complicity.
McGowan's controversial comments will likely follow her on her book press tour as they seem to alienate trans women from the #MeToo conversation she's trying to have.
Join our commenting forum
Join thought-provoking conversations, follow other Independent readers and see their replies