Rose McGowan suspended from Twitter after telling Ben Affleck to 'f**k off' over Harvey Weinstein allegations
'Twitter has suspended me. There are powerful forces at work. Be my voice,' says actor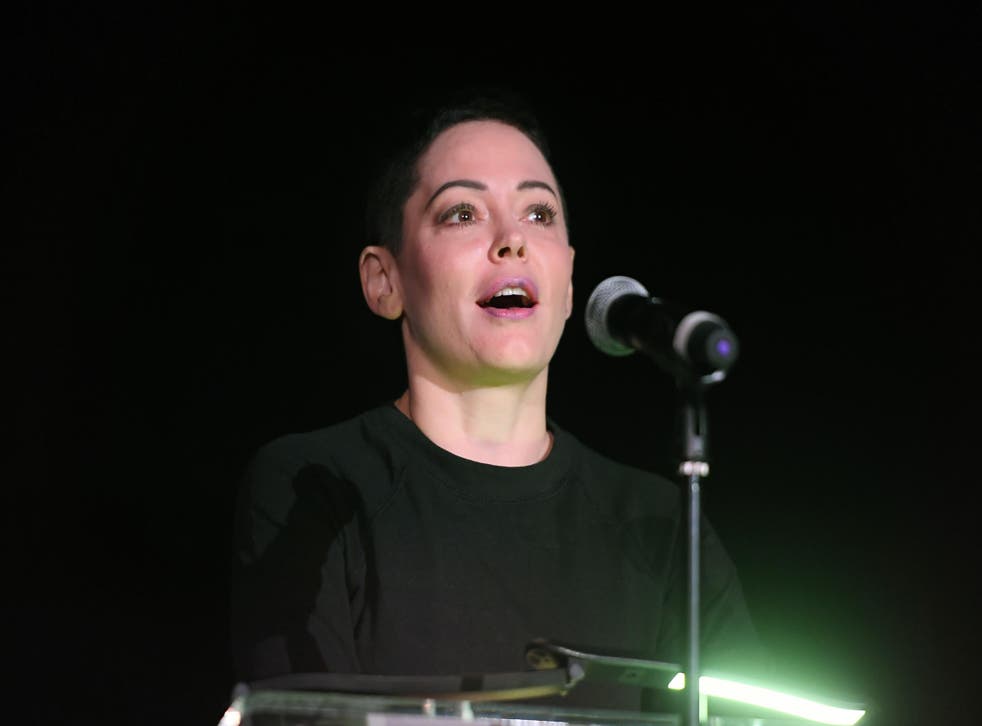 Rose McGowan, one of the first people to speak out about Harvey Weinstein's alleged sexual assaults, has been temporarily suspended from Twitter.
McGowen, known for her role on long-running supernatural TV series Charmed, told Ben Affleck to "f*** off" and accused him of lying about Weinstein's history of sexual misconduct.
Weinstein has been sacked from his namesake company after a series of sexual harassment allegations were made against him in a New York Times piece. Since then, The New Yorker has published a 10-month investigative piece that included three women who accused the disgraced Pulp Fiction producer of rape.
McGowen announced she had been suspended from the social media site for 12 hours in a post on Instagram. The notification from Twitter said she would not be able to send tweets or retweets from her account unless she was to delete "tweets that violate our rules".
She said: "Twitter has suspended me. There are powerful forces at work. Be my voice."
Nevertheless, it is worth noting that the tweet about Affleck is still on the site and is not in violation of the platform's rules.
The actor has been an outspoken voice as the alleged Weinstein scandal has unravelled and has been using the site to voice her support for other women who have spoken out.
Affleck found himself caught in the furore after McGowen accused the Oscar-winning actor of lying in his statement regarding the sexual assault and harassment allegations against Weinstein.
Affleck, who has worked with Weinstein on numerous occasion, shared a screenshot of a Facebook post which condemned Weinstein's "unacceptable" actions.
He wrote: "I am saddened and angry that a man who I worked with used his position of power to intimidate, sexually harass, and manipulate women over decades. This is completely unacceptable."
Access unlimited streaming of movies and TV shows with Amazon Prime Video Sign up now for a 30-day free trial
Sign up
But McGowan - one of the women revealed to have reached a settlement with Weinstein - has since suggested that Affleck knew of Weinstein's behaviour. She tweeted a message of the words she claims Affleck spoke after he found out what had allegedly occurred.
World news in pictures

Show all 50
According to McGowen, the words were: "Goddamnit! I told him to stop doing that!"
McGowan continued: "You said that to my face. The press conference I was made to go to after assault. You lie."
She added: "Ben Affleck f*ck off".
McGowan has also called for the board of the Weinstein Company to be dissolved following the allegations against its co-founder.
The actor tweeted a link to the campaign on website ipetitions.com and said: "Join me in supporting this important cause at iPetitions. DISSOLVE THE BOARD."
McGowen alleges that Weinstein sexually harassed and assaulted her when she was in her early twenties. She reportedly received a settlement of $100,000 from Weinstein over an incident that took place while she was filming Scream back in 1997.
A spokesperson for Twitter told The Independent: "We have been in touch with Ms McGowan's team. We want to explain that her account was temporarily locked because one of her tweets included a private phone number, which violates of our Terms of Service. The tweet was removed and her account has been unlocked. We will be clearer about these policies and decisions in the future.
"Twitter is proud to empower and support the voices on our platform, especially those that speak truth to power. We stand with the brave women and men who use Twitter to share their stories, and will work hard every day to improve our processes to protect those voices."
Users have hit out at Twitter for temporarily restricting the usage of someone who has come forward to speak about sexual assault.
"Suspend Rose McGowan Twitter but Donald Trump will be on here tomorrow morning slathered in threats & bile? Yeah. Fix that quick," said part-time actor, Jeffrey White.
"Shout out to all the women batting away misogynistic trolls daily now waking up to news that Twitter silenced 'threatening' Rose McGowan," said JoJo Moyes.
Weinstein has denied the accusations levied against him and issued a vehement denial over three allegations of rape which emerged on Tuesday. He said he is going to seek therapy.
Join our new commenting forum
Join thought-provoking conversations, follow other Independent readers and see their replies