Row over film that portrays Rommel as more rat than fox
Account relies on Holocaust-denier, say critics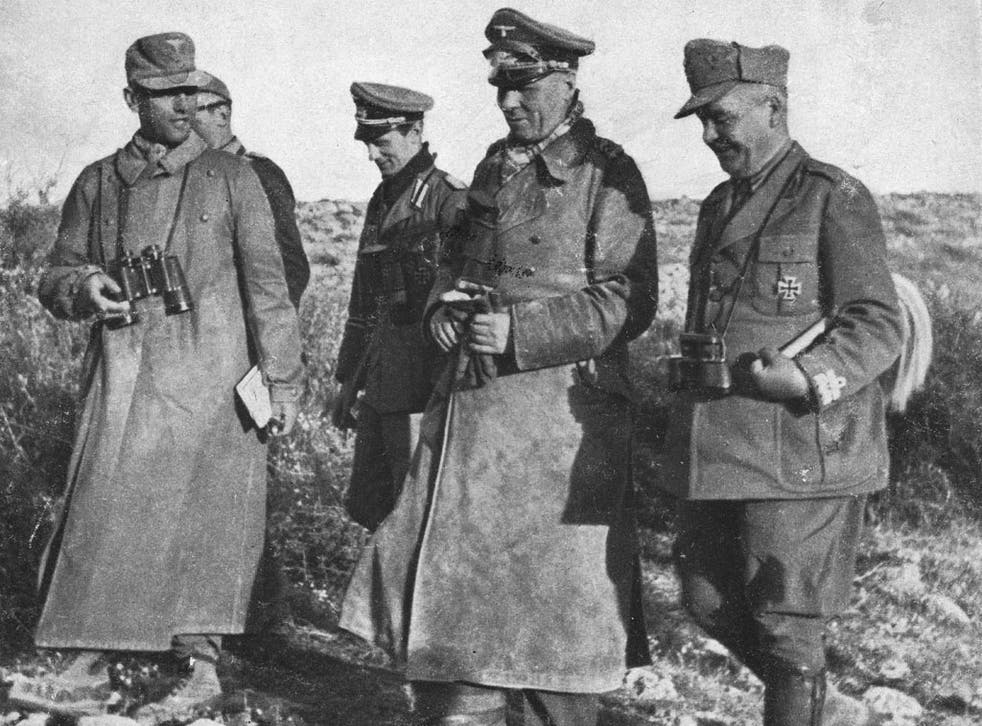 Was Germany's Second World War general, Erwin Rommel, really the chivalrous "Desert Fox" commander of legend who is reputed to have plotted against Hitler? Or was he a deeply convinced Nazi and anti-Semite driven by an egotistical desire for fame?
German viewers will get an opportunity to make up their own minds on Thursday evening when Rommel, a controversial television drama about the celebrated wartime general, will be broadcast. The production has infuriated the surviving relatives of the general who committed suicide in 1944. Its authors stand accused of relying on the works of the discredited Holocaust-denying British historian David Irving. A German historian involved walked out in disgust.
Manfred Rommel, the late general and subsequent field marshal's 83-year-old son has protested that the film's portrayal of his father as a favourite of Hitler and a war criminal is untrue. "These are lies," the Rommel family wrote to the film-makers.
Churchill once described Rommel as a "great general" and in reunified post-war Germany, the field marshal is still largely remembered as one of the few "decent" military commanders to have served the Nazi regime. Because of his initial spectacular successes in the desert campaign against the British, Rommel became a favourite of Hitler.
Nico Hofmann, the film's producer, told Der Spiegel magazine: "We have carried out the demystification of Rommel... We have deliberately distanced ourselves from all the clichés. In our film he is not the victorious and noble 'Desert Fox' who was even respected by the British."
His film concentrates on the last seven months of Rommel's life in 1944 when he was the commanding field marshal on the German western front and faced the task of reinforcing Hitler's "Atlantic wall" defences before the Allied D-Day landings. The producers shot key sequences of the film in the chateau in La Roche-Guyon north-west of Paris that was used by Rommel as his headquarters at the time.
The film portrays Rommel as a Hamlet-like figure who is conscious of the prospect of Germany's imminent defeat, but too vacillating and weak to throw his weight behind the plot to assassinate Hitler. Instead, he bases his hopes on the Germans surrendering to the Allies.
His predicament is captured over dinner when Rommel tells his fellow commanders that the Allies will break through the Western Front within three weeks and head straight for Germany. "We can only hope that they will be quicker than the Russians," he adds. Two of Rommel's officers who are already committed to overthrowing Hitler tell him that he is the man to end the war. Hans Speidel, his chief of staff, adds that if there is no other solution, Hitler will have to be shot. Rommel swallows hard and then exclaims: "Speidel you are a tough warrior !"
Hofmann describes Rommel as an ambivalent figure who ends his life as a "broken hero". The film also implies that he was fully aware of the Nazi Holocaust and that he may himself have been anti-Semitic. Ulrich Tukur, the celebrated German actor who plays Rommel, said he spent months researching his character: "Rommel was deeply insecure. He was a tragic figure who was defeated by history," he insisted.
Access unlimited streaming of movies and TV shows with Amazon Prime Video Sign up now for a 30-day free trial
Sign up
However, Rommel's grand-daughter, Catherine, maintains the film is unfair. "It is not a question of who is right or wrong. We simply have the impression that this portrayal does not do justice to Erwin Rommel," she said. Her views have been echoed by the Stuttgart historian Cornelia Hecht who was employed as an adviser to the production team until she walked out last year. She said the film had "left out" several important details about Rommel's involvement in German resistance against Hitler and claimed dialogue in the film had been lifted from an biography of Rommel by the "revisionist" historian David Irving.
The producers responded by recruiting their own team of respected German historians and military experts who praised the film-makers for the "care" taken in the production and decreed that it was accurate. Hofmann has since held a meeting with members of the Rommel family which he described as "confrontational and emotional".
The row over the film seems certain to continue long after it is broadcast. To what extent Rommel was prepared to oppose Hitler may never be known. His aim to broker a peace deal with the Allies was never realised. The former Afrika Korps commander was badly wounded in Normandy during an Allied air attack in 1944 and taken back to Germany for treatment.
After the abortive 20 July 1944 attempt to assassinate Hitler, his name was mentioned in connections with the plotters, but the true extent of his involvement is still unclear. Hitler was, however, aware that the execution of a German war hero would be a propaganda disaster.
Rommel was visited by two senior generals at his home in October 1944. They handed him a cyanide capsule and told him that suicide would ensure a generous pension for his family and a state funeral. Rommel honoured the offer and swallowed the capsule in the generals' parked staff car.
Register for free to continue reading
Registration is a free and easy way to support our truly independent journalism
By registering, you will also enjoy limited access to Premium articles, exclusive newsletters, commenting, and virtual events with our leading journalists
Already have an account? sign in
Register for free to continue reading
Registration is a free and easy way to support our truly independent journalism
By registering, you will also enjoy limited access to Premium articles, exclusive newsletters, commenting, and virtual events with our leading journalists
Already have an account? sign in
Join our new commenting forum
Join thought-provoking conversations, follow other Independent readers and see their replies