Golden Globes 2016: Ricky Gervais's most controversial moments
As the comedian is set to host the awards show once more, we look at his best moments
Sunday 10 January 2016 11:15 GMT
Comments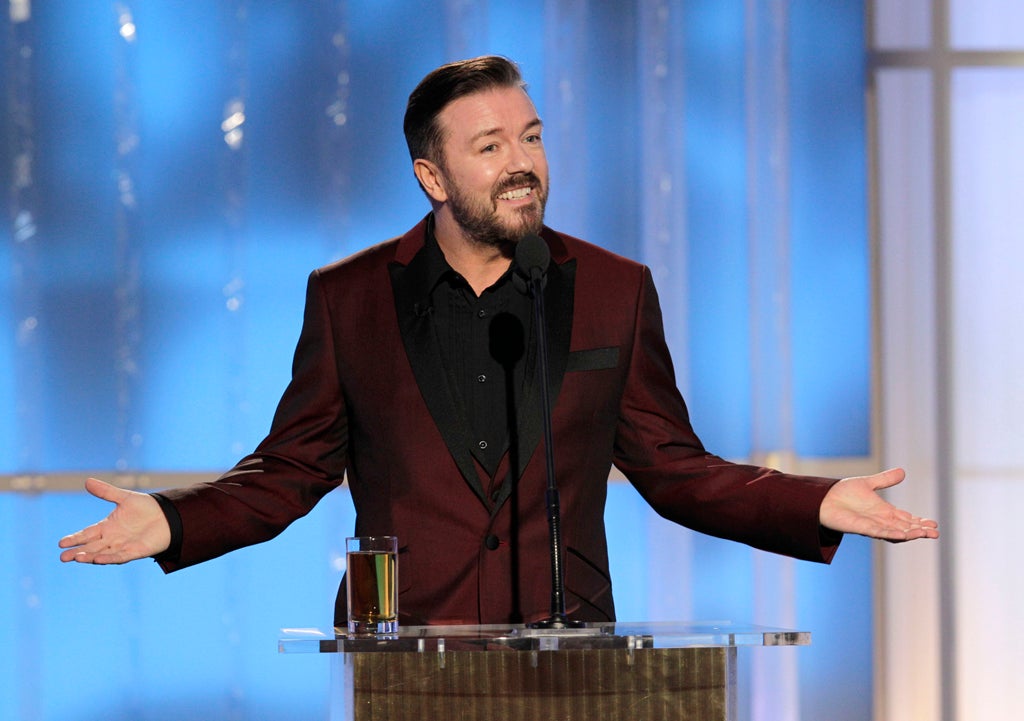 When Ricky Gervais hosted the Golden Globe awards in 2010 he said "It's OK folks, I won't be doing this again" on more than one occasion. His acerbic remarks stunned Hollywood stars more accustomed to flattery and pandering from awards hosts.
But Gervais did do it again. And the second year he hosted the ceremony the jokes were even more painful. The third time was tamer. Now, as Gervais is set to host once more, we round-up some of his best, funniest, and most offensive Golden Globes barbs.
2010
The Los Angeles elite had no idea what was about to hit them. "Looking at all the wonderful faces here today reminds me of the great work that's been done this year… by cosmetic surgeons," he said, opening to a smattering of embarrassed titters.
"I've had some work done, too. I've had a penis reduction. Just got the one now. And it is very tiny. But then so are my hands, so when I'm holding it it looks pretty big. "
"Actors aren't just loved here in Hollywood, they are loved the world over. You could be in the third world and get a glimpse of a Hollywood star and it could make you feel a little bit better. You could be a little Asian child with no possessions and no money. But you could see a picture of Angelina Jolie and you'd think, 'Mummy!'"
"This next category is a bit of a downer. It's for writing. We all know writers get too much credit in Hollywood, when actors mention them. I don't mean to keep going on about actors, but they're the most important ones, OK? It's not the words you say, it's how good you look when you're saying them."
"I hope I haven't offended anyone. It's not my fault [points at his drink]. I like a drink as much as the next man. Unless the next man is Mel Gibson."
2011
It did not take Gervais long to provoke the A-list audience at the Beverly Hilton hotel in Los Angeles. By the time he wound up his four-minute opening, he had managed to insult Johnny Depp, Charlie Sheen, Cher, all the stars of Sex and the City 2, Tom Cruise, John Travolta and Hugh Hefner.
Bruce Willis appeared to be upset when he was later introduced as "Ashton Kutcher's dad", but still not content with his night's work, Gervais went on to insult Robert Downey Jr and Tim Allen. Downey Jr summed up the feeling in the auditorium. After the wisecracking host suggested the actor was best known for his time in prison and rehabilitation centres, the Iron Man star said: "Aside from the fact that it's been hugely mean-spirited with mildly sinister undertones, I'd say the vibe of the show is pretty good so far."
Access unlimited streaming of movies and TV shows with Amazon Prime Video
Sign up now for a 30-day free trial
Sign up
Access unlimited streaming of movies and TV shows with Amazon Prime Video
Sign up now for a 30-day free trial
Sign up
"It's going to be a night of partying and heavy drinking – or as Charlie Sheen calls it: breakfast."
"Everything this year was three-dimensional, except the characters in The Tourist. I feel bad about that joke. I'm jumping on the bandwagon, because I haven't even seen that movie. Who has?"
"Also not nominated, I Love You Phillip Morris. Jim Carrey and Ewan McGregor, two heterosexual actors pretending to be gay. So the complete opposite of some famous Scientologists, then. My lawyers helped with that joke."
"Next up, Eva Longoria has the daunting task of introducing the President of the Hollywood Foreign Press. That's nothing, I just had to help him off the toilet and pop his teeth in."
"Talking of the walking dead, congratulations to Hugh Hefner, who is getting married at age 84 to 24-year-old beauty Crystal Harris. When asked why she was marrying him, she said, 'He lied about his age. He told me he was 94'. Just don't look at it when you touch it."
2012
Despite having toned thing down considerably, he directed what some saw as a homophobic gag at Jodie Foster, the lesbian actress, who co-starred with Mel Gibson in the film The Beaver. "Jodie Foster's Beaver," he remarked, "I haven't seen it myself. I've spoken to a lot of guys here, they haven't seen it either".
Later, he became involved in a minor dispute with Madonna, who won Best Original Song, after suggesting that the title of her famous song "Like A Virgin" is at odds with her colourful romantic life. The singer responded: "Ricky, if I am just like a virgin why don't you come over here and do something about it?"
His final gift to broadcasters, who air the programme in primetime on America's notoriously-sensitive public airwaves, was to swear while discussing the Spanish-speaking Salma Hayek and Antonio Banderas. His comment ("I don't know because I can't understand a f**king word they're saying") was bleeped out.
Join our commenting forum
Join thought-provoking conversations, follow other Independent readers and see their replies