Son of Saul: Taboo-busting Holocaust tale to put Hungary on Hollywood's map
It will be a major surprise if 'Son of Saul' doesn't win Foreign Language Oscar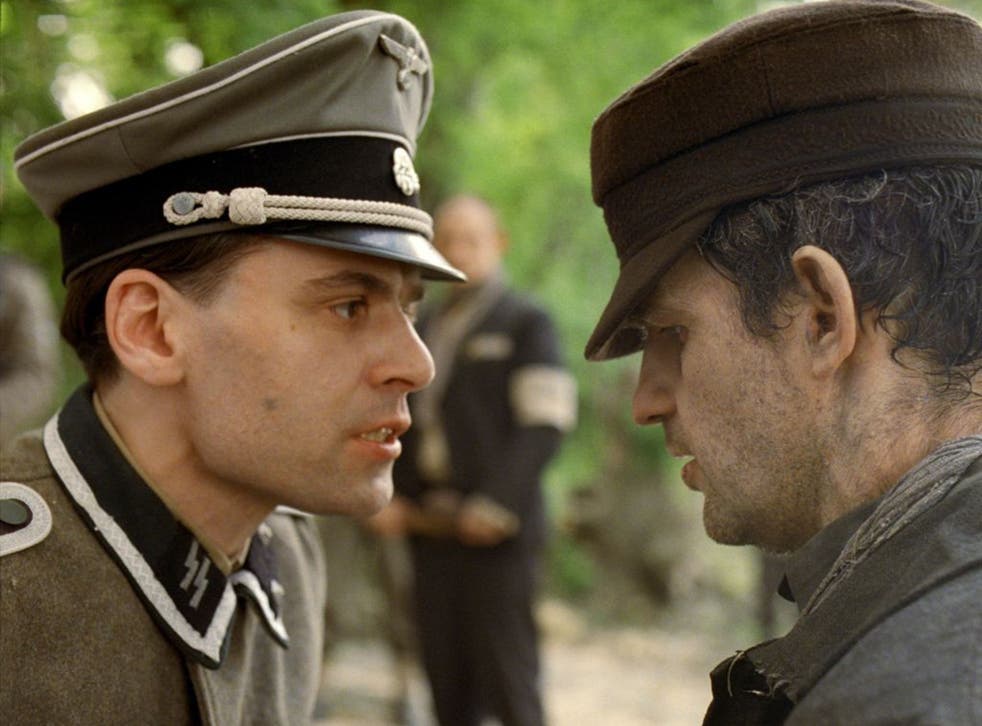 In all the controversy over the lack of diversity in this year's Academy Awards, what hasn't always been noticed is the remarkable story behind the Holocaust drama Son Of Saul, the front-runner for the foreign-language Oscar.
When it comes to the challenge of representing the Holocaust on screen, the risks of appearing clumsy, insensitive or downright trite are obvious (Roberto Benigni's 1997 comedic Life Is Beautiful may have won an Oscar but is still seen by many as ill advised).
Laszlo Nemes, 38, the Hungarian film-maker behind Son Of Saul, was born long after the Second World War. But he knew he was tackling taboos by recreating the horrors of the Nazi genocide on screen with his story about a sonderkommando in Auschwitz – an inmate who disposed of the corpses.
What makes Son Of Saul particularly remarkable is that the film was financed (when everybody else turned it down) with Hungarian public support through its national film fund.
Since then – the film has already won a prize in Cannes and picked up a Golden Globe – Hungarian Prime Minister Viktor Orban has been basking in its success. Orban even sent a letter to Nemes and his crew, congratulating them on their achievements and he has also expressed his pride in the film on Facebook. This is the same rabidly nationalistic politician accused of being a neo-fascist, of muzzling the media and widely criticised for his rhetoric against migrants.
Son Of Saul may be an art-house movie with forbidding subject matter, but it is easily the most successful Hungarian film of recent times.
The fact that it has been sold to more than 80 countries is a source of pride to Hungarians in general and the country's film industry in particular.
Nemes himself, though, has been somewhat outspoken in some of his remarks about Hungary's attitude toward its own recent history.
"Maybe if I can make it less trendy for Hungarian schoolboys and schoolgirls at the age of 16, 17 and 18 to be neo-Nazis, then I will have succeeded a little bit," the director said when I interviewed him last summer.
Access unlimited streaming of movies and TV shows with Amazon Prime Video Sign up now for a 30-day free trial
Sign up
"Hungary hasn't come to terms with the destruction of its Jews. The loss hasn't been understood. Hungary has not understood that by killing its own Jews, it killed its own future. The Hungarian 20th century was a disaster and it is not looking good for the next century either. People in Hungary hate each other."
The director first heard accounts of the Holocaust from his mother when he was a very young child. He had close relatives who had died in the camps.
"Both my parents are Jewish. On my mother's side, her maternal grandparents and other members of their immediate family were deported to Auschwitz and killed," he revealed.
As a youngster, Nemes struggled to make sense of what his mother told him.
Years later, when he was an aspiring young film-maker, working as an assistant on Bela Tarr's The Man From London (2007), he came across the so-called "scrolls of Auschwitz," written and hidden by members of the sonderkommando, chronicling their horrific experiences. Discovered near the Auschwitz-Birkenau crematoria, these were published as the book, Amidst A Nightmare Of Crime. They gave Nemes the inspiration for his own screenplay.
In Son Of Saul, events are almost entirely from the perspective of Saul Auslander, a sonderkommando in Auschwitz.
Amid the grotesquerie and extreme suffering that he is witnessing, Saul (played by Hungarian poet and actor Geza Rohrig) stumbles on the corpse of a boy he is convinced is his own son. He then goes to extreme lengths to try to give him a proper, Jewish burial.
It is a heart-rending story, made on 35mm film and shot in a very distinctive way. As an audience, we are given the sense we are witnessing events from the point of view of Saul himself.
Much of the writing and film-making about the Holocaust has focused on the survivors. Nemes, though, set out to tell "the story of the dead".
"The Holocaust was not a story of survival. The rule was death," he says.
It will be a major surprise if Nemes's film – which will be released in the UK at the end of April – doesn't pick up the Foreign Language Oscar.
Whatever the case, it's a work of integrity and great craftsmanship – and it's one film that the wisecracking Oscars host Chris Rock surely won't want to joke about.
Dead serious: Star's slightly morbid part-time job
As an article in this week's New Yorker magazine revealed, Geza Rohrig, who plays the lead in Laszlo Nemes's Holocaust drama (and foreign language Oscar contender) Son Of Saul, has a very unusual part-time job. The 48-year-old Hungarian poet and actor has spent many years working as a shomer or watcher at a New York Jewish funeral home.
Jewish custom holds that a dead body should "not be left alone before a funeral". Rohrig's task is to sit with bodies – and also to wash them before burial. During the long, silent hours of waiting that the job entails, the actor said that he listened to jazz on his headphones or worked on his debut novel.
"I know watchers who were kicked out of this job because they were watching inappropriate comedy movies on their laptops," he told The New Yorker. He also pointed out that when he first took the job as a shomer, it paid "$10 an hour and beat washing dishes".
Who should win… and who will
Best Actor
Who should win: Leonardo DiCaprio for The Revenant.
Who will win: DiCaprio. Anyone who gets that intimate with a bear and spends so much time in the cold deserves an Oscar at the very least.
Best Actress
Who should win: Maggie Smith for Lady In The Van… but she hasn't even been nominated.
Who will win: Brie Larson is the favourite for Room.
Best Director
Who should win: George Miller for Mad Max: Fury Road. It's high time the director of an action-movie sequel took home a significant prize.
Who will win: Alejandro González Iñárritu, for his brilliance and hubris in The Revenant.
Best Picture
What should win: The Revenant.
What will win: The Revenant: it's a film on a different scale to the other contenders, a visionary epic.
Best Supporting Actor
Who should win: Sylvester Stallone for Creed.
Who will win: Sylvester Stallone. He's as hammy as ever and creaky at the joints, but there's an artlessness in his performance that more technically accomplished rivals can't match.
Best Supporting Actress
Who should win: Rooney Mara for Carol. Mara could just as well be up for Best Actress – it is strange that she has been relegated to the supporting category.
Who will win: Alicia Vikander for The Danish Girl. Not since Greta Garbo has a Swedish actress bewitched Hollywood in this way.
Register for free to continue reading
Registration is a free and easy way to support our truly independent journalism
By registering, you will also enjoy limited access to Premium articles, exclusive newsletters, commenting, and virtual events with our leading journalists
Already have an account? sign in
Register for free to continue reading
Registration is a free and easy way to support our truly independent journalism
By registering, you will also enjoy limited access to Premium articles, exclusive newsletters, commenting, and virtual events with our leading journalists
Already have an account? sign in
Join our new commenting forum
Join thought-provoking conversations, follow other Independent readers and see their replies