Sonny Skyhawk: American Indians in Film and Television founder vows to give his people a voice in Hollywood
Native Americans are mostly secondary characters in the movies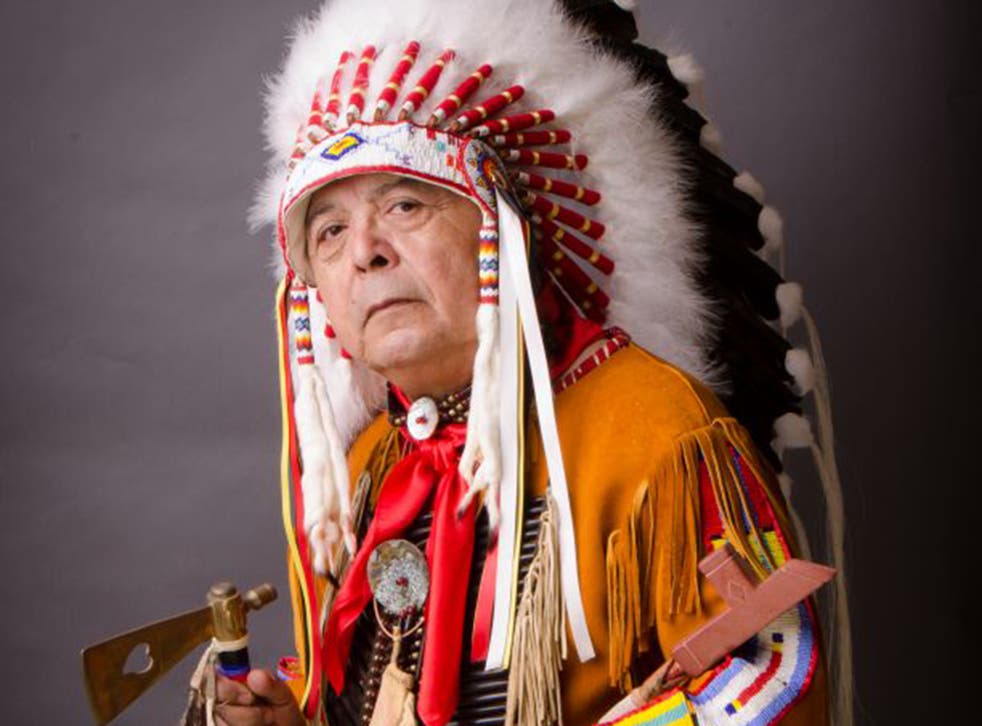 When a row erupted over the lack of diversity among this year's Oscar nominations, nobody was more surprised – or pleased – than Sonny Skyhawk. An actor for almost 40 years and the founder of the advocacy group American Indians in Film and Television (AIIFT), Skyhawk may also be the first and only Native American member of the Motion Picture Academy.
"We've become used to hearing the same boiler-plate answer from people high up in Hollywood: 'Yes, we understand; we're going to make changes,'" Skyhawk said of his own efforts to promote inclusion in film. "But those changes were minuscule, if they were made at all. Now, at last, it has become a crisis in the entertainment industry, which is more than I could have wished for."
Native Americans remain the only major ethnic group in the US never to have won an Oscar. Just two native performers have ever been nominated, the last being Canadian First Nations actor Graham Greene in 1991, for Dances With Wolves. Skyhawk was invited to join the Academy in 2015 and this will be his first Oscar ceremony. He intends to wear his war bonnet on the red carpet.
American Indians are better represented than usual at this year's awards: several native performers appear in the Best Picture nominee The Revenant. Skyhawk voted for the film and its star, Leonardo DiCaprio, "but native people have always been secondary characters. Dances With Wolves was supposed to be about natives, but ended up being about Kevin Costner. The Revenant's the same."
When DiCaprio won a Golden Globe, he thanked "indigenous communities around the world", adding: "It is time that we recognise your history." His words harked back to 1973, when Marlon Brando declined his Best Actor Oscar for The Godfather, sending Native American activist Sacheen Littlefeather to the podium to protest their treatment by the film industry.
Her speech was met with boos. "People laughed at Brando, saying he was stupid to turn down an Academy Award," Skyhawk said. "But I admired him, and I admire Leonardo DiCaprio for saying what he did at the Globes. You expend a certain amount of political capital when you stand up for the little guy, and Brando expended all his in one fell swoop."
Now in his sixties, Skyhawk, a citizen of South Dakota's Rosebud Sioux tribe, began acting as an extra on television Westerns such as Bonanza, in an era when many American Indians were played by white people in make-up, speaking gibberish instead of genuine tribal dialects.
He has appeared in more than 50 movies, but for the past 35 years has channelled much of his energies into activism. The AIIFT was founded in 1980, when the Western genre was going out of fashion and the number of jobs for Native American actors was dwindling. The organisation's mission, he said, is to give his people "a voice within the industry".
"Everyone sees us as heathens on horseback, when in reality we're doctors, lawyers, cab drivers – the same as mainstream America. But young people [in the native community] say they don't see themselves represented on screen, so when I talk to them about becoming lawyers or getting a college education, they can't imagine themselves in that mainstream. That's unacceptable."
The Revenant was released within weeks of The Ridiculous Six, Adam Sandler's spoof Western, which generated controversy last year after a dozen Native American actors walked off set, complaining that the film was "insulting". Among the insults they cited were two native women characters named "Beaver's Breath" and "Never Wears Bra", played by white actors in brown-face.
The incident recalled the furore over Johnny Depp's decision to play Tonto in the recent big screen remake of The Lone Ranger. Before the film was made, Skyhawk complained to Disney executives that the role should go to a Native American actor. "But they pooh-poohed the whole thing," he said. "For Johnny Depp to have the audacity to want to play Tonto is totally unforgivable."
Join our new commenting forum
Join thought-provoking conversations, follow other Independent readers and see their replies