Spain's film stars give voice to Franco's victims
Pedro Almodovar and Javier Bardem take part in hard-hitting documentary hoping to shame courts into investigating killings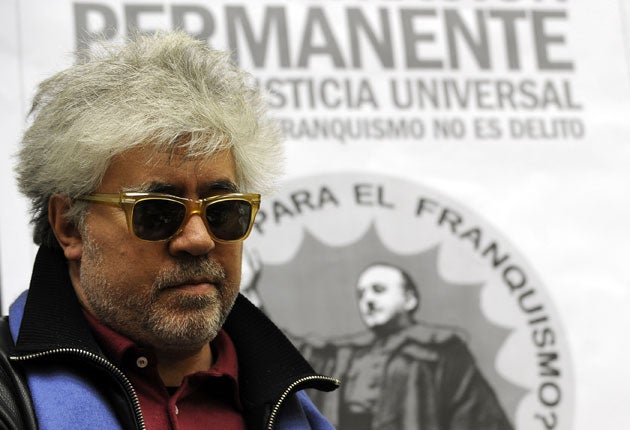 The film begins with a familiar close-up of Pedro Almodovar's pudgy face and spiky silver hair. "My name is Virgilio Leret Ruiz," he says with a fixed gaze and steady tone. "I'm a pilot, head of the air force in the eastern part of Morocco. I refuse to support the uprising, and at dawn on 18 July 1936, my comrades turned me into the first military officer assassinated for fulfilling his duty."
His monologue ends with the sound of a firing squad.
This is not a deadpan start to a dark comedy by the Oscar-winning director of Talk to Her. He is one of 15 Spanish actors, artists and writers, including Javier Bardem, who are giving voice to the victims on the losing Republican side of the Spanish civil war.
The all-star crew has produced a short documentary to protest against the Spanish supreme court's decision to charge Spain's high court judge Baltasar Garzon for daring to investigate the Franco-era crimes in defiance of a 1977 amnesty. The 10-minute film, which premiered last week in Madrid and is now attracting a following on YouTube, is also a call for justice on behalf of families searching for loved ones still buried along roadsides in unmarked graves.
Almodovar and the other artists dramatise the story of 15 men and women who were executed by Franco's forces or persecuted during the dictatorship – a small sampling of the 114,000 forced disappearances Mr Garzon was investigating. Each story ends with subtle variations on the same theme: "I didn't have a trial, or a lawyer or a sentence. My family is still searching for me. Until when?"
Following Almodovar's grave delivery, the actress Maribel Verdu, best known for her roles in Belle Epoque and Pan's Labyrinth, gives a voice to Primitiva Rodriguez, who was raped and shot in front of her nephew for helping guerrilla fighters in 1947. The novelist Almudena Grandes speaks for Granada Garzon, who was reported to police by the town priest for failing to marry in the church.
"First they excommunicated me, then they raped me, and finally they shot me with 16 other women," the writer says.
The actor Paco Leon portrays his own great-grandfather, a teacher in Seville. "One of my students reported me to the police for being a Republican and they arrested me," Leon's character recalls. "My oldest son brought me food to the jail every day until one day they told him that it wasn't necessary any more. They had executed me."
Bardem concludes the film by voicing an 18-year-old goat herder who was executed for stealing chickpeas. He had to be beaten to death because the inept firing squad failed to kill him with bullets.
"My name is Francisco Escribano," Bardem recites. "They accused me of stealing for the men in the mountains two sacks of chickpeas, a blanket, a pair of scissors, six socks, six handkerchiefs and 10 pesetas. For this crime they executed me on 1 July 1941. For that same crime, my father, two uncles and my cousin died with me."
Access unlimited streaming of movies and TV shows with Amazon Prime Video
Sign up now for a 30-day free trial
Sign up
Access unlimited streaming of movies and TV shows with Amazon Prime Video
Sign up now for a 30-day free trial
Sign up
The Association for the Recovery of Historic Memory, which has led a drive to exhume mass graves from the civil war and after, hopes the film will embarrass the supreme court and force Spain's courts to order a search for bodies. Family members of the victims wept at the Madrid premiere. "I can't believe such successful people devoted so much time to us," Hilda Farfante told El País. Her parents, both schoolteachers, were executed in 1936.
Join our commenting forum
Join thought-provoking conversations, follow other Independent readers and see their replies