Star Wars: The Last Jedi cameos: The 14 surprise appearances you probably missed
Did you spot them?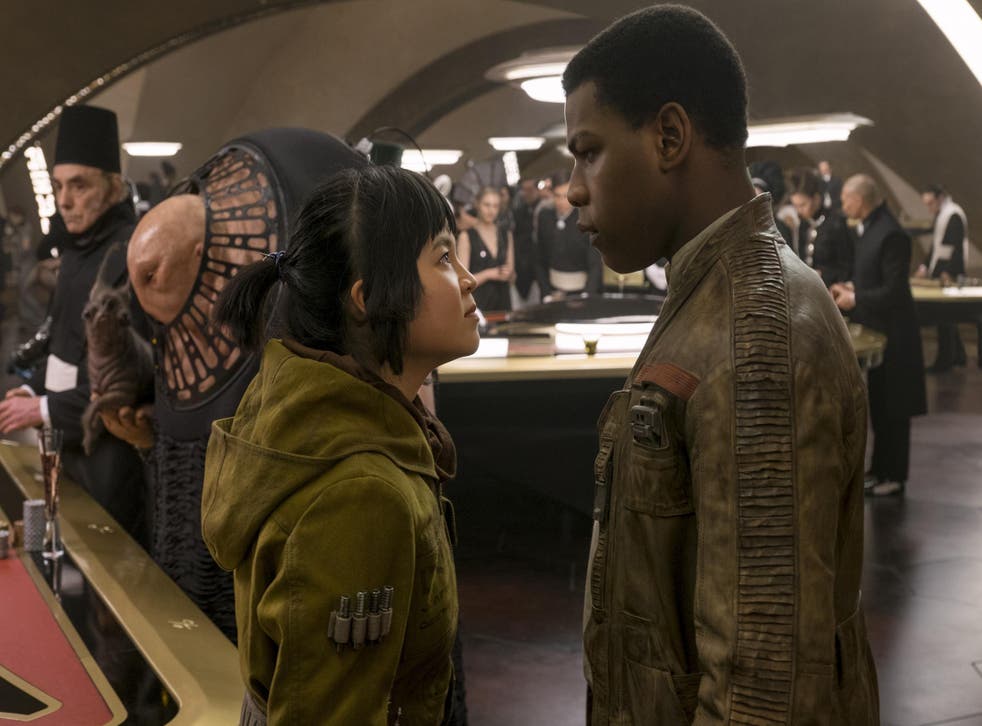 Star Wars: The Last Jedi is finally here reuniting fans with characters Rey, Kylo Ren and Luke Skywalker for an epic adventure the majority seem to be hailing as one of the most fun films in the franchise to date.
Following on from the many cameos to have appeared in JJ Abrams' romp The Force Awakens back in 2015 (Daniel Craig as a stormtrooper! Simon Pegg as a Jakuu junk dealer!), director Rian Johnson handed out several small roles to several stars from across the world of film, television and music.
Below are all of the cameos you most probably missed.
*Spoilers follow*
27 films to look out for in the first half of 2018

Show all 27
Justin Theroux
Perhaps the most prominent cameo was handed to The Leftovers star Justin Theroux who plays the moustached floral pin-wearing Master Sodebreaker that Finn and Rose go hunting for in the Canto Bright casino scene. Rather than help the duo, Theroux's character is more interested in chatting up women and gambling away his money later leading them into the path of Benicio del Toro's DJ.
Joseph Gordon-Levitt
Gordon-Levitt's appearance in The Last Jedi means he's one of two actors to have appeared in all four of Rian Johnson's films (see below for the other). He voices an alien character named Slowen-Lo in the Canto Bright casino scene joining the ranks of yet another creation to have been named after a Beastie Boys song ("Slow and Low").

Noah Segan
Best known for his role alongside Gordon-Levitt in Brick, Segan is a frequent Johnson collaborator, here playing an X-Wing pilot who fights in the opening battle against a Dreadnought Star Destroyer.
Gareth Edwards
Following his cameo in Rogue One, Johnson repaid director Gareth Edwards' favour with a role towards the end of The Last Jedi - look closely and you'll see him playing a Resistance fighter in the trenches of salt planet Crait.
Lily Cole
Lily Cole appeared in the casino scene alongside Justin Theroux's master codebreaker that Finn and Rose go searching for in Canto Bright.
Ellie Goulding
Singer Ellie Goulding has revealed that she filmed a blink-and-you'll-miss-it role as a member of the New Republic's Resistance army.

Edgar Wright and Joe Cornish
The directors of Baby Driver and Attack the Block - starring the Star Wars saga's very own Boyega - had appearances confirmed by Johnson ahead of The Last Jedi's release. They appear alongside Wright's brother as members of the Resistance.

Warwick Davis
Davis has made cameos in every Star Wars film since playing an Ewok in Return of the Jedi (1983). Like Gordon-Levitt, he voices one of the gambling aliens in the Canto Bright casino scene.
Gary
Carrie Fisher's beloved dog Gary made it into the film appearing in the Canto Bright casino scene alongside Finn and Rose, which you can see in the below image.

Princes William and Harry, Tom Hardy and Gary Barlow
It's believed that Princes William and Harry as well as Tom Hardy and Gary Barlow all played stormtroopers in the scene which sees Finn and Rose disguise themselves as First Order offices in an attempt to sneak onto Supreme Leader Snoke's mothership. John Boyega has since claimed that the Princes' appearances were cut from the final edit.
Follow Independent Culture on Facebook
Join our new commenting forum
Join thought-provoking conversations, follow other Independent readers and see their replies