Star Wars: JJ Abrams admits Force Awakens Leia-Chewbacca mistake
The scene in question involved Chewbacca and General Leia (spoilers follow)
Jacob Stolworthy
Wednesday 09 March 2016 13:26 Comments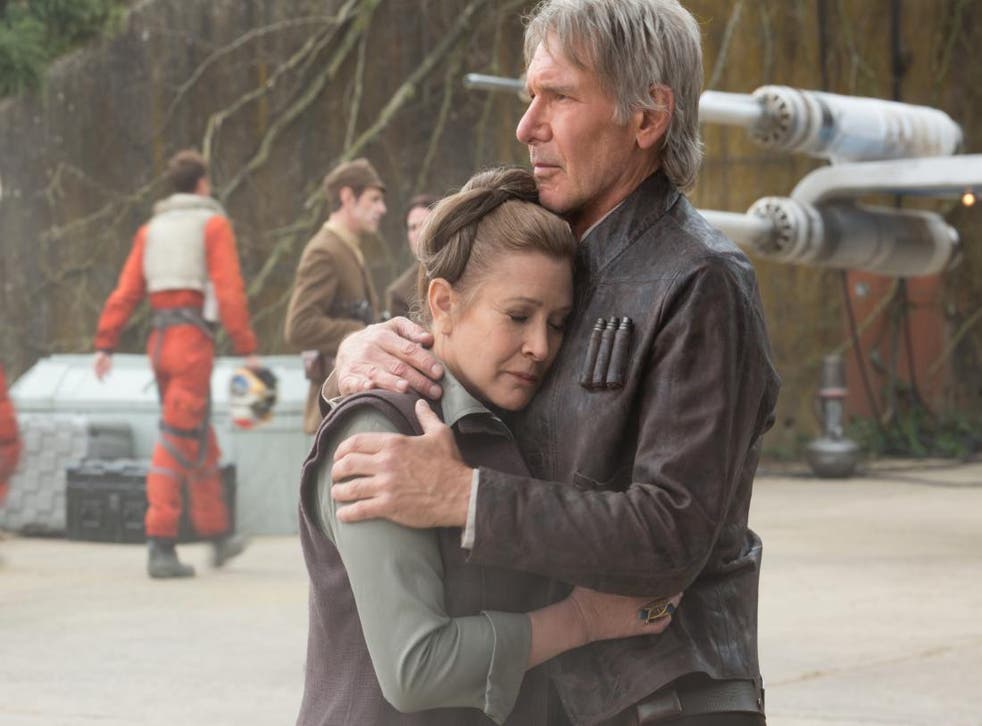 It's fair to say that, save for a few niggles, Star Wars: Episode VII - The Force Awakens was a considered success, director JJ Abrams fully managing to translate his love of George Lucas' original franchise into a charming blockbuster that reassured fans and satisfied newcomers alike.
Well, save for one moment in particular that arrives in a scene which the filmmaker has agreed was probably a "mistake."
The moment comes after the Resistant Fighters return after their showdown with Kylo Ren which saw the tragic death of Han Solo.
Departing the ship, General Leia greets both Rey and Chewbacca - opting to console the former instead of her long-time Wookie friend.
Every lightsaber in Star Wars history (films)

Show all 12
Talking to Slash Film about the moment, Abrams said: "That was probably one of the mistakes I made in that."
"My thinking at the time was that Chewbacca, despite the pain he was feeling, was focused on trying to save Finn and getting him taken care of. So I tried to have Chewbacca go off with him and focus on Rey, and then have Rey find Leia and Leia find Rey. The idea being that both of them being strong with the Force and never having met, would know about each other — that Leia would have been told about her beyond what we saw onscreen and Rey of course would have learned about Leia. And that reunion would be a meeting and a reunion all in one, and a sort of commiseration of their mutual loss."
Reflecting on the moment even further, the filmmaker claims the problem may have been enhanced by the way he chose to block the particular shot.
"Had Chewbacca not been where he was, you probably wouldn't have thought of it. But because he was right there, passed by Leia, it felt almost like a slight, which was definitely not the intention."
What is sure to appease fans is the news that the upcoming untitled Han Solo spin-off prequel will also tell Chewie's origin story. There is still no word on casting.
Abrams is promoting 10 Cloverfield Lane, a sequel-of-sorts to 2008's Cloverfield, which he has produced. Filmed under the working title The Cellar, nobody anticipated the film until an unexpected trailer dropped in January. The film is released in the UK on 18 March.
Register for free to continue reading
Registration is a free and easy way to support our truly independent journalism
By registering, you will also enjoy limited access to Premium articles, exclusive newsletters, commenting, and virtual events with our leading journalists
Already have an account? sign in
Join our new commenting forum
Join thought-provoking conversations, follow other Independent readers and see their replies