Star Wars: The Darth Jar Jar Binks theory is partially true, says actor
Ahmed Best hints the wild fan theory might be linked to real, shelved plans for the widely despised character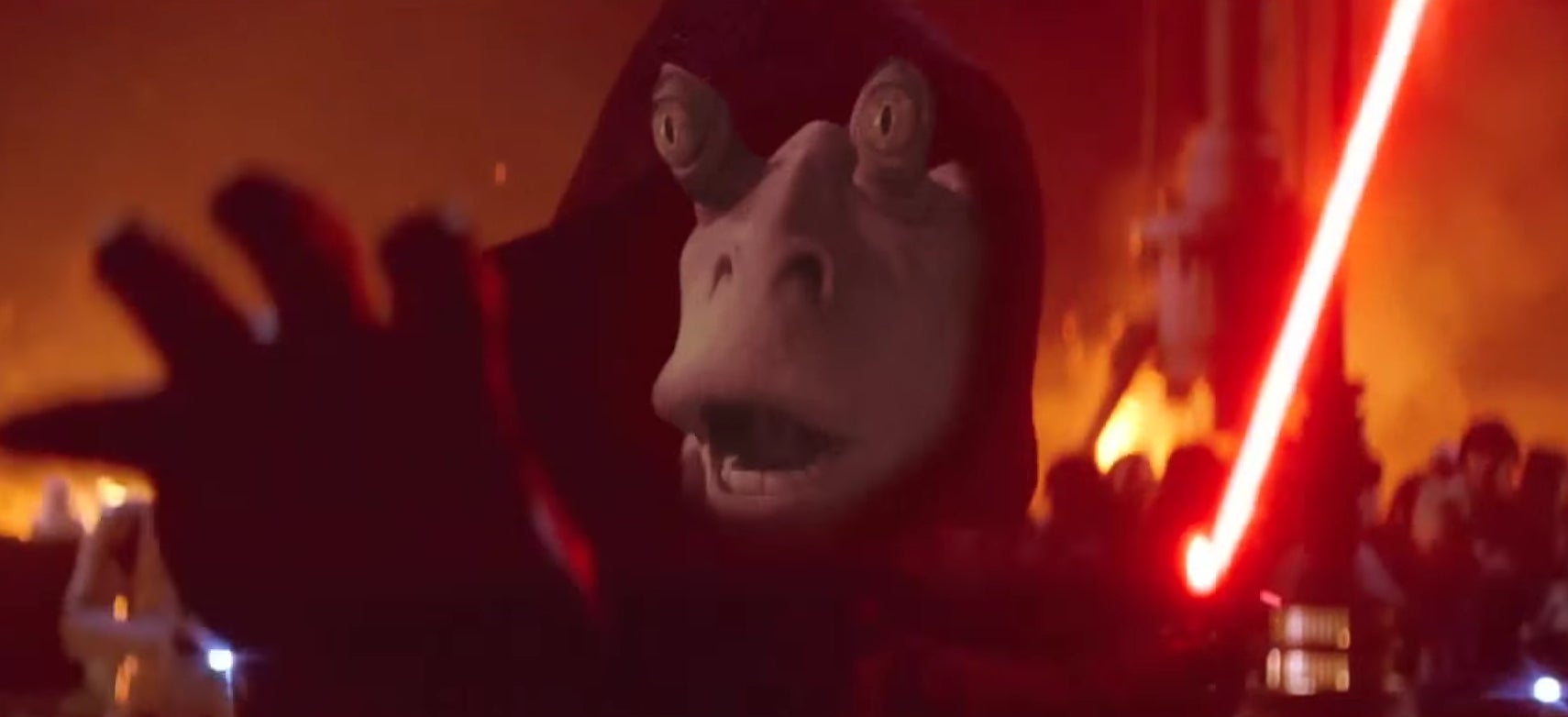 Star Wars fans might want to sit down for this one.
That seemingly improbable fan theory that the most despised character of the Star Wars franchise, Jar Jar Binks, is secretly an evil Sith Lord controlling all the prequel's menaces from behind the scenes; that his bumbling, comedic exterior was a simple ruse to throw off the Jedi's scent?
Well, that might actually be partially true. Up is down, and George Lucas making Darth Vader scream "NOOOOOO!" was a great idea etc., etc.
The actor who voiced Jar Jar has revealed to YouTuber Jamie Stangroom, as part of an interview for web series These Are the Actors You're Looking For, that there's a lot more to his character than initially meets the eye, but original plans for the character were shelved after the poor reaction to his antics.
"What I can say about it is – and I kinda said this on Twitter –there's a lot about it that's true," Best hinted. "There are some things that are not true. Could Jar Jar have evolved into that? I think the answer is yes. Because of the backlash, and rightfully so, Lucasfilm backed off from Jar Jar a lot. But a lot of the influence I put into the character mirrored a lot of what was already in the Star Wars universe."

"So, was there an official Darth Jar Jar in the works? That's really a George Lucas question, I cannot answer that question."
As the theory dictates, it's Jar Jar who gives the sinister Emperor Palpatine his emergency powers and allows him to rise in influence in the first place. Is Jar Jar working for Palpatine? Or is Palpatine just a stooge for the great Sith master, Jar Jar himself? What exactly does George Lucas mean when he says, "Jar Jar is the key to all of this?"

When asked about a deleted scene which supposedly saw Palpatine thank Jar Jar for allowing his ascension to power, Best replied; "It was just me and Palpatine walking down the runway, talking about the plans to turn the Empire into what it had turned out to be."
"It was a very dark, very personal, very quiet scene, but for some reason, Palpatine decided to confide in Jar Jar that pretty much he was going to wreak havoc. Wherever that scene is, somewhere, that would really give great credibility to the Darth Jar Jar theory."
One thing that's pretty certain; don't expect Jar Jar's secret Sith origins to crop up in any of the franchise's fresh batch of films. It's really hard to imagine Rian Johnson would really take the risk revealing in Star Wars: Episode VIII that the shadowy Snoke is actually a character who only ever referred to himself as, "meesa".
Join our commenting forum
Join thought-provoking conversations, follow other Independent readers and see their replies