Star Wars: The Force Awakens: Deleted scenes revealed
From Kylo searching the Falcon to the X-Wing pilots shooting into light speed
Jack Shepherd
Sunday 27 March 2016 15:11 Comments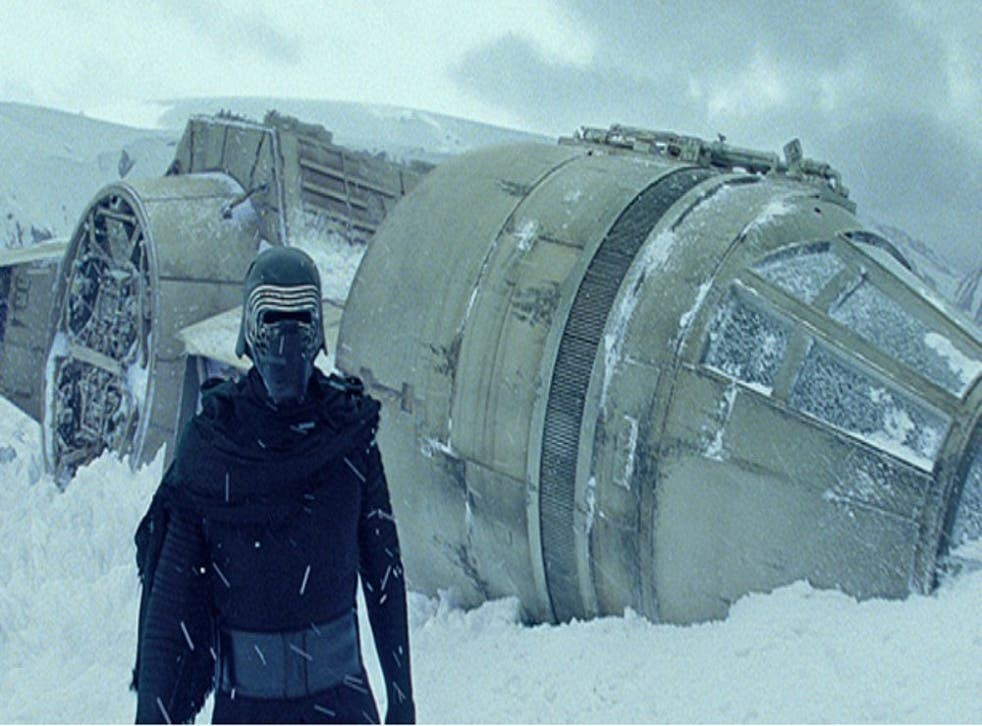 Although the DVD version of Star Wars: The Force Awakens has found its way online, the part everyone is most excited for – the deleted scenes – have yet to leak.
However, certain media outlets have already been sent the physical Blu-ray release and, along with the main film, they've also been able to watch all six of the included deleted scenes.
Thanks to Uproxx, we now know just what happens in those six clips (a seventh is included with the digital release and looks set to feature Maz Kanata). **Spoilers ahead**
The first scene, titled "Finn and the Villager" takes place at the start of the film when John Boyega's character is still a member of The First Order. In it, Finn – in full Stormtrooper gear – and a villager from the opening scene look at each other for a few seconds before the villager runs, Finn doing nothing about it.
"Jakku Message" follows, and see's the introduction of General Leia into the story. She's told about Poe and BB-8's clash on Jakku and that they're both missing, to which she responds "Never underestimate a droid."
Next up is "X-Wings Prepare for Lightspeed" which, unsurprisingly, focuses on the X-Wing pilots just before they hit the power button and zoom to the Starkiller Base. Apparently it is a lot like the "Red Leader, standing by" scene from the original and helps give you a better sense of who the pilots are.
Here's the big one, "Kylo Searches The Falcon". If you've seen the trailer for the deleted scenes (because there's a deleted scenes trailer!), you'll know Kylo Ren enters his father's ship. During this scene, the Falcon is crashed on the Starkiller Base. The best bit about it is Kylo enters the cockpit and menacingly says "Han Solo".
"Snow Speeder Chase" is an all action scene in which Finn and Rey are being chased by Snowspeeders. Unfortunately, there's no reasoning for why they're being chased, the scene just showing the chase itself with unfinished CGI.
Star Wars: The Force Awakens ILM concept art

Show all 45
Finally, there's one last scene where Doctor Kalonia – the doctor who told Chewbacca he must have been "so brave" – lets Rey know her "friend's gonna be just fine". Confirmation Finn will be back on fighting form for Episode VIII then.
When The Independent spoke to the film's editors, Mary Jo Markey and Maryann Brandon, they revealed that there would be seven scenes, one of which would feature Rey, while another had Harrison Ford's Han Solo. As we are yet to see one with Solo in it, it looks like the digital download will have that one as an exclusive. Prepare your wallets.
Register for free to continue reading
Registration is a free and easy way to support our truly independent journalism
By registering, you will also enjoy limited access to Premium articles, exclusive newsletters, commenting, and virtual events with our leading journalists
Already have an account? sign in
Join our new commenting forum
Join thought-provoking conversations, follow other Independent readers and see their replies