Star Wars: The Force Awakens writer Lawrence Kasdan says Han Solo spin-off film won't be an origins story
'I think what it will be is what was he like 10 years earlier—maybe a little earlier, you'll get a glimpse'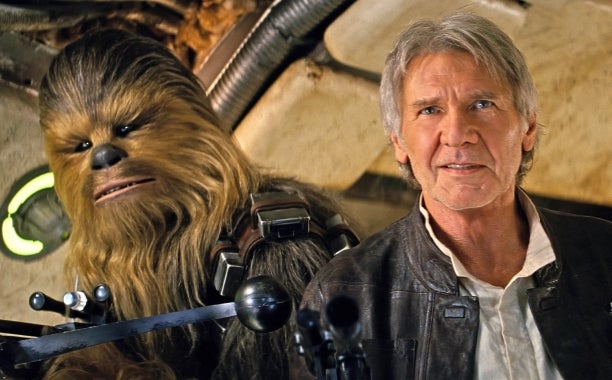 Disney is treading on sacred ground by making a Han Solo spin-off film.
The loveable rogue, played by Harrison Ford in the movies thus far, is a fan favourite - possibly the most popular character in the series - and messing with his back story could seriously anger die-hard Star Wars fans.
Luckily, Lawrence Kasdan, writer of The Force Awakens, The Empire Strikes Back and Return of the Jedi as well as Raiders of the Lost Ark, is on board the project as both writer and producer.
In a Q&A about Episode VII after a screening for the Directors Guild of America, alongside JJ Abrams, Kasdan explained just why he is so excited to be working on the Anthology film. (Hint: it's because he loves Han Solo more than anyone else.)
Star Wars: The Force Awakens world premiere
Show all 35
"I wasn't sure I wanted to be involved, and I was a little relieved when they said Michael Arndt had been hired to write Episode VII, because whoever writes that episode—I don't know what you do with it. But they said, 'Here are these other stories we'd like to do,' and the one that caught my attention was a young Han Solo, because that's my favourite character."
Speaking about the story, the writer said the film won't be an origins story for the character as Solo's persona changes all the time, and going back to the beginning would be telling the story of a completely different person.
"It will not be, 'Here's where he was born and this is how he was raised.' I think what it will be is what was he like 10 years earlier—maybe a little earlier, you'll get a glimpse. But Kurosawa once said the heroes are the ones that are still changing and the villains are locked and petrified into what they are, and Harrison embodies in Force Awakens someone who is still not settled on who he is."
Previously, when Star Wars has attempted to do origin stories for characters, they've turned out pretty badly. Just watch the prequels, i.e. Darth Vader's origin story.
In other Star Wars news, the film is breaking box-office records all over the world, while The Force Awakens' tie-in monopoly set has caused outrage for not featuring Rey.
Join our commenting forum
Join thought-provoking conversations, follow other Independent readers and see their replies